NORWALK, Conn. — Real estate broker Jason Milligan claims he could sell the land next to the Norwalk Public Library for more money than the City is obligated to pay for it, should the City decline to exercise the option negotiated in 2017. He also said he could build more apartments there than he originally planned, under the proposed zoning regulations.
At issue is 11 Belden Ave., where Milligan had planned to build apartments before the Norwalk Public Library Foundation appealed his Zoning approval. In 2017, the City paid Milligan $460,000 for a six-year purchase option for the property, fixing the price at $4,885,000 should the City decide to buy it by Aug. 31, 2023.
"Unless City officials act quickly, the parking we've been able to offer for the past six years in the lot adjacent to the library accessible from Mott Avenue is likely to be shut down, resulting in the suffocation of the library's recent rebound, the drastic curtailment of its expansion plans and its probable stagnation in the years ahead," Former Mayor Alex Knopp wrote recently.
Milligan recently agreed to settle the lawsuit filed against him by the City and Norwalk Redevelopment Agency. With that done, NancyOnNorwalk asked him about the library deal.
The following interview has been lightly edited for clarity and brevity.
Question:
Would you be willing to divulge what the sticking points are regarding the City buying 11 Belden Ave.?
Answer:
Milligan said he wouldn't speculate about what the City is thinking or what it will do. But, he said, "I have zero say in the matter. If the option is not exercised, then I will reclaim my property and move on with development plans."
He continued:
"The property is over an acre and a quarter sized lot. At the time we negotiated the option price the zoning regulations allowed for 69 apartments to be built as of right.
"The current zoning allows for 111 apartments as of right, and more if bonus provisions are used. The proposed zoning currently being reviewed would remain at 111 units.
"The site is in a very desirable location, right in the middle of one of the fastest growing cities in Connecticut.
"I have already done a ton of site preparation work like surveys, engineering, soil and geotechnical exploration etc. that would make the approval process quicker and easier.
"Just today (May 3) I received an offer from a reputable builder for $50k per buildable apartment or $5,550,000 for my property, and it is not listed for sale. I believe $60k+ per unit is achievable if I were out from under the option and if I were inclined to sell it.
"Now that my lawsuits are over, I have shifted into development mode. I am not really looking to sell assets. I want to build! I am extremely excited about the fantastic things we have in store for Wall Street.
"As someone that cares about the library and about the neighborhood I wish that the city would take steps to provide enough parking for the library. Purely as a businessman I would be totally satisfied if the City did not exercise their option.
"I believe that the library is between 40-50,000 SF. That size building requires 120 to 150 dedicated parking spaces. The library only has 12!
"The library was exempted from providing parking through a text amendment to the zoning regulations enacted at the time it was last expanded.
"Granted there is some shared parking at the First District parcel at 3 Belden Avenue and a short-term lease arrangement at the Eagles club but that still is nowhere near adequate to run a top notch library. The Eagles Club parking also comes with some serious structural and legal concerns that I will save for another day to discuss."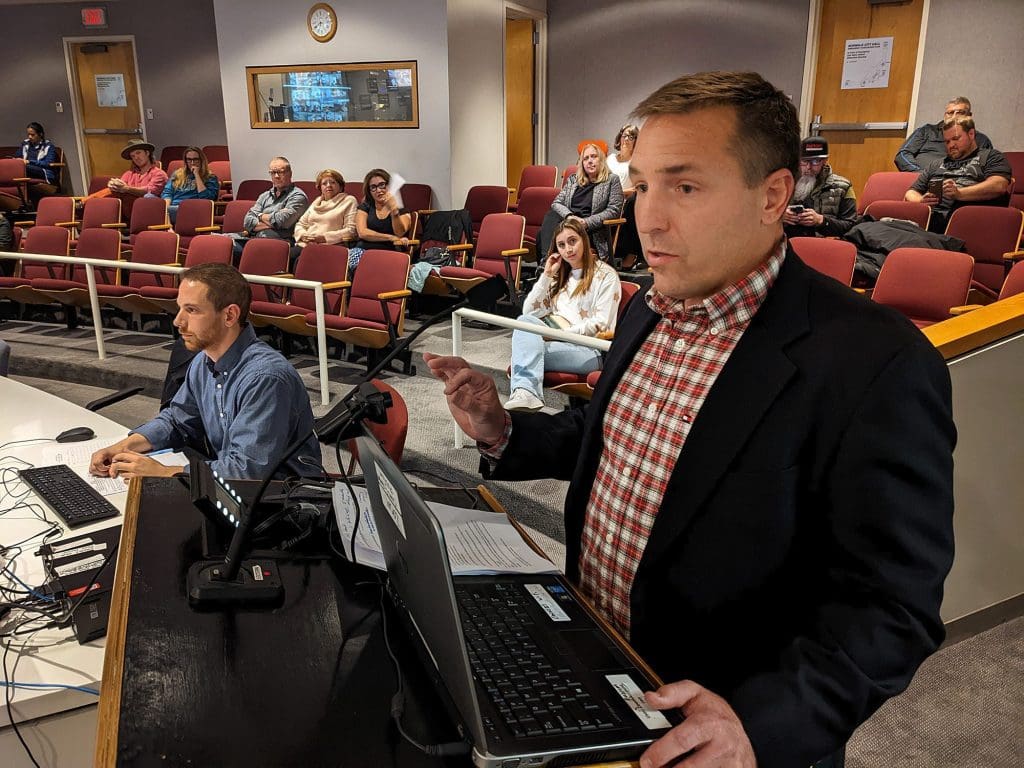 Questions:
Can you elaborate on your thoughts now that you've shifted into "developer mode"? What have you got in mind?
Do the changed regulations have any impact on your plans for David Harvey Jewelers? What about the hotel you wanted to build over My Three Sons?
Answers:
"It is a little early to share my exact plans. I am reviewing many options of which projects to work on first. The hotel at My Three Sons is definitely something I plan to do but will not be the first project I pursue. I have been pretty focused on building out Greer Southern Table restaurant, which is located in the former My Three Sons building. It should be opening within the next few weeks. Having another good-sized top-notch restaurant on River Street to compliment Banc House will help transform the area.
"My plan for the David Harvey building is to just renovate the existing building and not build up. I plan to put apartments and office on the second floor, and I am looking for a retail tenant. Potentially a restaurant. The new zoning has many encouraging aspects, but it is not approved yet and won't be until August. David Harvey will be underway prior to then.
"I have several large-scale projects under consideration that would take place after the new zoning is approved. Stay tuned for those details.
"One of the next things I will do is move my office to somewhere on Wall Street. I plan to do that in the next few weeks. Being located on Wall Street will give me even better insight into what we need than being one block away.
"I am wrapping up two projects right now (May 8). 5 Mott Ave is nine apartments that should come online in the next week or so.
"30 Main St. (former Cousins Clothing) should be finishing up in the next few months. It is a mixture of retail, office and residential.
Reminder:
NancyOnNorwalk requires full names from commenters.
For more information, go here.