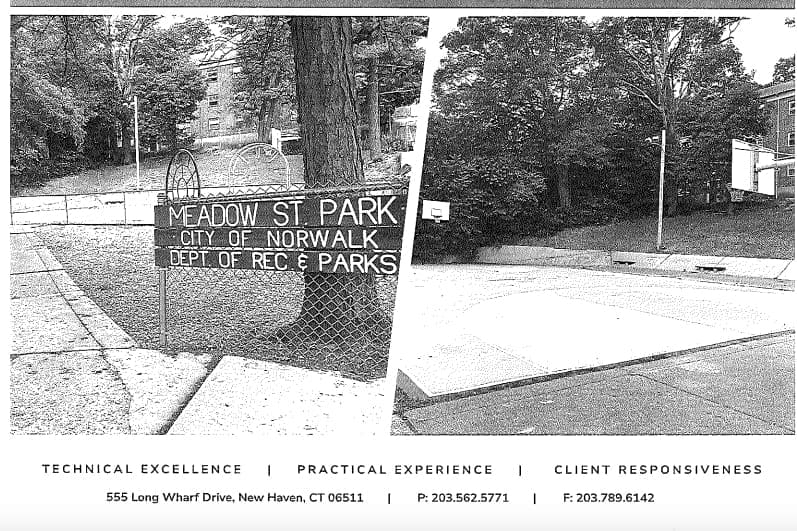 Common Council members voted Tuesday to authorize a $103,250 contract with an engineering firm to design a new Meadow Street Park, adjacent to a public housing complex that may be demolished.
It's "part of our continuing effort to renew our playgrounds and make them safer, and bringing them up to a quality," Norwalk Recreation and Parks Director Robert Stowers explained to the Council. American Rescue Plan Act (ARPA) funds and a Department of Economic and Community Development (DECD) grant are going to the project, as well as it being part of the Martin Luther King Corridor Initiative, he had said earlier.
Langan Engineering, winner of the contract, is also the developer for the expected new housing, providing complimentary design and economies of scale, he told Committee members recently. The amenities and aesthetics will blend.
The park's square footage won't increase but, "We're just going to try and use the area a little bit more wisely," he said.
The ensuing discussion Tuesday prompted some Democrats to defend the expenditure in South Norwalk.
District B Council candidate Donna Smirniotopoulos, addressing the Council as a public speaker, was first to question the plan.
"Meadow Gardens is a 54-unit public housing development built in 1960," she said, adding that the Norwalk Housing Authority expects to demolish it.
In February, NHA Executive Director Adam Bovilsky said, "The conditions of Meadow Gardens are terrible. It's not OK. Our plan is going to be to tear it down with something called Section 18 demolition disposition, which is a HUD (U.S. Department of Housing and Urban Development) program where we can get vouchers for every unit that's there."
Smirniotopolous, an Independent candidate cross-endorsed by Republicans, on Tuesday said, "I'm wondering why taxpayers would be spending money on design for a development for a park associated with a development that's going to be demolished."
Stowers said later that while it "happens" to be next to housing, "it's park property and it has to be maintained." It's "not in good shape at all," grass is growing "everywhere" in spite of efforts to thwart it, "the whole surface needs to be redone," including the basketball court and a foundation wall, in "a complete kind of restructuring of that small pocket small park."
While the City is collaborating with NHA, "we have a responsibility for our property" and "even though" NHA expects to construct mixed-use housing, some of it market rate, that's going on all over the country, he said. It happened in Seattle and "We didn't abandon our parks that were adjacent to them."
Area parks are "pivotal" for the South Norwalk community, Council member Diana Révolus (D-District B) said Tuesday.
"No doubt that part needs some TLC," said Council member Bryan Meek (R-District D). But, "Why are we going to dump 100 grand on designing it? Couldn't we do a lot of good with that kind of money, if we just put repairs into it? What if we just resurface the lot, put up some new basketball (hoops)?"
He said, "For that kind of money, we could just get it cleaned up quick. I understand the Meadow Gardens demolition and reconstruction is depending on Congress. So you know, we'll all be dead before we get them to act for us."
Meek asked if $100,000 was just for design; Superintendent of Parks and Public Property Ken Hughes said it's for design, construction documents and construction administration.
Council member Nicol Ayers (D-District A) said she wanted to "caution people."
"Not too long ago, both in Committee and at this table, we heard and saw extensive plans for different parks, and different playgrounds in more affluent parts of town. People ate it up like it was Spaghetti Tuesday."
Human beings live there, who will be moving from one unit to another, and "you're telling them that they're not worthy enough to send their kids outside to play in a state-of-the-art playground that is owned by the city where they may pay taxes," she said. "That is problematic…. If you wouldn't send your child over there to play, why do you think it's okay to send someone else's child there to play?"
A quick fix up wasn't sufficient for Cranbury, she said, and, "The fact that you keep saying Meadow Gardens and a housing development, that terminology in itself is degrading."
Révolus agreed. Council Majority Leader Darlene Young (D-District B) said she'd echo Ayers.
"We've got to move past saying 'South Norwalk as less than,' period. And those kinds of comments feed into that," Young said. "…There's been a lot of divestment from South Norwalk for decades. And so we need to get this right, and we're going to get it right. And if it costs more than $100,000, it costs more than $100,000."
She said, "How dare anybody say' just put up something'? 'Just something' has been put up for decades, and we put up with enough and so we need something better."
"I think $100,000, to me, does not sound like a lot of money to upgrade that. If anything, you might even be on the low side," Council member James Frayer (D-District E) said.
"We talk about equity," Council member Josh Goldstein (D-At Large) said. "We talk about what that value means. But then we have to walk the walk. This is about walking the walk … If you get a really nice park in Cranbury, or Calf Pasture Beach or anything like that, you also get a state-of-the-art park in South Norwalk."
Meek voted for the project, making it unanimous and inspiring Young to say "What?" She stifled a laugh.
In a post-meeting email, Meek thanked the Council members for the discussion.
"I didn't think this would be so controversial," he said. "Based on some of the comments after mine, I think some of you might have misunderstood me."
He hadn't wanted to belabor the point by responding to them during the lengthy meeting, but "I hope you all realize after my voting FOR the project I was in support just looking for more facts that were missing from the packets, which you might recall only included one page with a black and white picture of the existing playground and absolutely nothing else…for only construction design work. Nothing else, which we learned later in the conversation includes some repairs, some design, and maybe more money," he said.
Further:
"Evicting people and bulldozing Meadow Gardens housing while gentrifying the park for an undetermined amount seems questionable.
"Will the kids in MG benefit from this or some other future transplant?
"I played some ball down there in the 80s and it needed work then. I think it is a good asset that needs support so I voted to get this moving forward. But let's please be careful here.
"Looking forward to seeing the plans we voted for and a timeline so we know who this benefits."
Reminder:
NancyOnNorwalk requires full names from commenters.
For more information, go here.