About 709,000 of 2.1 million Connecticut registered voters cast a ballot in this year's municipal elections, bringing the turnout rate to 33.29% with almost all precincts reporting, according to preliminary data submitted by towns to the Secretary of the State's Office.
Last time Connecticut had municipal elections in 2021, the turnout rate was 32.1%, and it's hovered around there since 2017.
Of the 166 towns for which there is data from this year's election, 63 had turnout rates below the state's rate of 33%.
And only 17 towns had over half their eligible voters cast a ballot. Among those are Greenwich, East Haven, Litchfield and Bethany, which all had races for mayor or first selectman.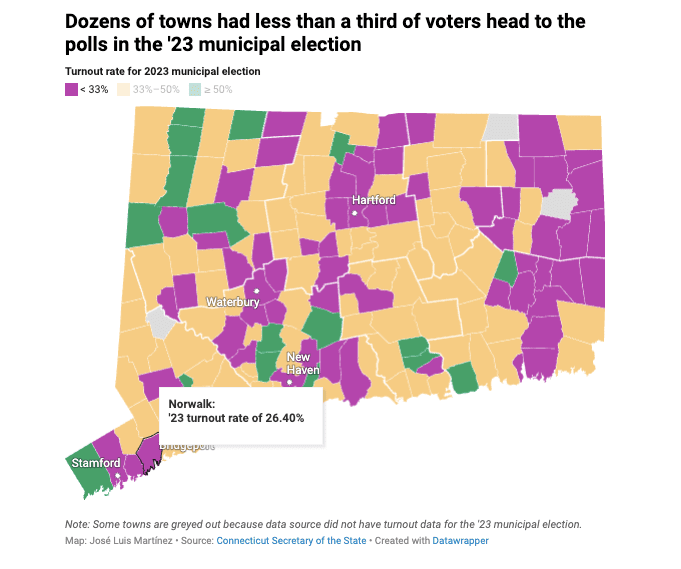 Four of the biggest cities in the state had mayoral elections, but none of them had even a quarter of voters show up to the polls. Bridgeport had a turnout rate of 19.98% this year, compared to 9.71% last time there were municipal elections, although there was no contest for mayor that year. Last time voters chose a mayor in 2019, the turnout rate was 21.98%.
In Hartford, there was a larger decrease in turnout since the last mayoral election. This year's mayoral race had a turnout rate of 13.74%, and in 2019 it saw 18.14% of voters show up to the polls. And New Haven, which saw mayoral elections in both 2021 and 2023, had about the same turnout rates, with a slight increase this year pushing it up to nearly the quarter mark at 24.58%. Waterbury also saw an increase, inching it closer to a quarter of voters going to the polls.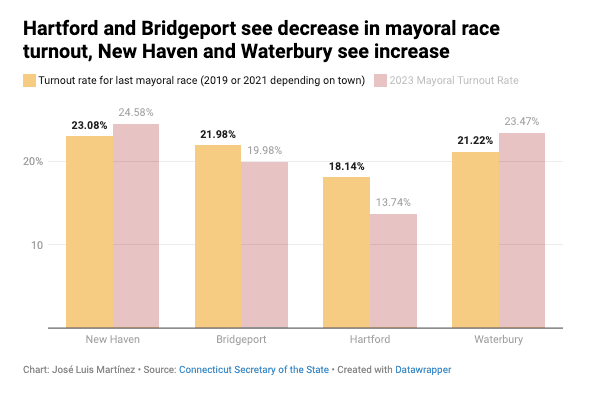 Stamford, which did not have a mayoral race this year, did had over a quarter of voters show up to the polls at 29.41%. When it did have a mayoral race in 2021, 40% of voters cast a ballot.
Thirteen towns saw their turnout rates decrease by 10 or more percentage points since the 2021 municipal elections, with Roxbury and Guilford seeing the biggest drops, although both towns had top-of-ticket races in 2021, in contrast to this year.
And 18 towns saw their rates increase by 10 or more percentage points. East Haven had the biggest increase, going from 36.83% in 2021 to 68.71% in 2023, with both years having contests for first selectman.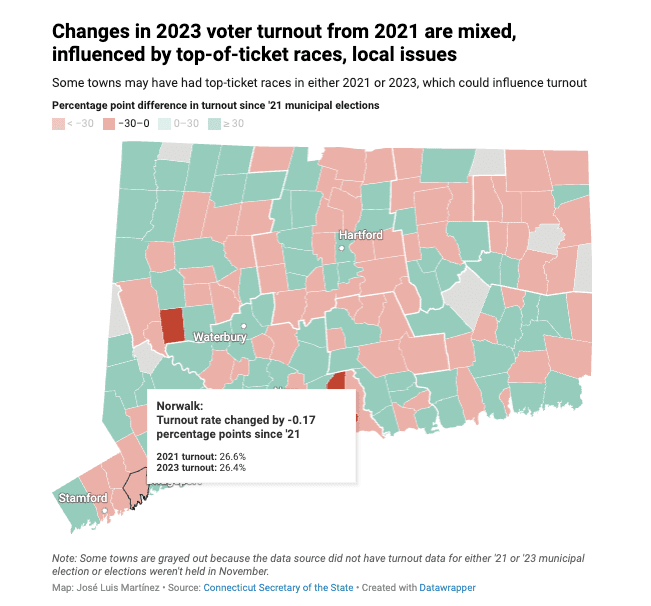 Charting Connecticut is a regular feature produced by the CT Mirror's data team that looks at Connecticut through a quantitative lens.