Lou Ciccarello, whose Norwalk political career was topped by a stint as District 25 State Senator from 1975 to 1977, has died.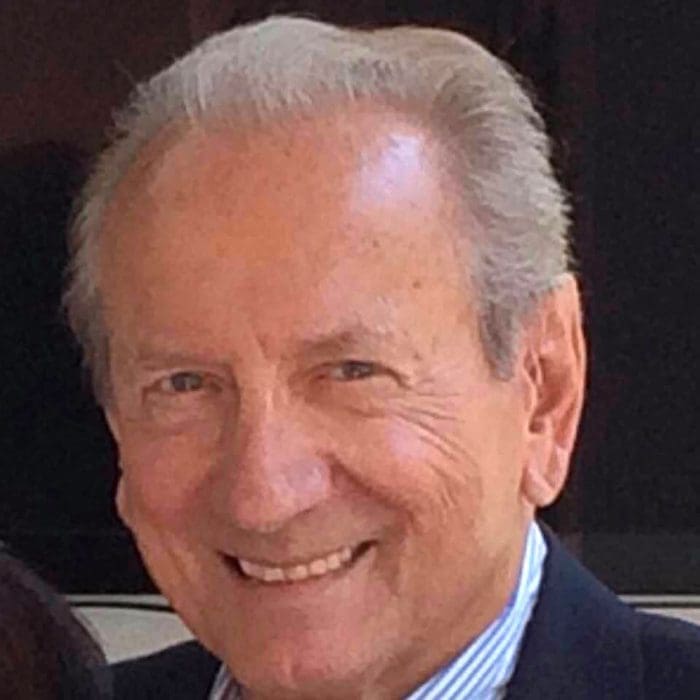 "Senator Louis Ciccarello was a treasure to Norwalk residents, and I am deeply saddened to learn about his passing. Through his zest for public service and love for the Norwalk community, he made tremendous, lasting contributions to Norwalk residents throughout his lifetime," Mayor Harry Rilling said in a Tuesday statement.
Ciccarello was born in 1938 and raised in Middletown, his obituary states. He retired in 2018 and was living in Boynton Beach, Fla., according to his Facebook page.
"Whether it was his service as state senator, chairman of the Board of Estimate and Taxation or a member of the Board of Education, the Norwalk community benefited from his strong legal mind and dedication to improving our city," Rilling said. "Additionally, he believed deeply in being a community advocate for the causes near and dear to his heart. He served as director of the Mid-Fairfield Child Guidance Center, president of the Marvin Beach Association and Norwalk Exchange Club, and a board member and chairman of the Greater Norwalk Chamber of Commerce. His commitment to serving our community exemplifies a remarkable man whose impact will be felt for generations to come. I'm sending my deepest condolences to his family and friends during this difficult time."
"Louis was not only a remarkable public servant but also a person of exceptional intelligence, talent, and wit," State Senate Majority Leader Bob Duff (D-25) said in a statement. Ciccarello "was a gifted lawyer who was a partner at Norwalk's Lovejoy & Rimer law firm. Perhaps the only thing more formidable than his legal mind was his tennis game. His wicked sense of humor both on and off the court brightened the lives of those around him, and his ability to make people laugh was truly a gift."
Knopp's thoughts
Former Mayor Alex Knopp called Ciccarello a dear friend, and released this statement to NancyOnNorwalk:
"Lou Ciccarello and I formed a close political partnership and lasting personal friendship beginning in 1982 when I began supporting his efforts to bring ethics reform to the Third Taxing District and culminated when I appointed him as Norwalk's new Corporation Counsel in 2001 after my election as Mayor and reappointed him in 2003 after I was re-elected.

"Lou told me how proud he was to accept the appointment as the crowning achievement of his legal career.

"I admired Lou's deep concern for ethics in public life. His work to bring reform and conflict-of-interest rules to the Third Taxing District's Board of Commissioners was based both on legal research and on community organizing in the East Norwalk neighborhood we shared. We carried this commitment to ethical standards forward when we agreed that the Corporation Counsel should not make campaign contributions to an incumbent Mayor who had appointed the City's chief attorney.

"Lou was a terrific lawyer. We had both practiced as litigation attorneys representing personal injury victims and it was always fascinating to listen to Lou's description of his cases and his opinion about any unique or unresolved legal issues of first impression.

"Fortunately, Lou's law firm at the time specialized in municipal law and represented several area towns, so his appointment as the city's chief legal officer was well-deserved and very fruitful for us. It was reassuring to have Lou sitting at my side at every Common Council meeting for four years, answering inquiries and offering sage advice.

"His service in public office in the State Senate for one term, his election to the Norwalk Board of Education and his appointment to the Board of Estimate and Taxation gave him important first-hand experience in coordinating his role as Corporation Counsel with the workings of these other civic institutions and agencies. His term as president of the Norwalk Chamber of Commerce produced many valuable relationships in the Norwalk business community as well.

"For those who knew him well, Lou was a big eater but for some reason his metabolism never showed a weight gain. He'd start with his breakfast club at the Norwalk Inn or later at a Wall Street diner—a roundtable group of 10 or so people who gathered every morning that included a predominately Republican membership of community leaders like Dick Moccia, Joe Santo, Herb Jay and others. I tried to stop by once in a while to listen in and was always impressed by Lou's wide range of contacts and friends. Everyone at the table had a strong opinion about everything but the gatherings were aways congenial. The breakfast roundtable lasted for decades even as it roamed from site-to-site.

"I remember going to the roundtable after my re-election in 2003 against a breakfast regular attendee Dick Moccia. Dick had been criticized by other Republicans in some letters to the editor for not running a stronger campaign against me. So in good humor, I went to the breakfast the next day to let the group know that I thought Dick had done a very good job and didn't deserve his party's criticism. Lou and Dick had a good laugh that morning.

"Little did I know that two years later Dick would end up defeating me!

"Then it was over to lunch in the afternoon at a diner on West Avenue in the former professional building populated by other lawyers and also by many dentists and oral surgeons. Lou never showed any weight gain from those Big Blue plate specials either! Sometimes Lou and I tried to catch up by visiting different restaurants in Norwalk, mainly serving Italian food, but his quest for the good lunch also took us to Westport's Saugatuck neighborhood or to Pepe's Pizza in Fairfield.

"Lou was a loyal and empathetic friend to me, as I tried to be to him when his family experienced the unmendable tragedies of children predeceasing their parents. I remember how grateful I felt when Lou took me and my wife out to lunch when I left City Hall on the day my successor was sworn in after I had lost re-election in 2005 by a razor-thin margin. Fortunately for me, he had a big shoulder that day!

"We lost touch somewhat except by Facebook and emails after Lou moved to Florida but before he moved we enjoyed pot-luck dinners at his house—he especially liked the pesto pizzas we made in his kitchen—and our trips to watch the U.S. Open tennis in New York after he had his knee repaired and had taken up tennis as his recreational sport.

"Lou was a great friend. I'll always treasure the work we did together and the enjoyable times we shared."
Moccia's thoughts
Former Mayor Richard Moccia said Knopp "summed it up very well."
"Lou and I were the odd couple, a Liberal Democrat vs a Conservative Republican," Moccia wrote. "We had interesting breakfast discussions, but it never affected our friendship. We had many lunches together both in Norwalk and at least once a month in NYC. We even rode snowmobiles together. Attended weddings, birthdays and graduations of our circle of friends. As Alex said he could eat, he also had the habit of breaking out in Italian song in the middle of the restaurant, which had our group just laughing, while the other patrons were trying figure out where the noise was coming from.
"Lou held many positions in government, and when he talked about them, he never bragged, just part of conversation, after a while we all referred to him as Mr. Former. The last time I saw Lou was several months ago, and of course at lunch at an Italian restaurant. And he did not disappoint and broke out in song. Lou devoted his life to the Law and public service and was well respected by the community at large. I will miss you Luigi and your operatic voice."
Services
"In addition to his professional achievements, Louis was a loving father and a devoted partner to Susan for many years," Duff said. "He is survived by Susan, his daughter Lynn, his grandchildren Luke and Grant and his ex-wife Marilyn Ciccarello Robinson. His family and loved ones must be feeling an immeasurable loss, and our thoughts and condolences go out to them during this difficult time. Services will be held Monday at 10:00 am at St. Matthew Church and will be open to the public."
Information added, 11:28 a.m. Saturday.