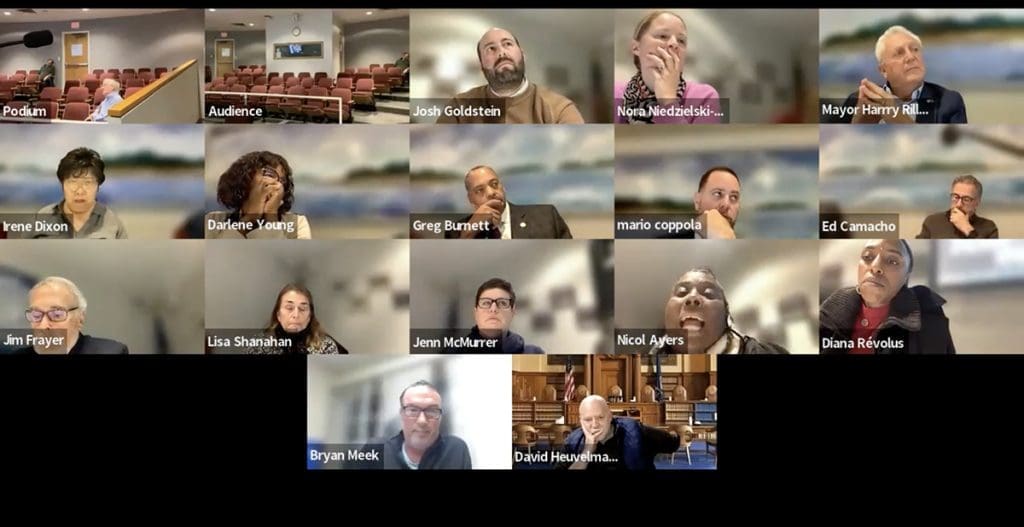 In the current Common Council's last act, an affordable housing account is being created.
"This ordinance is intended to allow the city to expend the funds that we receive under the workforce housing zoning regulations. So, the city has received over the last few years, about $1.2 million from developers to facilitate the construction of affordable housing in the city," Council member Nora Niedzielski-Eichner (D-At Large) said.
The 10-1-1 vote at Tuesday's Council meeting finished the term with fiery controversy. Lone Council Republican Bryan Meek, who did not win election last week to represent District D, called the account a "slush fund" and an example of "government overreach." In reply, Council member Nicol Ayers (D-District A), who will be entering a second two-year term next week, called Meek "amazing in a bad way." He's really good at choosing words to mislead folks, she said.
Niedzielski-Eichner and Ayers led the effort to create the affordable housing account, according to Ordinance Committee Chairwoman Lisa Shanahan (D-District E).
Affordable housing is defined under the new ordinance as housing with costs not exceeding 30% of the income for households not exceeding 60% of Connecticut's median income. A Committee will be formed to decide how to use fees collected through the City's workforce housing regulations.
The funds will be limited to "the construction of affordable units or the renovation and maintenance of existing units," Niedzielski-Eichner said. "…The goal of this really is the hard costs of development so that there is something tangible. This is creating spaces that people want to live in."
Guidelines may change year to year and must be revised every three years, she said. One likely use is as matching funds for State grants. The Committee is required to report to the Council yearly.
"The Committee chose to focus on those residents who are currently having the hardest time finding sufficient affordable housing in the city," Niedzielski-Eichner said. "Our hope really is that in focusing our resources on that area, we will be able to have the greatest impact."
"Overall, affordable housing is essential in a growing municipality, as it fosters social cohesion drives economic prosperity, addresses homelessness, and promotes sustainable development," said Ayers, chairwoman of the Ad Hoc Affordable Housing Committee. "…Affordable housing in this ordinance is the beginning. It is not a quick fix. It is not a band aid. But it is a process that we all need to chime in."
Home ownership is an important topic to address, and, "We need to speak more about tiny homes, we need to speak more about issues that plague people on a daily basis," she said.
Meek said the fund wouldn't "address the problem."
The "slush fund" could "be abused by future powers of government," he said. "There's no income definition, no deed restrictions, no phase out. … It's a framework to do something down the road and I don't know that it addresses the future needs of the city."
He'd prefer the Norwalk Housing Authority and the Fair Rent Commission "pick up the ball," instead of creating another City department, he said.
"If we really want to look at what makes housing unaffordable, it's the fact that we're subsidizing it way too much. When you put way too much money in it, the cost goes up. This is basic economics," Meek said. "Until we learn this lesson, we're going to fail our constituents and our residents more and more … It's not helping the situation, the fair markets will do a lot better job than what we can do here."
Ayers said she doesn't usually address people directly but, "You are amazing in a bad way."
She said Meek doesn't understand what the Norwalk Housing Authority and the Fair Rent Commission do and if the fair market fixed itself, those bodies wouldn't be needed.
"You talk out of both sides of your mouth. It is a nauseating," she said. It's not a slush fund and it doesn't create another department. "I have to give you kudos. You're really good at putting vocabulary out there for people who do not do their own research to pick up and run around a corner with. But let me help you out, my dear sir."
Mayor Harry Rilling cautioned her to be civil. She said she was being very civil.
"There are people who have invested in this community in more ways than you could even imagine, that want to stay here," Ayers said. "But because of the market rate, because they do not have the upper hand that some people have, they cannot stay here. We as a city cannot turn a blind eye to those people."
She pointed out that Meek did not attend any of the Committee meetings where the work was done to create the ordinance.
"If you really knew that there was a better way to do this… you made a conscious decision not to join the Committee," she said.
Niedzielski-Eichner said the Norwalk Housing Authority and the Fair Rent Commission are potential beneficiaries of the fund and were deliberately not included in the Committee's makeup so there would be no conflict of interest. Again, there are grant opportunities and the City might miss an opportunity without the fund.
Also, "these are not funds that are usable to provide housing assistance directly to individuals, they are for construction costs," making the Fair Rent Commission "really is not the place to address these kinds of issues," she said.
"It's funding that has been in the zoning regulations for a number of years. But we've had no effective mechanism for getting it out in a fair, accountable way," Niedzielski-Eichner said. "… The intent very much is to leverage our existing organizations to be able to get these funds out."
Meek said that although he didn't attend the meetings, he read the minutes. "Again, you're creating another layer of government, which doesn't excuse the failures or lack of commitment or achievement of other agencies… you're creating more government to create what government or to remedy what government couldn't accomplish in the first place. Keep it up. Maybe it works. I don't think it does."
Council member David Heuvelman (D-District A), who did not run for reelection, abstained without offering any comments.