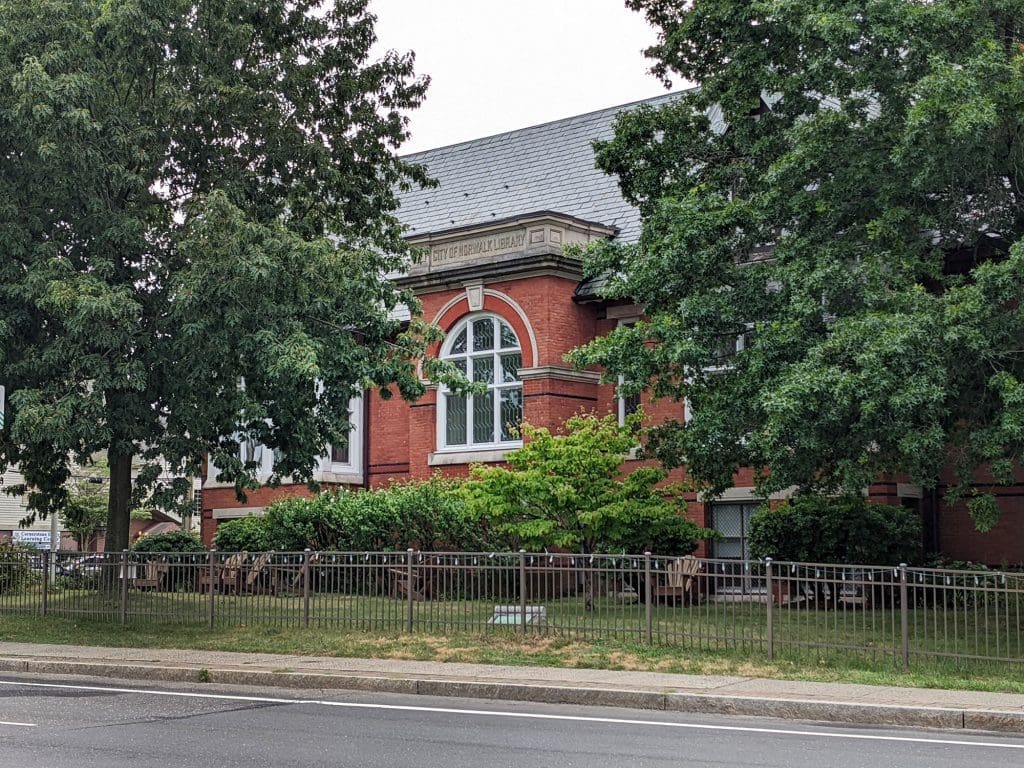 NORWALK, Conn. — The Common Council has voted not to exercise its option to buy Jason Milligan's 1.27 acre-property at 11 Belden Ave., next to the Norwalk Public Library.
The chaotic vote at Tuesday's Council meeting was 10-2, with John Kydes (D-District C) and Bryan Meek (R-District D) voting in favor of buying the property.
In 2017, the City paid Milligan $460,000 for a six-year purchase option for his property, where he had planned to build apartments. The deal included a fixed purchase price of $4,885,000 for the parcel, which was intended to provide room for a possible Norwalk Public Library expansion and parking for patrons.
The Council needed to let Milligan know by June 30 if it intended to exercise the option.
Connected to the issue is the City's plan to buy 3 Belden Ave. from the First Taxing District for $1.4 million. That should come to the Council in late June.
Three citizens spoke in favor of buying Milligan's parcel at the price negotiated in 2017.
"Both the 3 Belden property and the parking lot portion of 11 Belden are essential to accomplish the twin goals of parking and expansion. Acquiring just 3 Beldon is not a long-term parking solution as that property will be needed to expand the library," Betty Bono said.
"We know full well that should the option lapse it will effectively kill any meaningful future expansion for the library and will exacerbate the problematic issues of access for the elderly, for the handicapped, and parents with young children," Eric Chandler said.
Diane Lauricella noted that the City could buy just the part of the property that library patrons use for parking now, but said that if the City bought the entire thing its value would escalate because "we are doing a great job getting Wall Street off the ground."
Council members offered no thoughts on the issue but it took nearly 10 minutes to agree on a motion for them to vote upon. Ed Camacho (D-At Large) volunteered wording but shortly entered a back and forth with Corporation Counsel Mario Coppola over the correct language.
Camacho, who was recently appointed to fill a vacant seat, noted "ongoing discussions that we've had" and made a motion to vote no, prompting Coppola to clarify that the motion had to be to exercise the option. Eventually, Rilling said, "Oh my goodness… Could you make it any more confusing?" He later added, "This is embarrassing."
An email sent to all Council members afterwards, asking for the reasons for their votes, drew two responses.
"Just seeing if 6 years of city inaction would get someone to notice and ask questions," Meek wrote. "We've spent more $ on lawsuits citywide over the last few years than this lot would have cost to buy this lot, so it isn't trivial. It's more curious to me that a reserve fund wasn't set up 6 years ago to mitigate this and we are just voting on it at the midnight hour. We can't let this happen again should we enter any similar multi-year purchase options. My vote to purchase is based on our losing legal history and the necessity for the library to expand and provide the services we are paying them to provide."
"I had several phone calls yesterday from people on both sides of the vote," Heidi Alterman (D-District D) said Wednesday. "I was uncomfortable voting yes with so many variables that I did not fully trust the city would handle well. Honestly, I was more concerned that this purchase would not be related to the library and some future housing expansion."
On Wednesday, Milligan wrote, "I am actually quite satisfied that the city has chosen not to buy my property. It is now worth considerably more now than the price I agreed to 6 years ago. Also the City should not be in the real estate business unless they have a specific use for a building or property. I am a huge fan of the Norwalk Library and I very much hope that it will undergo renovation and or expansion in the near future."
Information added, 1:19 p.m., 7:20 p.m. Wednesday.
Reminder:
NancyOnNorwalk requires full names from commenters.
For more information, go here.