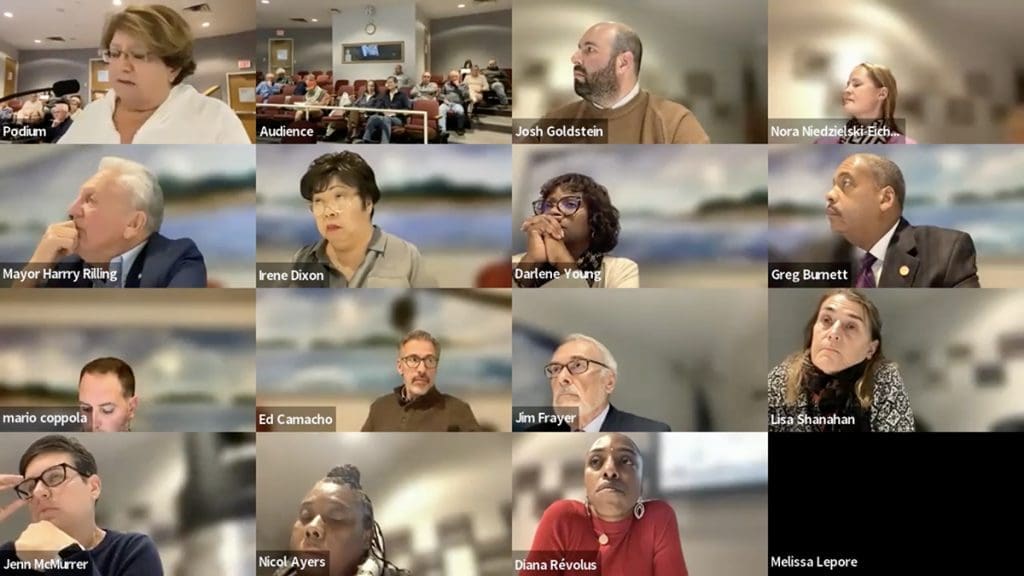 Just under the wire for the 2021-23 Common Council is an ordinance concerning gas leaf blowers.
While small business landscapers attempted to dissuade the Council from banning gas leaf blowers in three to four years, the ordinance only effectively limits the hours they can be used, prohibiting their use on anything but impervious surfaces from June 1 to Oct. 15, with some emergency exceptions.
"No one can walk out of here and say we've banned leaf blowers tonight," Council member Josh Goldstein (D-At Large) said Tuesday. "And the reason they can't do that is because the Council will be required to affirmatively vote in a few years whether the ban is going to be in effect."
In what Council members are calling "The Camacho Amendment," the ordinance passed Tuesday on an 8-3-1 vote requires the Council to vote on the ban again on Sept. 1. 2026.
Ordinance Committee Chairwoman Lisa Shanahan (D-District E) called it a "failsafe provision."
"It requires us to revisit this ordinance, to speak again with the City's DPW and Parks and Rec departments, to speak again with our landscaping community, to verify that the electric leaf blowing technology has advanced to where it needs to be for us to reasonably transition to electric and to these batteries in the outlined time period," she said.
Countering concerns about pollution, unsafe batteries
Eight citizens spoke in favor of the ordinance and its tentative ban, while five spoke against. Landscaper Kevin Palinkas called it a "poor turnout" for the meeting, "only about 40 people" in the Council chambers despite "all the people that supposedly knew about this."
Proponents cited environmental pollution and noise; opponents said that the technology isn't there yet.
"It's estimated that one gas leaf blower emits 300 times the pollutants of the pickup truck," Louise Washer said. "…Part of the problem is that 30% of the gas and oil that these engines use is unburned and released directly into the atmosphere. In 2020, fossil fuel powered lawn equipment emitted more than 30 million tons of carbon dioxide. To put that in context, it's more carbon pollution than one year in one year than was emitted in the entire city from the entire city of Los Angeles in the year 2021."
Betsy Wrenn said she rakes her own one-acre property and also her neighbor's driveway, to avoid the noise pollution of blowers.
"It's not just the noise but it's the fumes," Bill Wrenn said, likening the ordinance to banning cigarettes way back when, and "I think eventually, we'll reach the point where everybody will say, 'Yeah, this was a great idea.'"
"Not every leaf is an enemy that has to be taken away," Audrey Cozzarin said. "They provide nourishment for the soil that we depend on for the health of the planet, as well as overwintering shelter for small animals and insects."
The batteries on electric leaf blowers are unsafe, Palinkas said.
"Yes, the engines that we're using now are not the best in the world. However, it's the best that we have at the moment, that technology is not there," he said, adding that a New York City family just lost three members, one from each generation, in a fire caused by a lithium-ion battery.
Serafino Carri countered that "if you truly investigate the topic, you will find that most of the incidents with batteries stem from poor grade batteries, not all lithium-ion batteries, which is the predominant technology are created equal, you get what you pay for. The second is the temperature range in which they're stored at during charging phase."
He asked, "If people are that paranoid about battery safety, why do you carry personal electronic devices in your pocket? It's the same technology."
"So many in New York City are using the small engines with non-UL listed or certified batteries," Diane Lauricella said, advocating for additional wording in the ordinance to define the types of batteries that should be used.
While some say the equipment is safe if you follow instructions, many people don't, a landscaper said.
Lisa Henderson called the ordinance "discrimination against small landscape businesses" and said the minority community members struggling to make a living will be damaged by not being able to use leaf blowers on Sunday.
'Good legislation requires compromise'
In Council debate, Shanahan said the ordinance was inspired by residents complaining about noise after finding themselves at home in the pandemic, and the noise complaints continue.
"Oftentimes, when one finds that a machine is a toxic source of pollution, there aren't viable alternative machines posing less risk. In this case, we are lucky there is an alternative, which is electric leaf blowers," Shanahan said.
She quoted a Consumer Reports article published in May as calling electric leaf blowers "the clear winner" in comparison trials.
"We've heard a lot about the safety of mining lithium and lithium batteries themselves," Shanahan said. "Of course, energy extraction is an environmentally disruptive activity. Whether we're drilling for oil, fracking for gas or mining for lithium, most energy sources are implicitly combustible. And that said lithium batteries are safe enough that we allow ourselves and our children to carry cell phones around in our pockets all day. We sit in front of computers powered by them, and we drive in vehicles propelled by non-binding energy sources that do not add toxic fumes and carbon to our environment as do gas oil and propane is essential to lowering the impact of climate change."
The ordinance immediately requires landscapers to wear safety equipment, she said.
In the summer months, gas leaf blowers can be used on pool decks, patios and other impervious surfaces, she said. They can be used to clean up after hurricanes and other disasters.
Hours of operation are:
Monday through Friday, excluding state and federal holidays: between 8 a.m. and 6 p.m.
Saturday: between 10 a.m. and 5 p.m.
Sundays and state and federal holidays: property owners and tenants in possession of real property only and only between 10 a.m. and 4 p.m.
As for need for a second vote in 2026, "Good legislation requires compromises by everyone to ensure that all voices and needs are represented," Shanahan said. "We're trying to give everybody a chance to understand that change is coming and to plan for that change. And the majority of our community believes that this new ordinance is an appropriate compromise that serves our residents, our landscape workers, our city budgetary needs, the business community and the environment."
Council member Bryan Meek (R-District D) called the ordinance a "solution looking for problems," that "sticks it to the homeowner quite a bit in terms of increased costs."
Council member Nora Niedzielski-Eichner (D-At Large) called it "an opportunity."
"The City has already announced that we are hiring more blight inspectors. That was part of why we chose to have this ordinance enforced through our blight department," she said. Small business owners can get zero interest loans for equipment through Kiva, a crowdsource-funded loan program the City partnered with last year.
Council member Jenn McMurrer (D-District C) voted against the ordinance, saying, "I think we can all agree gas is bad for the environment, but so are the mining of and disposal or lack thereof of batteries. I do not think it is our role to trade one problem for another. I am also concerned about the use of child labor to mine the cobalt needed for lithium batteries."
She said, "None of us have a crystal ball and I don't believe in making policies for years in the future. I want to base it on the facts we are available now."
Council member Nicol Ayers (D-District A) said she has "some very serious concerns the impact of this ordinance on the everyday worker" and that even though the Ordinance Committee tried, "efforts have fallen short in engaging all community members."
The Camacho Amendment "is said to be failsafe, but rather is a safe way to fail," she said. And other neighborhoods have noise problems, "But we did not make any special ordinances for those communities."
Ayers voted no.
Council member Ed Camacho (D-At Large) said, "This ordinance has the potential to be super expensive for the city of Norwalk and really harsh on small companies as well … But it is inevitable, I think that this technology will become the norm."
He voted in favor because of the delay and need for a second vote, he said. "We are really sending a signal to the not only the landscaping community to homeowners, but also to people and the companies that produce this technology."
Council member Diana Révolus (D-District B) spoke of the human rights situation in other countries where lithium is mined. She abstained.
Council Majority Leader Darlene Young (D-District B) said the revisions and the responsiveness to the folks who spoke at the public hearing in July had reversed her opposition to the ordinance.
"Noise is an issue of all kinds in the city," she said. "I appreciate my fellow colleagues mentioning that and so we need to address that but I'm comfortable with the flexibility in this ordinance."