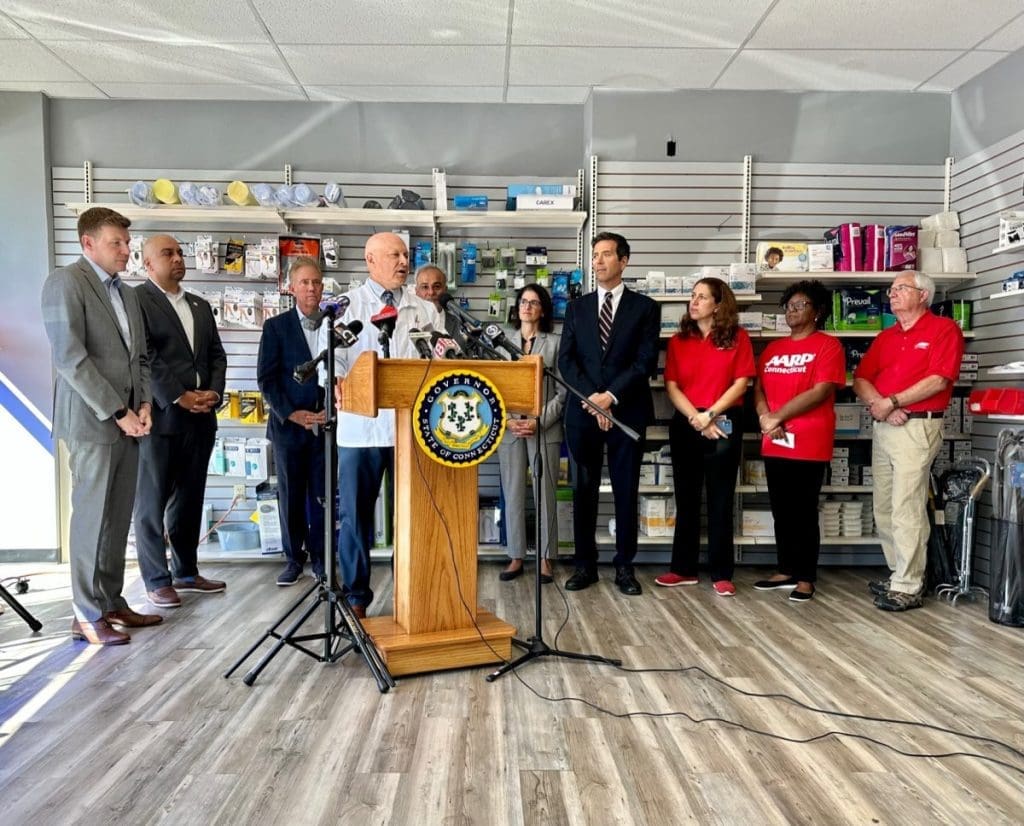 Connecticut, home to some of the biggest actors in industries blamed for the opaque practices that shape prescription drug prices, is about to take a small step towards transparency and lower prices.
On Oct. 2, Connecticut will become the first eastern state to partner with Navitus Health, the pharmacy benefit manager behind the free ArrayRX smartphone app that provides prescription discounts in Washington, Oregon and Nevada.
"It's something that is so simple," Comptroller Sean Scanlon said Thursday. "You can go on, get your card and be able to use it that day starting on Oct. 2 at a pharmacy in Connecticut."
To sign up, go to ArrayRxCard.com. It is free to every resident, with no restrictions on age or income. Consumers can use the app to search for the lowest prices available on any drug.
Based on the experiences of the other three states, Connecticut consumers can expect to save 80% on a generic drug and 20% on brand-name prescriptions, Scanlon said.
Navitus has contracts with 98% of the 679 pharmacies in Connecticut. The discounts arise from the company's ability to negotiate prices, a purchasing power that generally increases with membership.
The ArrayRx Card is one of the tools that Connecticut could authorize without running afoul of the many obstacles Congress has created to protect the pharmaceutical, insurance and pharmacy benefit manager industries.
"This part of that puzzle is one of the most critical parts," said Sen. Saud Anwar, D-South Windsor, a pulmonologist and co-chair of the legislature's Public Health Committee. "The cost of medicines is out of control."
Gov. Ned Lamont joined Scanlon, Anwar and other lawmakers and advocates in Hartford at an Arrow Pharmacy, one of the locally owned pharmacies that have been squeezed by rules and practices that favor major chains.
Those practices include gag rules barring pharmacists from steering customers to less expensive options.
Lamont has made health costs a priority, with mixed success. One of the reforms that won bipartisan support was the authorization for Connecticut to join ArrayRx. Scanlon introduced Lamont as a governor who "gets it" on health policy.
"Thanks, Shawn, but I'm not sure I do get it. You and I are scraping like heck to bring down the high cost of health care in this state. But I feel like we're running up a steep hill," Lamont said.
Pricing of prescriptions and health care is deliberately opaque, confounding consumers and small businesses, he said. State reforms often are thwarted by federal laws.
"Look, I'm a free market guy," said Lamont, a wealthy businessman who founded and sold a cable television business and is married to a venture capitalist with an expertise in health care. "But this is a market that really doesn't work."
One of the ironies of ArrayRx is that it relies on a pharmacy benefits manager, or PBM — a segment of health care that Anwar and Scanlon said is generally seen as a problem, not a solution, in drug costs.
PBMs are a middleman that could, at least in theory, control costs for consumers. Since their creation in the 1960s, they have negotiated prices from manufacturers and payment terms for retailers.
But they have become a market force unto themselves. NPR recently reported that 80% of the prescription drug market is dominated by three PBMs: CVS Caremark, Optum Rx, and Express Scripts.
All three are owned by insurers or their parent companies well-known in Connecticut: CVS Caremark and Aetna, Optum Rx and United Health Care, and Express Scripts and Cigna.
Scanlon said seeing how those relationships work has been difficult, even with the passage of prescription price transparency law.
"What happens within those transactions are very secretive. And there is not a lot of transparency there. The PBMs have found ways around complying with our law," Scanlon said.
The ability to negotiate drug prices has been a bedrock principle of consumer advocates, such as AARP, which backed passage of the law implementing ArrayRx in Connecticut.
When Congress expanded Medicare to include drug coverage, it expressly prohibited the federal government from negotiating prices.
In the Inflation Reduction Act, President Joe Biden won the ability to negotiate the prices paid for 10 commonly used drugs covered by Medicare Part D, with the bargained costs effective in 2026.
Over the next four years, Medicare will negotiate prices for up to 60 drugs covered by Medicare Part D and Part B, and as many as an additional 20 drugs every year in subsequent years.
Biden announced the first 10 drugs last month.
Scanlon said Connecticut paid $150 million last year on those 10 drugs, its share of prescriptions used by 57,000 retired state employees who are on Medicare.
"So for 57,000 people in a state of 3.5 million who are seniors, who are on Medicare, we spent $150 million of taxpayer money on those 10 drugs alone," Scanlon said. "Imagine what could happen if the president was successful in not just negotiating those 10 drugs, but for every drug in this country."
Scanlon said federal action is needed to significantly drive down drug costs across the board.
"Until we get there, this is a help," Scanlon said of ArrayRx.
The card will not produce lower prices for all consumers in all cases, because it cannot be used to further lower prices for people with health insurance. In some cases, the insurance price will be lower; in other cases, ArrayRx will offer the better price.
"This card really is aimed at three kinds of people," Scanlon said. "No. 1, people on high-deductible health plans, which is the predominant number of people who have insurance in our state, and frankly, in our country right now."
The second segment are the uninsured. In Hartford, where Scanlon spoke, about 20% of residents are uninsured.
The third are Medicare recipients who use prescriptions not covered.