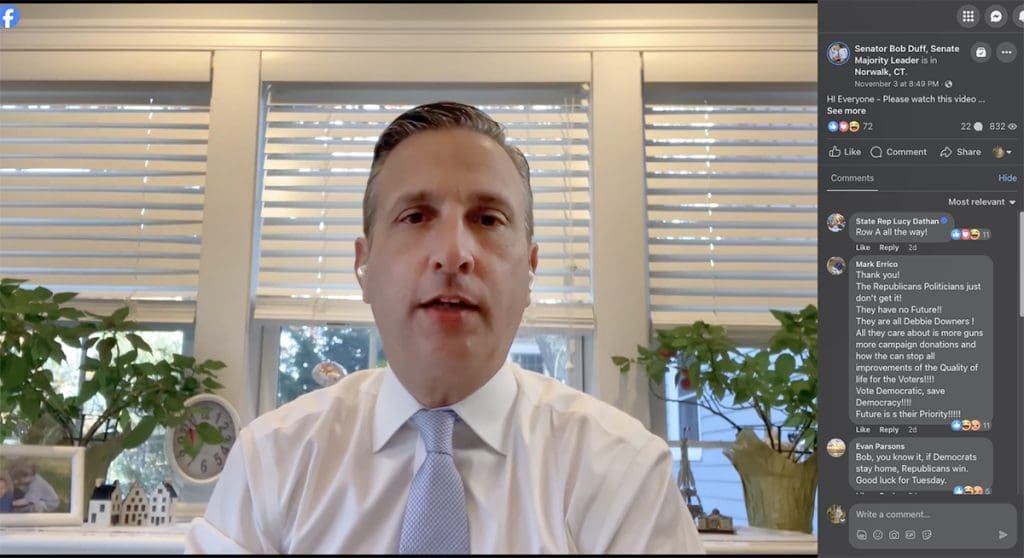 Last-minute election developments include a video from State Sen. Bob Duff (D-25) predicting unpopular consequences if Republicans and Independents take power, and commentary from Independents leader Lisa Brinton slamming East Norwalk Republicans as being in "bed with the Rilling Administration."
Duff is not on this year's ballot; voters go to the polls Tuesday for a municipal election. Incumbent Democratic Mayor Harry Rilling is being challenged by Republican candidate Vinny Scicchitano, who has never run for office before.
The lineup includes 14 people vying for five Common Council at-Large seats: four incumbent Democrats and one newcomer; five Republican candidates and four Independents. Richard Bonenfant was crossed-endorsed and will be on both the Republican and Independent lines.
Every Council district has at least one candidate on the Independent line; in A, Tricia Massucco is a cross-endorsed Republican and in D and E, cross-endorsed Republicans mean there are two candidates running as Independents.
Three Independents are running for the Board of Education.
Duff: Rs and Is will halt City's positive momentum
Duff, in a video posted to Facebook on Sunday, alleged that Republicans and Independents will halt school construction projects should they take power. He said he suspects they'll stop infrastructure projects "whether it's funding for flooding, whether it's sidewalks or bike lanes, or paving more roads." He "fears" that Republicans and Independents will ax "the community events the City is sponsoring."
Republicans and Independents won't talk about what they'll do if they get power, Duff said, specifically alleging that the new Norwalk High School project and the South Norwalk neighborhood school won't move forward if they overpower Democrats on Tuesday.
Norwalk High School is slated for 80% reimbursement from the State, he said. "If that project does not go through, then the City will have to put in at least $20-30 million just for maintenance on what is now a 50-year-old building, and one that is not worthy of our students or our teachers."
The South Norwalk school is slated for 60% reimbursement from the State, "that I fought so hard for, along with our state delegation as well, which will save the city tens of millions of dollars," Duff said. "Then we'll continue after that, with our 25-year plan fixing every single school that's out there. But yet, I've heard candidates on both the Common Council and Board of Ed on the Republican and Independent side say they want to halt our school construction, which I know is not in line with what the residents of our city want."
Residents want quality of life, and the infrastructure projects work toward that, Duff said.
"We've brought home state money for our city parks. But that also means that local funding is going to be needed too and I fear that if some of these candidates do get an office, that funding will be halted," he said. "…. As we get to Tuesday, November 7, I hope people will take their responsibility seriously and get out and vote. Because it is really important that we don't lose the `1momentum we have."
Lone Council Republican member Bryan Meek, who is running to represent District D after being appointed to finish a retiring member's term, called the Duff video a "venom-filled diatribe out there against anyone who doesn't give fealty to the Hartford Democrat machine like he does."
Meek said he hadn't actually seen it because Duff has blocked him on social media.
The video was posted to the Facebook page Save Norwalk's Neighborhoods.
Brinton, Chair of the Independent Party Norwalk Town Committee, responded by posting a chart comparing the funding Norwalk Public Schools gets through the State's Education Cost Sharing formula (ECS), and writing, "Sen. Duff's contribution to Norwalk schools after 20 years in Hartford. A new regional high school (construction) when we can't fund or deliver academic instruction? Losing teachers? No AC in half the schools? Seems like misplaced priorities."
Meek, on a thread about the video, asked a poster supporting the Duff video, "what color is the sky where you live where money grows on trees?"
He said, "I for one am against the overcrowding of apartments without building out the infrastructure needed to handle it. Last night's wire down on the Merritt combined with exit 17 closure was the perfect storm that clearly demonstrated we could never evacuate this area in meaningful time."
Meek has criticized both the NHS project and the South Norwalk school project. He has voted against every expenditure for NHS and argues that the former plan for a South Norwalk school was better than the current plan to build on the Hatch & Bailey site.
Republican District E Council candidate Ernie DesRochers recently asked every Council at-Large candidate attending the League of Women Voters forum in City Hall for their opinion about the new Norwalk High School project. During a break, he called the project "stupid" and said he couldn't understand the reasoning behind it.
Asked for a response to Duff's video, Republican Town Committee Chairman Fred Wilms wrote:
"I was asked to watch Bob's video.
"Bob's allegations were so off-target that it was hard to even feel angry about them. The whole video came across as low-energy.
"Not one of Bob's better efforts."
Brinton wrote, "After 20 years, Bob Duff needs to DO his job and stand up for the residents, taxpayers and students of Norwalk, instead of being the errand boy for Hartford and their special interest developers, who are sucking the equity out of the city of Norwalk, while our hard-earned income and sales tax dollars fund the rest of the state, while we struggle to fund our schools."
'Republic-rats'
Lisa Brinton, Chair of the Independent Party Norwalk Town Committee, posted her op-ed to the Save Norwalk Neighborhoods page, titled, "Norwalk needs political diversity."
She wrote:
"Been busy helping our Independent candidates knock on doors this weekend in our final push. Didn't realize my op-ed about needing political diversity had hit multiple news sites. Also, heard Sen. Duff posted a personal video attacking the Independent Party. Our ballot line consists of candidates registered from both parties & most with no affiliation. Folks, this November is about common sense vs the politically connected making money off increased density, as we struggle to fund our schools. It's about quality of life & affordability in Norwalk. Are you going to believe a lifelong politician – in office over two decades or a retired exec, who can read balance sheets & 3-time cancer surviving PTA volunteer mom, turned community activist, whose had enough of the collective special intere$t politics under single party rule? Or better yet, your lying eyes 🤣 Nothing will change in our city (or country) until the moderate middle has a voice at the table with a third ballot line. Please Vote this Tuesday."
Independent Council at Large candidate Patricia Agudow called the op-ed "Absolutely spot on."
A reader suggested that "the Dems would invite the I's to caucus with them and ultimately get more of the same as what we already have….so that is a concern."
Brinton expressed incredulity.
She said, "I think you have your wires crossed.
It's the Republicans in East Norwalk that are in bed with the Rilling Administration – just look what's happened to your side of town."
Brinton alleged that Republican District C candidate Read Auerbach "rejected an endorsement from the Indy's because he didn't want to offend the Democrats. Nobody has been standing up for East Norwalk except Diane Cece."
The reader said, "You make my point," and Brinton replied, "oh Republic-rats 🤣 Sorry, it's early."

NancyOnNorwalk contacted Auerbach. He wrote:
"As a lifelong resident of Norwalk and a retired fire captain, I have always been committed to serving our wonderful community. Recently, I became aware of some comments and politically motivated rhetoric circulating about me on social media. I want to make it clear that I do not respond to such negativity.
"I take great pride in how I have engaged with and supported our community throughout the years, and I refuse to engage in any toxic discourse. What is stated on social media, emulates just that. Norwalk is a fantastic place with a strong sense of community, and I believe in maintaining the integrity and positivity of our town.
"Ms. Brinton is aware of certain actions that occurred in the community and how they impacted my values. Her lack of transparency was a huge factor in my decision. This has led me to respectfully decline her endorsement. However, I want to emphasize that I respect and applaud anyone who steps forward to serve in public office or contribute to our community. My primary focus is always on being a dedicated Norwalker first, and I appreciate the opportunity to continue serving our wonderful town."
Wilms wrote, "The RTC is proud to be supporting Read for Common Council. Read, a man of high integrity, has devoted his entire adult life to serving Norwalk. Read will be a powerful advocate for the residents of District C."