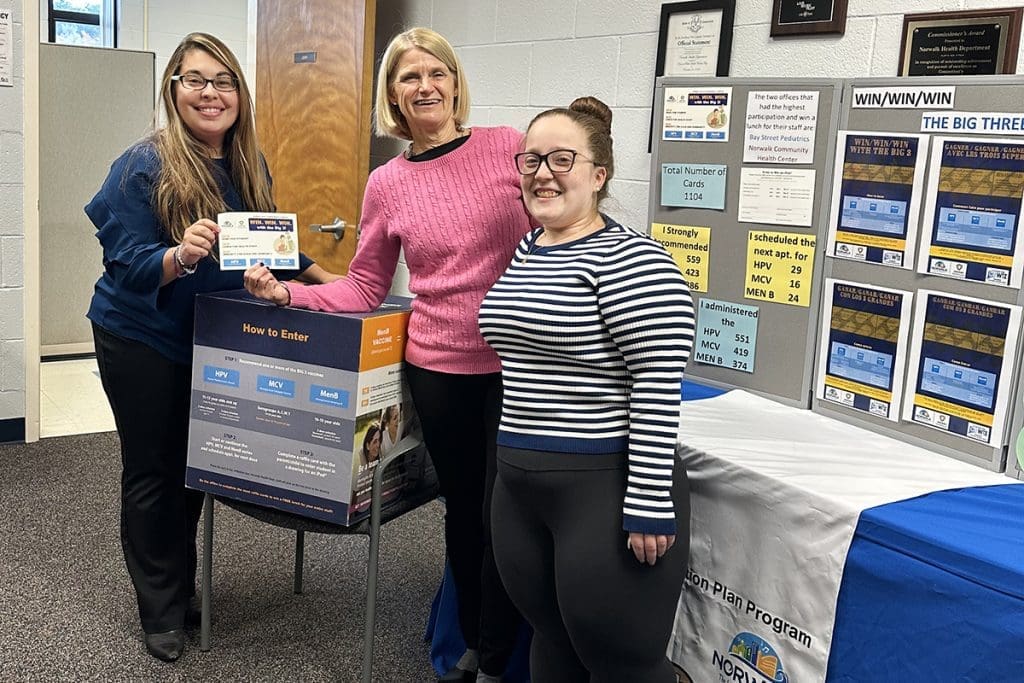 The results are in for Norwalk Health Department's annual "Win/Win/Win with the Big 3" campaign, promoting anti-cancer human papillomavirus (HPV) vaccine and two vaccines to prevent young peoples' meningitis: Meningococcal ACWY and Meningococcal B. The Health Department got 1,100 raffle entries, more than twice last year's response.
Patients who discussed any of the three vaccines with their health care providers in Norwalk, Westport, or Wilton, or who received a dose, could enter a drawing to win an iPad. The medical offices submitting the most entries won a free lunch for their staff.
An unnamed 16-year-old Norwalker who discussed both meningitis vaccines with his healthcare giver won the iPad. Norwalk Community Health Center and Bay Street Pediatrics in Westport won lunch for their staff members.
HPV is said to be the primary cause of cervical cancer. It is America's most common sexually transmitted infection, causing approximately 35,000 cancer cases each year. Meningococcal disease is rare but kills one or two of every 10 people who get it.
Norwalk IAP Program Coordinator Pam Bates, BSN, RN said "These three vaccines are safe, effective and offer protection from serious illnesses that can lead to cancers, long-term disabilities, and even death. It is very important for pre-teens and teens to discuss these lifesaving vaccines with their health care providers as they offer the best defense when they are given at the recommended ages."
More info is said to be at www.norwalkhealth.com.