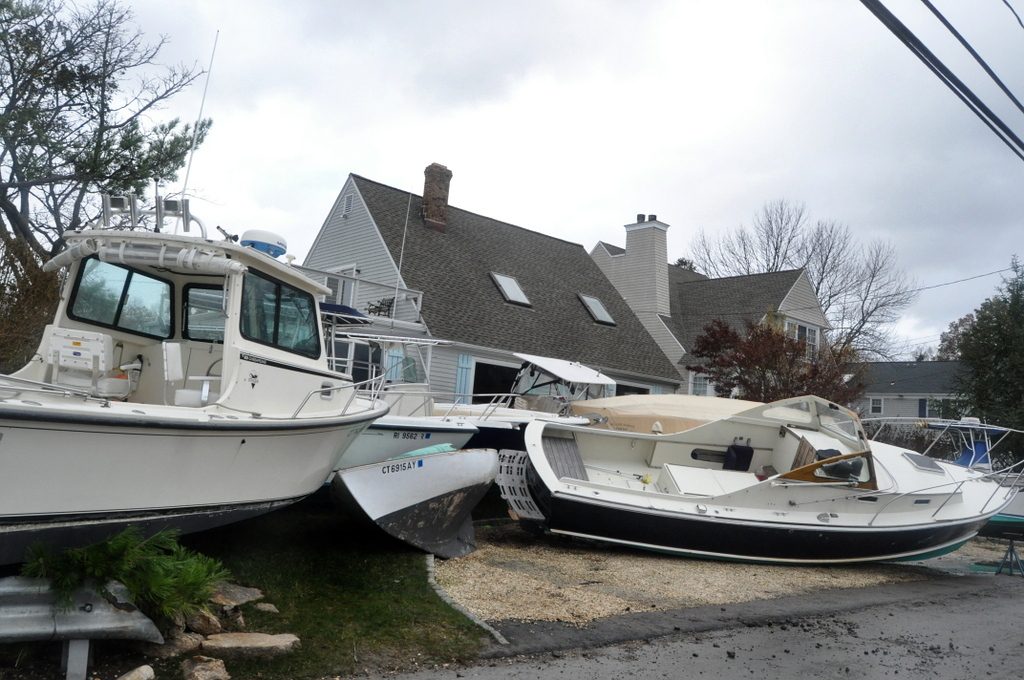 NORWALK, Conn. – The term "boatyard" took on a whole new meaning Tuesday in Norwalk as the Rowayton Yacht Club suffered an unexpected calamity: many of the boats that had been taken out of the water in advance of Hurricane Sandy wound up across the street during the tidal surge accompanying the storm, piled helter skelter against each other on resident's lawns.
There were nine boats leaning against each other in the front yard of 86 Bluff Ave. There were three crammed into the side yard between that house and its northern neighbor. There were three in the front yard of that neighbor's house, one of them complete with a Barbie Doll wedged in next to its steering wheel, staring at the harbor it had been washed ashore from. Finally, there were six boats and a piece of dock in the front yard at the corner of Bluff Avenue and Sammis Street.
Many people were wandering the street. Rowayton Hose Company volunteer John Igneri performed traffic control at Sammis and Bluff, as well as assisting a crew of men working to clear the street of its last hurdle: a sailboat that was partially in the road.
Margun Tepstead was among those surveying the scene. Hurricane Sandy had been frightening, she said, as she and others waited it out in a darkened house up the street. "The wind was howling and we live in a house with a lot of trees around it," she said, adding that there were "lots of candles" burning.
Tepstead's friend looked at the pile of boats and declared one of the smallest victims a total loss. She thought the bigger boats would probably repair well.
Residents said they weren't surprised they had no power, and weren't expecting to get it back anytime soon.