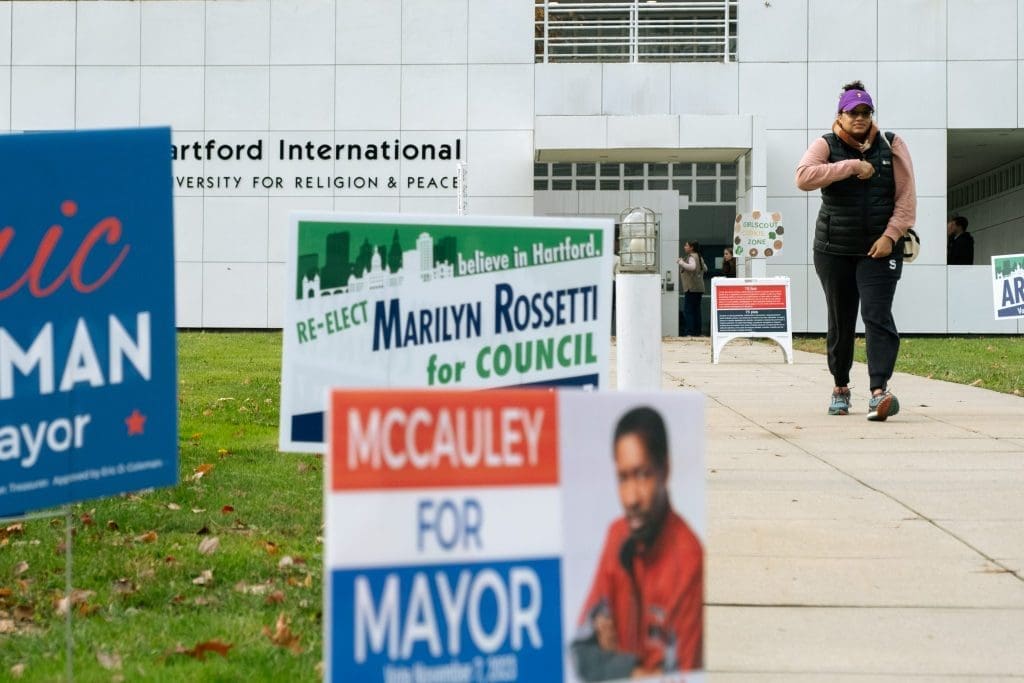 Control of the top offices in two dozen city and town halls will change parties in Connecticut as a consequence of Tuesday's elections, with 16 mayoral or first selectman seats flipping to Democrats and eight to Republicans.
By and large, both parties are shying from claiming to see broader meaning in the results, a temptation since most of the changes came in suburbs, which increasingly are the key to statewide and national elections.
While unseating a Republican mayor in Danbury and keeping control of Waterbury in an open race were the biggest Democratic prizes, the majority of their gains came in small and mid-sized towns scattered around all eight counties.
Voters also elected Democratic majorities on town councils in the Hartford suburbs of Newington and Wethersfield, where Republicans previously had prevailed despite strongly Democratic voter rolls.
But this was no repeat of 2022, when Gov. Ned Lamont led a Democratic conquest of well-to-do suburbs that once leaned Republican, and Greenwich and Fairfield each elected three Democrats to the state House of Representatives.
On Tuesday, Democrats did beat a Republican first selectwoman in Fairfield — if the 42-vote, 0.24-percentage-point margin of victory survives a recount. But the Republicans easily retained the same office in Greenwich, as well as control of a key finance panel, the Board of Estimate and Taxation.
Democrats flipped mayoral or first selectmen seats in Ashford, Brookfield, Canaan, Colchester, Colebrook, Cromwell, Danbury, Derby, East Lyme, Fairfield, Griswold, Killingworth, Newington, Old Lyme, Sharon and Stafford.
The Republican gains for those same offices came in Barkhamsted, Canton, Franklin, Milford, New Fairfield, Newtown, Scotland and Willington. They also captured majorities on scattered councils and boards of selectmen, including South Windsor and Enfield.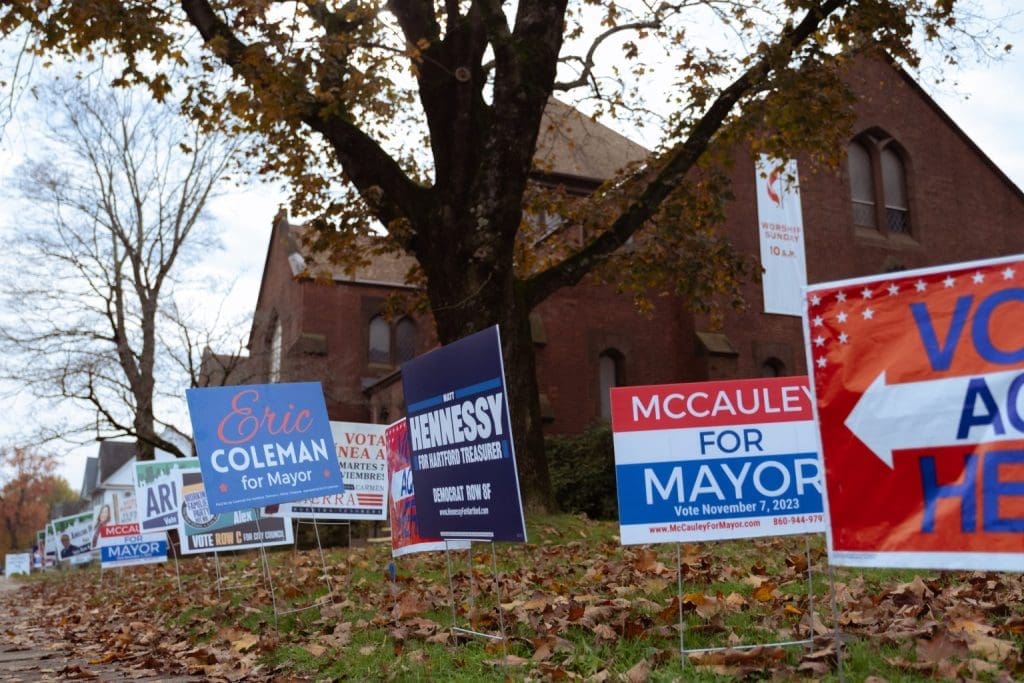 A little perspective: In about the 100 other communities with races for chief elected official, the party in power stayed in power. Republicans held their control over at least 65 mayoral or first selectman offices, with the rest in the hands of Democrats, unaffiliated or minor parties.
Democrats and Republicans, to varying degrees, say the gains and losses clocked in Connecticut on Tuesday could be attributed to the granular impact of local issues, personalities, demographics and strategies.
"There's no broader conclusion to draw other than these are local issues," said Ben Proto, the Republican state chair. "In some of these towns, it was, 'Should we build a new high school or middle school? Should we put artificial turf on a field?'"
Others say the relative strengths of the two major party brands most likely helped Democrats, if in ways impossible to quantify.
Democrats say they believe they were helped by a popular governor, Ned Lamont, who campaigned in Danbury, Derby, Greenwich and Waterbury last weekend, while Republicans say the continued dominance of Donald J. Trump leaves the GOP on defense in much of Connecticut.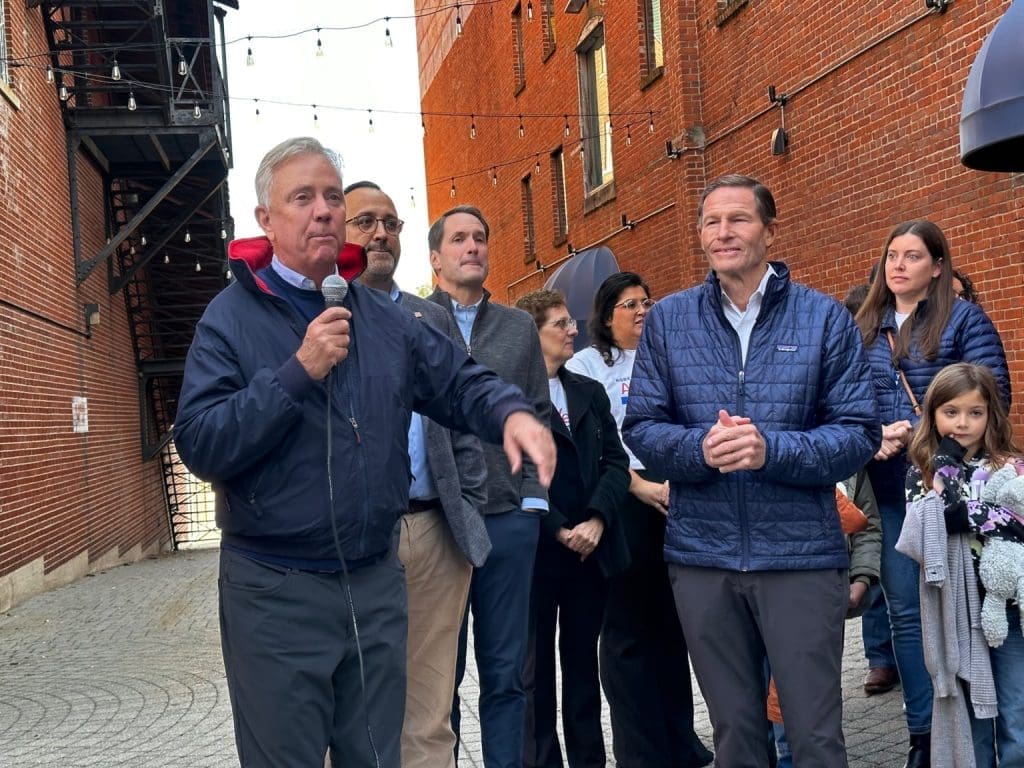 "I think it's mostly local issues and getting people out, but I think what's going on nationally, particularly with Trump, have made people more attentive," said Nancy DiNardo, the Democratic state chair.
Lamont said he campaigned to convince voters, particularly younger ones, to pay more attention to local elections, where the turnout tends to be less than half seen in statewide or presidential elections.
"I think all the TV and energy all around the presidential races gets everybody ginned up," Lamont said. "The municipal races are some of the most important races in terms of the decisions made that impact your life."
Michael Rell, the Republican leader of the town council in Wethersfield and the son of Connecticut's last Republican governor, M. Jodi Rell, said local issues and a 2-1 advantage in voter registration drove the Democratic success in taking back a majority of seats on the town council.
A lingering controversy over whether to build an athletic field on a portion of open space Wethersfield bought after a bonding referendum in 2018 harmed the Republicans, said Rell, who did not seek reelection. But he said Trump being the face of the party is a detriment to the GOP in many communities.
"The cloud of Donald Trump is squarely over the party in blue states," Rell said.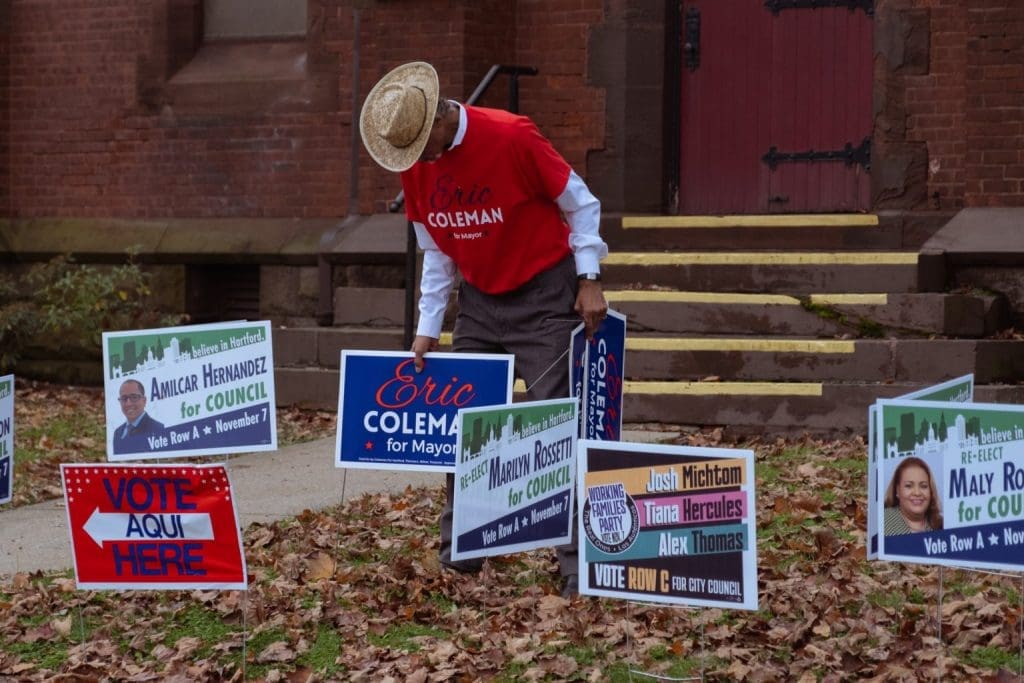 Comptroller Sean Scanlon, a Democrat whose professional life has turned on closely studying political trends, first as a staffer to U.S. Sen. Chris Murphy and then as a state lawmaker, said the style and substance of national politics has crept into local races — but not uniformly.
Jon Trister, the Democrat who unseated a Republican mayor in Newington and helped his party win a council majority, ran a classic old-school race, focusing on outreach and capitalizing on a nearly 5-1 advantage in voter registration, Scanlon said.
"That guy did not win because of national politics. He won because he knocked on 5,000 doors," he said.
Chris Healy, the former Republican state chair and a candidate for town council in Wethersfield, said the only national issue that animated voters when he campaigned door to door was crime.
"The national stuff doesn't play," said Healy, who finished last in the race.
He said the Democratic wins in Wethersfield and Newington were a function of the cycles that come in local politics, as well as the challenge of maintaining majorities in communities where there are more Democrats.
"You can't hold a town in the long run" when the numbers are not there, he said.
Scanlon said Trump, or at least the former president's bare-knuckle style of politics, were likely factors in Republican losses in Brookfield, Colchester and Derby.
In Brookfield, a Fairfield County community where Republicans still outnumber Democrats, Republican First Selectwoman Tara Carr was defeated by Steve Dunn, the Democrat she unseated in 2021.
Carr's Twitter account was suspended in February after she tweeted in response to GOP criticism about President Joe Biden while a Chinese balloon was allowed to float over the U.S. "He's aiding & abetting the enemy. Ready. Aim. Fire. One shot, one kill. That simple…"
Brookfield also was one of the places where GOP divisions helped the Democrats. She was unsuccessfully challenged in a Republican primary, and Republicans say the rift never was healed.
Another was Derby, where the Republican nominee for mayor was Gino DiGiovanni Jr., an alderman and town chair who beat Mayor Richard Dziekan in a primary by 10 votes. DiGiovanni faces criminal charges related to his entering the U.S. Capitol during the Jan. 6, 2021 riot.
Dziekan stayed on the ballot last week as a petitioning candidate, finishing second behind the winner, Democrat Joseph L. DiMartino. DiGiovanni was third. Together, the two Republicans had 1,383 votes to DiMartino's 1,263. A fourth candidate, Sharlene A. McEvoy, had 250.
In Colchester, running on a platform of promising to restore civility to local politics, Democrat Bernie Dennler routed a first-term Republican, Andreas Bisbikos, 65% to 35%. Dennler said during one debate that Colchester needed a reprieve from the "bombastic and theatrical style" of the incumbent, who has suggested that the town was riven by corruption.
In other places, the differences between victory and loss were paper thin and hardly a signal of a deep political shift. In nine of the communities flipped by Democrats, the winner got 52% or less.
Ashford, a town of 4,100 people off I-84 near the Massachusetts border that seems to favor a teeter-totter, up-and-down brand of politics, the Democrats were up.
On Tuesday, Democrat Cathryn E. Silver-Smith beat Republican William A. Falletti by 15 votes. Two years ago, Falletti beat Silver-Smith by 27 votes.