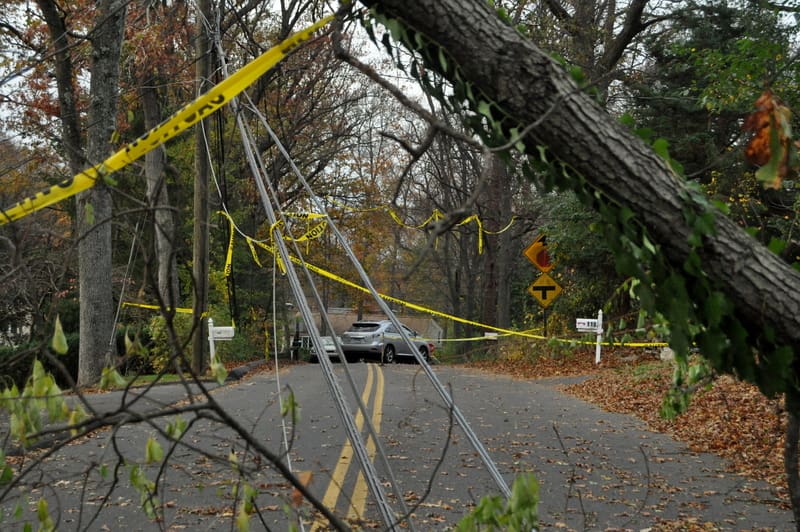 Updated, 1 p.m. Friday
NORWALK, Conn. – It almost looks like a Halloween prank near Norwalk Community College, as numerous pieces of yellow caution tape hang here and there, wrapped around scary wires and ominous tree parts as if the tape was toilet paper dispensed by a mischievous teenager.
Just another Norwalk road block, this time on Keeler Avenue south of West Cedar Street.
Making unexpected U-turns has become routine for Norwalk drivers in the days after Hurricane Sandy but Norwalk leaders say progress is being made.
There were still 139 Norwalk streets blocked as of 5 p.m., according the the city's website. This morning the website says these streets have been cleared: 
Silvermine Avenue
James Street
Cliffview Drive
Ponus Avenue
Foxrun Road
Nursery
Weed Avenue
Rowayton Avenue
Wilson Avenue
Roton Avenue
West Norwalk Road (90 percent)
Fillow Street (90 percent)
Eastwood Road
Pine Point (90 percent)
Perry Avenue
Grumman Avenue
Cranbury Road
Highland Avenue
Newtown Avenue
Colmstock Hill
Fairfield Avenue
In addition, state Rep. Larry Cafero (R-District 142) said on Facebook that the following roads were also made passable Thursday:
Richards Avenue
Bayne Street
James Street
Lancaster Drive
Hunters Lane
Ward Street
Those that were still blocked Thursday evening include Creeping Hemlock Drive at Butternut Lane, and, on the other side of town, Michael Street, a connector from Flax Hill Road to Soundview Avenue, behind Brookside Elementary.
The many blocked roads in Rowayton include Crooked Trail Road, Ledge Road (which may have reopened as there was a crew there Thursday afternoon), Crest Road and Witch Lane at Hunt Street.
A downed tree is an eye catcher on Scribner Avenue south of I-95, blocking access to Beauford Road.
County Street east of William Street may have been reopened late Thursday, as a crew was working just past the homemade "Road Closed" sign taped to a stop sign. But the area was a source of frustration: drivers turning right onto William Street at the intersection found a large tree blocking passage shortly down the road. There was no way around it.
Cafero said that Thursday saw five tree crews working on clearing the lines and roads on West Norwalk Road and surrounding areas; four line crews working on Ward Street; four Line crews working on Algonquin Road, Mohawk Drive, Bayne Street, and Cranberry Road working towards Cranberry School; four Line crews working on Fillow Street towards Kendall School; and two "bird dogs" going to City Hall to work with the DPW to help identify wires.