Chief of Staff joining ConnDOT
NORWALK, Conn. — Laoise King is leaving her job as Norwalk Chief of Staff to become a Connecticut Department of Transportation Deputy Commissioner.
Her last day will be June 1, she said in a resignation letter to Mayor Harry Rilling.
"As you know, I have been offered many other opportunities during my time here and I have consistently turned them down due to my commitment to you and the City of Norwalk," King wrote to Rilling. "Please know that my decision to leave now is based solely on the fact that I have been offered an amazing opportunity in state government that I could not turn down. This new opportunity aligns with my personal and professional goals and will allow me to serve residents across the state on matters that I believe are critical to our state's future."
King has been Rilling's right hand woman since November 2016, hired first as Assistant to the Mayor, a position that had been vacant for years. She advanced to the "Chief" title in the 2018 reorganization of City administrative structure, which she shepherded.
Rilling, at Tuesday's Common Council meeting, said that he teared up when King told him and she "could almost not get it out because she was choked up. And that just shows the type of person she is."
He said, "I will be putting together a search committee. She's offered to help with the interviews while she's still here."
In her resignation letter, King said, "I will strive to make my transition as smooth as possible, and of course will always be a resource for you and our team even after I am gone." She also said it's "very hard" to leave given the "opportunity and promise in this community" and the talent and dedication in Rilling's team.
King is one of two ConnDOT Deputy Commissioners beginning work in June, completing the agency's senior leadership team, a news release said. Also appointed was Karen Kitsis, Deputy Executive Director for the Office of Capital Project Development at Sound Transit in Seattle, Wash.
ConnDOT has five bureaus, each overseen by a Bureau Chief, it explained.
"I am proud of the team of Bureau Chiefs we have assembled in the agency, many of whom were promoted during the height of the pandemic at a time when we were trying to accomplish a mammoth amount of work with little certainty about what may come next," ConnDOT Commissioner Garrett Eucalitto is quoted as saying. "Every single person on this team has stepped up in ways that have helped ensure the public can travel safely, and that the future of transportation is bright. Our new Deputy Commissioners will be a much-needed support to our team, and help ensure we can complete more work, and best serve our residents."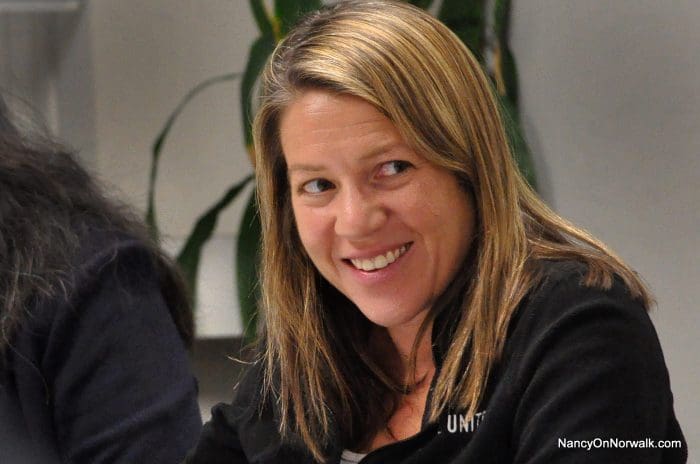 King's background is celebrated in the release, which explains that she "oversees day-to-day city management, is responsible for city administrative functions, and has been instrumental in securing funding for local projects. King has also held various roles in John DeStefano's administration in the City of New Haven, bringing decades of legal, legislative, and advocacy experience to the organization."
Accolades flowed at Tuesday's Council meeting.
"She has made her mark on the City of Norwalk in some of the things that we have accomplished together with our vision, trying to lead the City of Norwalk forward and keeping it the place that people want to come and live and work and play," Rilling said.
Josh Goldstein (D-At Large) said King has been "essential" to the City but, "thankfully our loss is the State's gain. We're going to have to do a lot of transportation projects to make sure that she's in Norwalk all the time."
Tom Livingston (D-District E) said he's been "in various stages of grief" and "while I feel this is a tremendous loss to me as a resident of Norwalk, I think it's a tremendous gain to me as a resident of Connecticut."
King has been "instrumental in my growth as a Council member," Barbara Smyth (D-At Large), explaining that the word "bittersweet" isn't really strong enough and the departure is "very hard."
"She led us through the reorganization," Smyth said. "… I have seen the City run so much more efficiently. And I think that we serve the City of Norwalk so much better because of the reorganization, the new departments that she guided us to add. I mean, she's just been a wonder, frankly, for the city of Norwalk. And this is a huge loss."
"It's hard to feel really bad because you feel good for a friend who's making a move such as this. But we're all better for her having been here," David Heuvelman (D-District A) said.
Council President Greg Burnett (D-At Large) called King an asset to the Council's success, collectively and individually, adding, "I especially appreciate her commitment to being a problem solver."
Majority Leader Darlene Young (D-District B) said King "just has that ability to connect with people. And that's half of politics, being able to connect with people so that they trust you and hear you whether or not you're telling them that you're giving them the answers they want to hear or not."
Rilling said, "She is a genius at what she does."
Reminder:
NancyOnNorwalk requires full names from commenters.
For more information, go here.