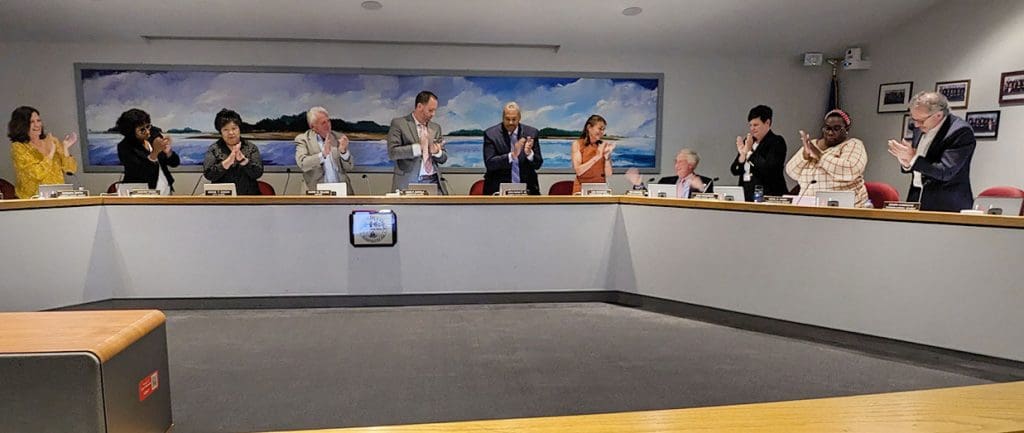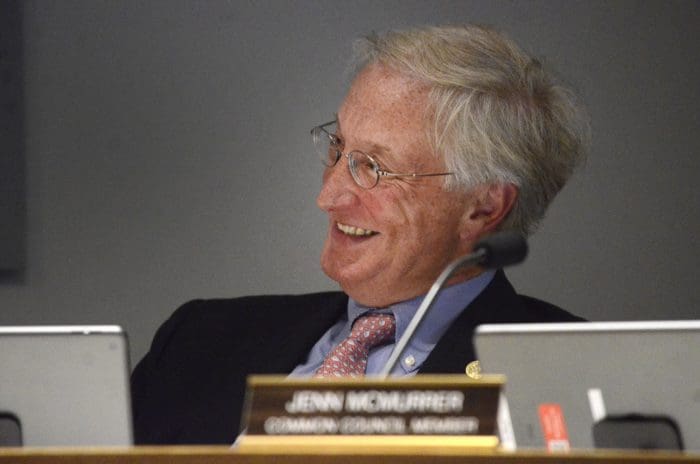 NORWALK, Conn. — Mayor Harry Rilling has appointed Tom Livingston to serve as interim Chief of Staff, as Laoise King departs to become a Connecticut Department of Transportation Deputy Commissioner.
"The reason I asked Tom were many," Rilling said at Tuesday's Common Council meeting. "He served on the Common Council since 2015, representing District E, the residents in Brookside, Harbor View, Rowayton, Village Creek and West Norwalk. He was Council President in 2018 and 19, and 21 and 22, currently chair of the Common Council Land Use and Building Committee. He is uniquely qualified to step into this position; his institutional knowledge of the city operations from his nearly eight years on the Common Council, along with his team-oriented problem-solving attitude, has earned him a great deal of respect to City Hall."
Livingston, a Rowayton Democrat who has lived in the city for 36 years, promptly resigned his Council role as of midnight. Democratic Town Committee District E members will select a replacement.
"Livingston spent his career practicing law, last serving as Vice President and Secretary of Applied Biosystems, formerly Perkin-Elmer Corporation, in its Norwalk headquarters," a news release said. "He earned his law degree from Cornell Law School and his undergraduate degree from Hamilton College. From 2010 to 2022, Livingston served as an adjunct at the University of Connecticut School of Law, teaching contract drafting and helping students develop counseling, negotiation, and other legal skills. He also volunteered as a venture mentor, working closely with student and faculty ventures at Yale Entrepreneurial Institute and elsewhere."
In accepting the role, Livingston listed Council accomplishments during his years in leadership roles, in addition to being a member of the Economic and Community Development, Public Works, Ordinance, and Ad Hoc Sustainability and Resilience Committees. He's proud of the "many environmental initiatives," including "one of the strongest and earlier plastic bag bans in the state," banning styrofoam and plastic straws, and creating pesticide ordinances.
"We established Sustainability and Resilience and Affordable Housing Ad Hoc Committees to bring additional attention to these very important issues to a city, we took actions to streamline government, including elimination of the Norwalk Facilities Construction Commission, and the merger of Planning and Zoning," he said. "… While there's still much to be done, including the charter revision, I leave knowing that these things are in good hands, and I remain available to help in any way I can."
Livingston was feted with 20 minutes of accolades.
"Tom is especially well suited for the job of the Mayor's Chief of Staff," said Council member Lisa Shanahan (D-District E). "He has spent the last seven and a half years cultivating close relationships with not only the Mayor, obviously, but also each department head as well as their staffs. And I'm certain that this transition will be seamless."
In his time as a Council member making $50 a month, Livingston "poured" over the budget, "speaking almost daily" with Norwalk Chief Financial Officer Henry Dachowitz and Rilling to "understand the choices made, where the mill rate will be set in the impact on our district as well as our city," according to Shanahan. He contributed to the administrative reorganization in 2018-19, the Plan of Conservation and Development (POCD) effort, charter revision, Enterprise Zone expansion, "preservation of historic buildings and his deep involvement both with the Walk Bridge Project and the settling of the POKO litigation."
Council President Greg Burnett (D-At Large) called Livingston "a trusted advisor" who will bring "all the knowledge and expertise" he's gained as a Council member to the Mayor's Office.
Council member Nicol Ayers (D-District A) nicknamed Livingston "the professor," she said.
"The professor is stern but fair, steady and upright, dependable and a hard worker," she said. "Many times, I disagreed with the professor, very mad, almost had tantrums. He allowed me to be. As the Council President he had an open-door policy, even when we did not want to accept it."
"I think that you're the perfect person to move into this position. You know, it's a loss, losing Laoise, but you are the right person to fill those shoes," Council member Barbara Smyth (D-At Large) said, a sentiment echoed by Council members Josh Goldstein (D-At Large) and Nora Niedzielski-Eichner (D-At Large), who said, "I'm not actually sure it's going to be more hours than you currently put in on the Council."
Even staff members joined the public praising.
Building and Facilities Manager Alan Lo said he's put in 40 years as a City employee and worked with 20 Councils. Livingston is "one of the most unique person, a Council member I have met…. now he'll get paid for something he loves to do."
"I've always been so impressed with the incredible time you put into the position, you're a volunteer, but you've always treated it as if you were a full time employee," Corporation Counsel Mario Coppola said. "…In those moments in which we've had our most difficult decisions, or most complicated matters, we've come to you for your advice and for your leadership. And so I think it's fantastic that you're going to be moving into this role where we can continue to rely on you for your sage advice at those times, and, and everything that you do for the city."
Rilling said he's constantly hearing how great Norwalk is doing. "It's a team effort, and the city is moving in the right direction. And I personally want to thank all of you for your time. And Tom, you're gonna be a great addition to my team."
Reminder:
NancyOnNorwalk requires full names from commenters.
For more information, go here.