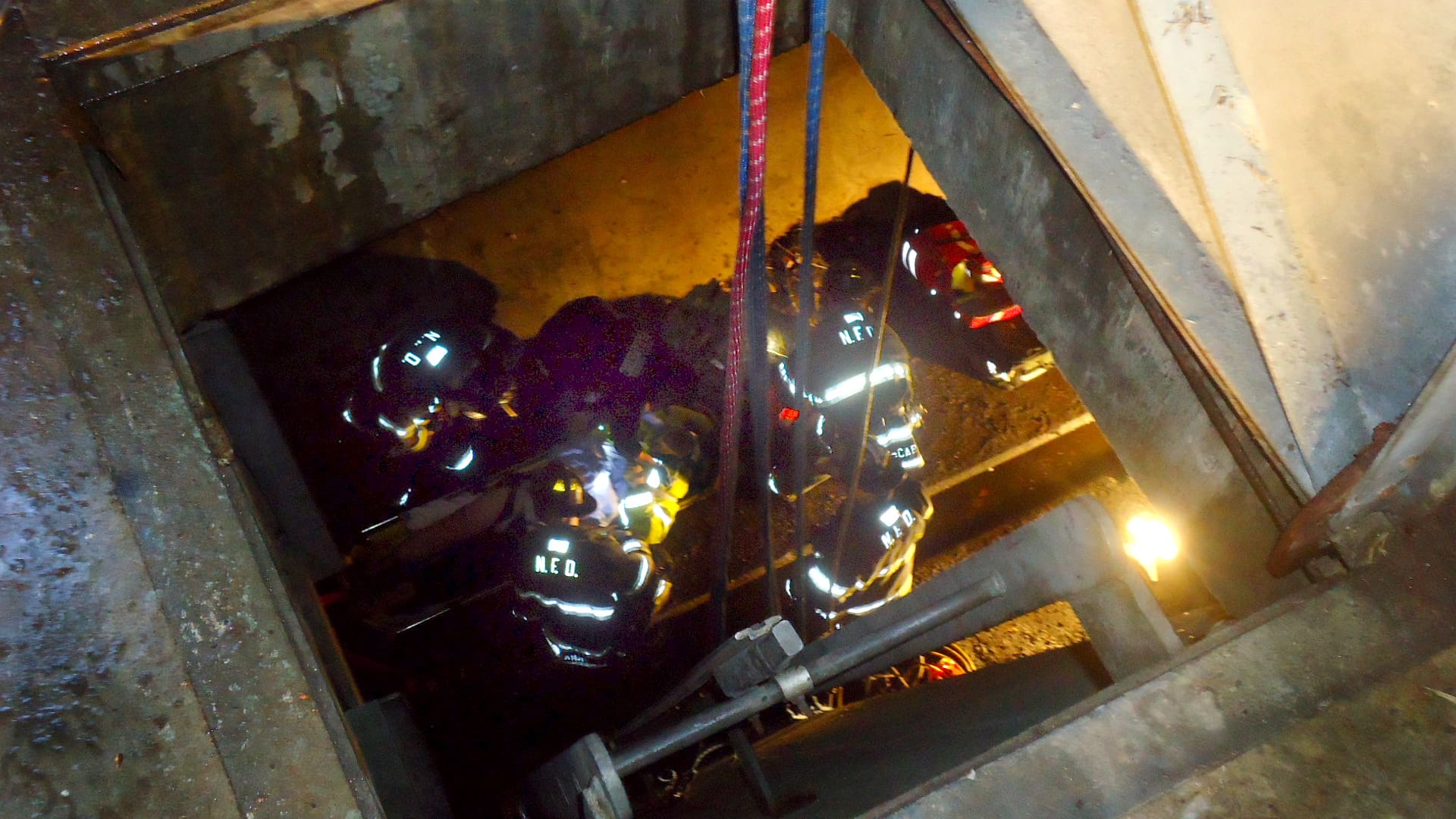 NORWALK, Conn. – Check out these photos of the nasty pit a poor man fell into Saturday morning under the Stroffolino Bridge, and the rescue performed by Norwalk firefighters.
I missed the story originally because I had disappeared from the Norwalk Fire Department's radar screen. I presented myself to them in all my three-dimensional glory this afternoon and the information conduit is reopened. Thank you, NFD.
The 56-year-old CDOT worker fell 30-feet into a maintenance shaft for the bridge, landing on a concrete floor at the bottom of a hollow caisson beneath the bridges operating mechanism, Deputy Chief Edward Prescott said in a release. He was in extreme pain with a serious leg injury and may have had neck and back injuries, Prescott said.
Firefighters performed a confined space rescue at 8:36 a.m. Saturday, after checking the pit's oxygen levels and making sure there were no toxic gases, Prescott said. Firefighters and a paramedic descended into the caisson, where they medicated, boarded and collared the victim, and secured him in a stokes rescue basket.
A team of firefighters lifted the victim vertically, up 30 feet, through the floor hatch and onto the maintenance platform 15-feet below the road, using various confined space and high angle rescue equipment and rigging, used to hoist the immobilized patient, Prescott said.
The patient was then secured to rigging at the street level for safety and carried by firefighters up the 15-feet of stairs to the bridge's surface. He was taken to Norwalk Hospital.
The extrication took an hour and a half to perform. Meanwhile, traffic on the bridge was reduced to one lane as Norwalk Police alternated east and west bound traffic. The scene was cleared by 10 a.m., and the 20 firefighters involved returned to their stations. CDOT maintenance personnel remained on scene.
I took hard fall once … let's all think good thoughts for this man.