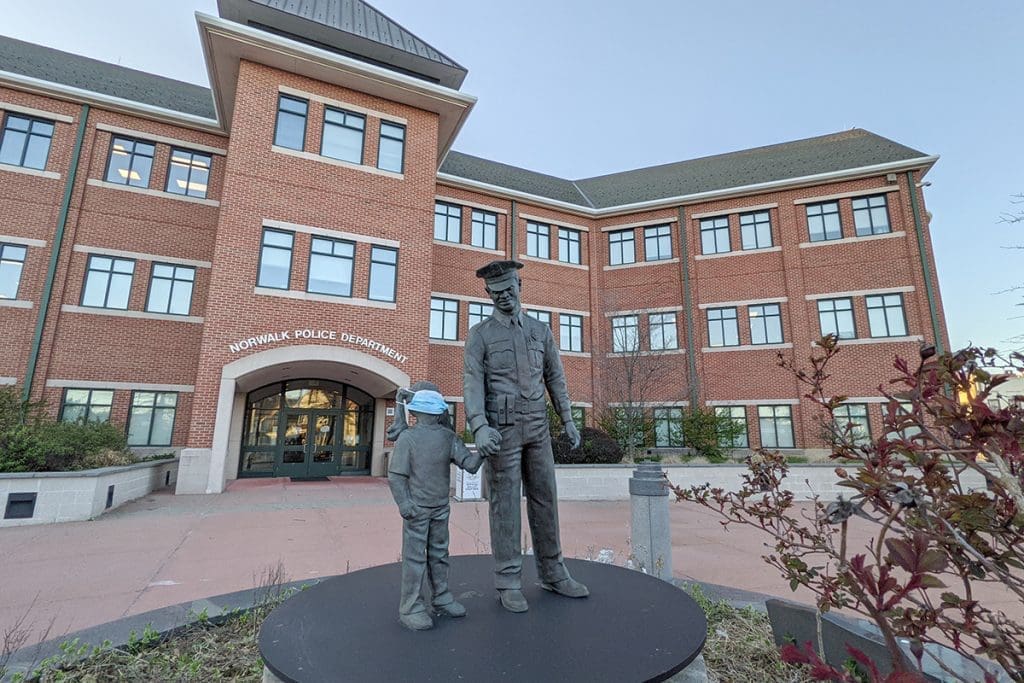 If you want a glimpse into the possible future of the new Norwalk High School, look at the state of Norwalk Police headquarters showers, Common Council member Bryan Meek (R-District D) said Tuesday.
"Clearly, shortcuts were taken, right, on design and quality. And it just gives me a lot of pause when I see us keeping the same (budget) number for Norwalk High from four years ago, it just feels like we're gonna be replacing stuff in there in 18 years," Meek said during a Council meeting.
He said, "I'm also hearing anecdotally that there's a lot more problems with the police station than are being advertised in terms of shoddy construction, quality, and durability."
Norwalk Police Lt. David O'Connor, police union president, said Wednesday that Meek is "right and at the same time wrong about that."
Police officers had input into the building design and "had the police department been a little more proactive in the way things were being done, perhaps we would have ended up with a slightly different product," O'Connor said. "Structurally, it's fine. It's solid. And it's, you know, relatively comfortable. It gets a little hot in the summertime, a little cold in the wintertime, but kind of the way it is."
The Council on Tuesday approved a $152,400 contract with HV Contractor Corp. for the police HQ men's shower room renovation, with $15,240 in possible change orders. Meek cast the only vote against the project.
The women's showers will also be redone in an upcoming project, Land Use and Building Management Committee Chairwoman Barbara Smyth (D-At Large) said Sept. 6.
O'Connor said Wednesday that there are seven shower stalls, "too many" of them "not designed well." They leak and really, only three are needed. A couple of them have shower heads pointing out so "all the water runs on the floor. And we obviously can't use those. And that was a silly way to design it."
The headquarters was completed in 2005, according to a memo written by Neil Rennie, a contractor doing building management for the City. Alex Knopp was Mayor at the time.
The showers are made from molded fiberglass, leak "significant" amounts of water down to the IT storage room and Community Policing room below, and are also too small, with shower heads "too low to accommodate the height and size of the majority of Officers," Rennie wrote.
"New showers will be constructed from solid base and tiled walls with enhanced lighting features and a new, efficient exhaust system. The sink countertop will also be replaced with solid surface material and new undermount sinks and faucets," he wrote.
The men's facility gets much more use and that's why it's being done first, he told the Committee on Sept. 6. "There wasn't a lot of thought put into it" when the pre-fab showers were installed and probably "they weren't expecting the amount of demand that they had there today." Also, "the mirrors are starting to come off the wall."
It's the first renovation and three or four showers will be installed, he said. "One will be a larger shower for handicap use. And then the other ones will be for able-bodied use. We're not hitting the locker room area … I'll say maybe 100 lockers in there. And that's starting to get antiquated."
Meek called it "outrageous" that a building less than two decades old is getting a full renovation. "We're either getting shoddy construction, or people aren't taking care of it."
He linked it to the Committee approving the $239 million plans for a new Norwalk High School, the same budget authorized by the State legislature last year although inflation and supply chain issues have driven costs up.
Scott Mangiagli of Kaestle Boos Associates Inc. said "cost-effective" materials are being used for the high school.
Council member James Frayer (D-District E) said Meek had a "good point." Rennie replied that the showers are used "24/7," not like people using a commercial gym.
Meek on Tuesday asked Building and Facilities Manager Alan Lo why the police headquarters had been "under designed in the first place."
Lo said the fiberglass shower stalls were a "typical" installation, lined up one after the other but unfortunately the water sprays out. "We could do better next time. So it's part of a learning curve, if that's what it is."
As for the overall building, "I don't know that many issues, I think we are having some mechanical issues, but the building is about 20 years old now," Lo said. "In the old days, we buy a boiler, that lasts 35 years. But today's mechanical equipment doesn't get that long, it's probably like 20 to 25 years."
He said, "I think in the future, the next five years, you're going to begin to see other things that we're going to do, improvements to the buildings, but it's just really a lifecycle type of thing that we're working on."
There are "not unusual" roof leaks that have been repaired but the façade doesn't have any problems and he doesn't hear anything about the electrical system, he said. "I think the building is holding up well. I don't know who indicated there's a problem."
O'Connor said Wednesday there are some problems but "they're not huge." It could have been designed better, there's no room for expansion and "it doesn't have great flow." But, "Probably, some of that was our fault," given the officers giving input to Committees. "We're not architects and we're not office designers, and there are some spaces that are very big and generous with some spaces that are extraordinarily small."
Still, it's much better than the former headquarters and while there are issues to being built on a brownfield on the corner of Monroe and South Main Streets, there was an undercurrent of intent, O'Connor said.
"I certainly think that putting the police department down there, became a lightning rod for a lot of redevelopment in South Norwalk, which is what they wanted," he said. "…You can see, by the developments going on down there, it looks like it has borne some fruit."
It's "not a perfect spot," given it's "landlocked," and with more parking space desperately needed, the only way to go is up, he said.
The situation will get worse when the parking lot is dug up to install a new electrical transmission line as part of the Walk Bridge project, he said. That's going to "eat up" four spots for a while.
The old HQ in Matthews Park had unlimited parking but the building "had many, many problems, many heating and cooling problems," and "We were extraordinarily stressed for space. So, I don't see that we've taken a step backwards at all."
"Any government building is going to have room for improvement;" police have "settled in" and things that were fine 17 years ago seem like shortcomings now, O'Connor said. "Bryan may be making some noise where he can, but I certainly don't think that the physical structure is bad. It's just, you know, some of the design elements aren't quite so perfect.
Reminder:
NancyOnNorwalk requires full names from commenters.
For more information, go here.