Milligan would take $1.75M; City offered $1.2M
*role="document", aria-multiline="true"*
*aria-label="Block: Heading"*
*tabindex=0*
NORWALK, Conn. — With a June 30 deadline looming for the City to buy land next to the Norwalk Public Library at a price negotiated six years ago, former Mayor Alex Knopp is trying to ease an impasse between the Rilling Administration and real estate broker Jason Milligan.
City leaders haven't commented publicly on the option to buy the 1.27 acres at 11 Belden Ave. for $4,885,000, even as Knopp and others have pressed for action, emphasizing the need for library parking and possible expansion. On Monday, Milligan released emails in which he rejected a deal offered by Assistant Corporation Counsel Darin Callahan for the .25-acre Mott Avenue frontage.
Callahan on Aug. 3 offered $700,000 for the property. Rebuffed by Milligan's attorney, Callahan made another unsolicited offer of $903,000 in September.
Milligan stood firm at $2 million, repeating the price in a May 9 text message to Corporation Counsel Mario Coppola, with the comment, "You are simultaneously forcing me to sell and then trying to rip me off… If you want it, pay up."
Knopp, on his own initiative, negotiated with Milligan and drafted a term sheet with a $1,750,000 purchase price.
In 2017, Knopp, then-Library Board of Trustees Chairman, negotiated the option to purchase with Milligan. The former Mayor is still on the Library Board of Trustees but is acting as an individual citizen.
"I bit my tongue for years, hoping that there were private, productive negotiations underway," Knopp said. "But I decided to become more of a public advocate when the City announced the lease arrangement with the Eagles, as a quote, replacement, unquote, parking for the library lot. That's a dead end. And therefore, I felt it was appropriate to become more involved."
Knopp's description of the motives behind the Eagles agreement is a misrepresentation, Norwalk Chief of Staff Laoise King said Friday.
"The leasing of the parking spaces in the Eagles lot is not intended as a long-term parking solution," she wrote. "The agreement with the Eagles club was signed to ensure that there would be no gap in the availability of parking during the time period a long-term solution was being negotiated. It is the hope of the city that a long-term solution will be resolved prior to the option agreement with Mr. Milligan expiring in August. However, as a precaution, the city leased the Eagles spaces to make there would be ample parking for library patrons during the pendency of those negotiations should they extend passed August."
Milligan signed the term sheet Tuesday and emailed it to Common Council members ahead of their executive session on the topic, telling NancyOnNorwalk that he'd spoken to four Council members that day and, "I'm under the impression that this was not presented as an option."
That evening, Knopp spoke to the Council first.
"The idea of providing a municipal service is how I urge you to look at this issue, not as a real estate transaction," he said. "How do you put a value on a parking space at a beach, if the alternative is no access to the water, or to a park, or to any other kind of crucial municipal facility?"
Milligan's demand of $2 million is "clearly too high" and he understood, from a Milligan email, that the latest City offer was $1.2 million, he said, characterizing his negotiated price of $1.75 million as "a 30% reduction in the gap between the city's last offer and Milligan's long term position of a $2 million sale price."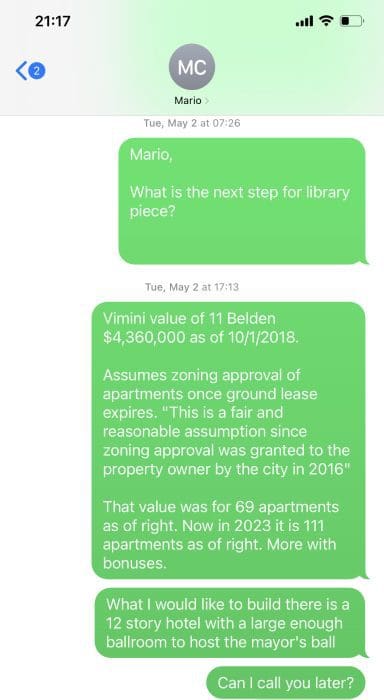 If the City were to attempt eminent domain, then a judge would set the price, not an appraiser, Knopp argued, asking, "Is it worth the risk that a judge is going to come in with a higher value or property that once was the site of 69 residential units could now be the site of 111 residential units?"
He suggested that $550,000 in American Rescue Plan Act (ARPA) funds could make up the difference, "to obtain this essential service," mentioning that Norwalk's surrounding communities have invested in their libraries.
The Council later approved using $2.5 million in ARPA funds to pay for one-time Norwalk Public Schools expenses, lightening the district's budget burden. On May 11, Council member Diana Révolus (D-District B) said the measure would "deplete the rest of the ARPA funding."
Milligan's attorney, Marc Grenier, told Council members Tuesday that in their executive session, "you will have no tangible way … to question the narrative that's being told to you about this particular project."
Milligan would stay through the executive session to be available if they wanted to hear from him, Grenier said.
Milligan spoke of his passion for the library and his involvement in the Wall Street area, as owner of about 40 properties and landlord to more than 200 tenants.
They could exercise the purchase option and buy the entire parcel but, "I don't think that's the right move, that puts you in the real estate game," he said.
The parcel includes a bank/office building.
"It reminds me of POKO, you don't have a use for my building right now," Milligan said. "I think that your hands are tied in a lot of ways."
He said, "I appreciate what Alex Knopp did, I wouldn't have written it exactly that way … That's not my terms, and that's not my price. But I just before this meeting, I executed that agreement. You all have it, I can leave a copy with you now. My signature's on it, I agreed to it. If you want to contemplate it and agree to it, we can do it. And it could be a down payment on the future."
"Term sheets evidence serious intent but are generally not legally binding," Investopedia states.
No Council members offered any comments. The executive session, which also concerned the First Taxing District property on the other side of the library at 3 Belden Ave., began at 9:29 p.m. and ended at 10:54 p.m. Milligan sat where visible in the YouTube broadcast, waiting as promised. The meeting ended with no comments from the Council.
Neither Norwalk Director of Communications Michelle Woods Matthews nor Chief of Staff Thomas Livingston replied to a Thursday evening email asking for a response to the term sheet.
Knopp said Wednesday, "If the City can come up with a better deal to acquire the parking lot, then I hope that happens but in the meantime I wanted to present an agreement that's fair to both sides, that there's an agreement that can be reached that's affordable and reasonable by the June 30th deadline."
Milligan said he'd heard nothing from the City.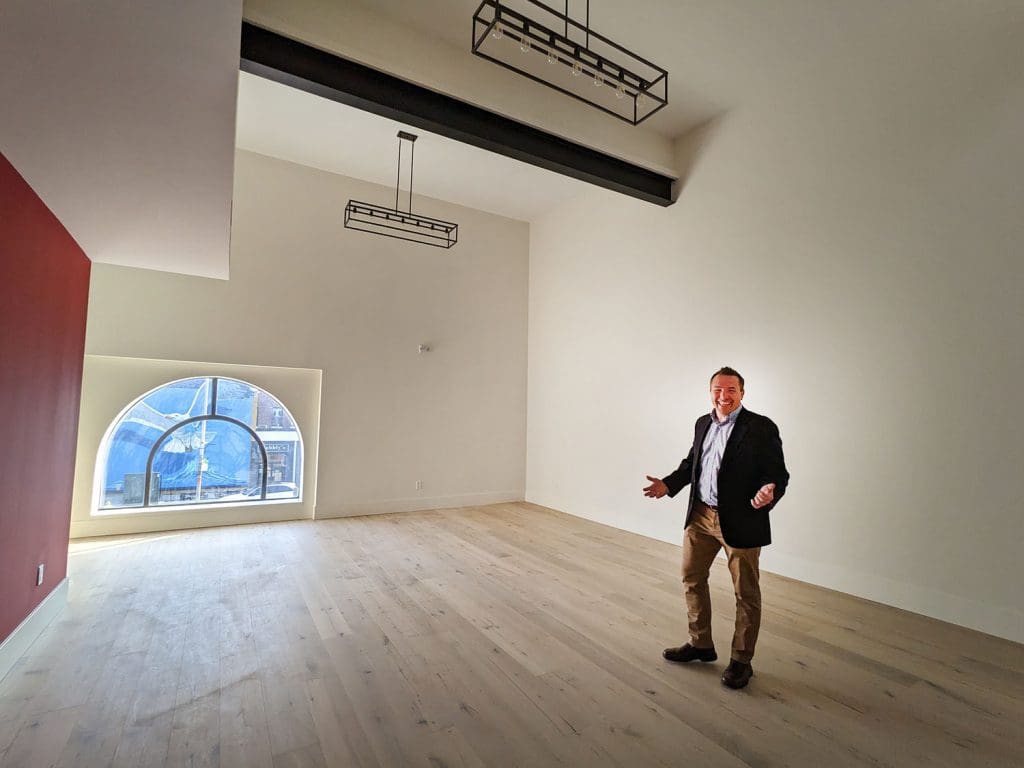 Value of the parcel?
The parcel the City seeks is 19.6% of the entire lot, in terms of square footage. Multiply $4,885,000 by 19.6% and you get $954,460.
But there are other factors. An appraisal done by Vimini Valuation Services in March 2022, using an effective date of Oct. 1, 2018, pegs the value of developable area of the site at $1.7 million.
That 17,000 square foot section of the property includes the 11,000 square foot parcel sought by the City. It's roughly 64.7% of that section, and 64.7% of $1.7 million is $1.1 million.
Milligan provided the appraisal to NancyOnNorwalk. There will be a new valuation this year, he said.
Milligan's real estate office is on the 11 Belden Ave. property. He is moving to a new office on River Street, in property he bought in September.
Knopp's term sheet moves the timeline for a transaction up two months. Milligan could rent out his Belden Avenue office space sooner.
Milligan said he could make more money in a private sale. The broker he bought it from said he could get $60,000 a unit for the property and 111 units could be built, according to Milligan.
That would be $6.6 million.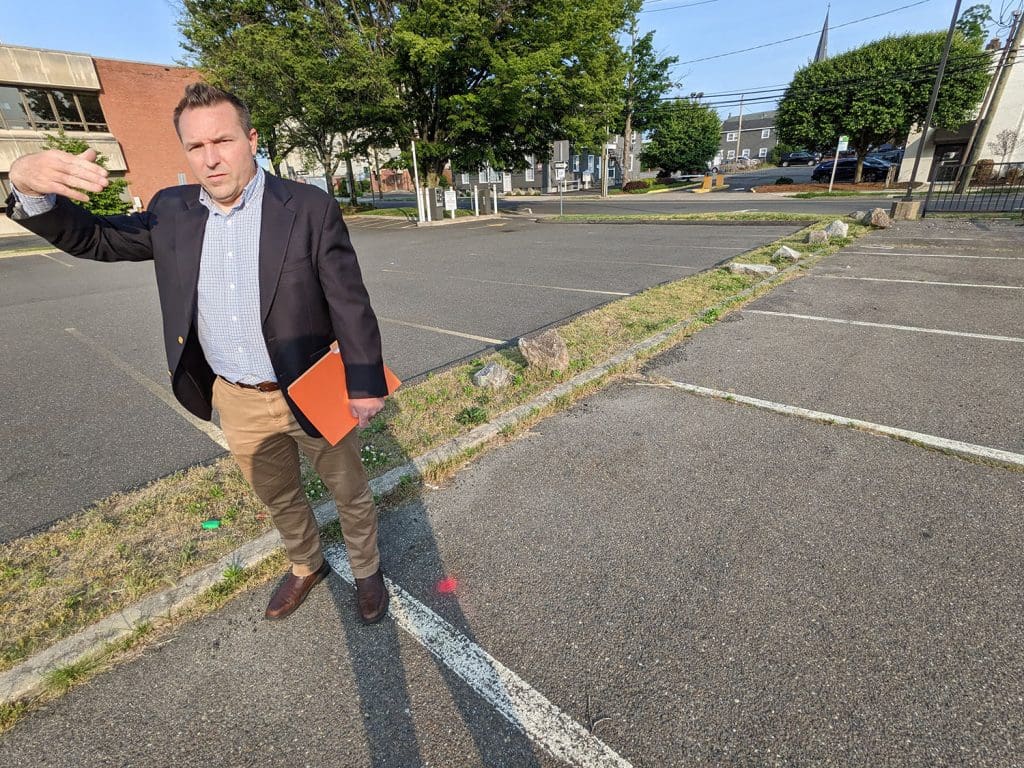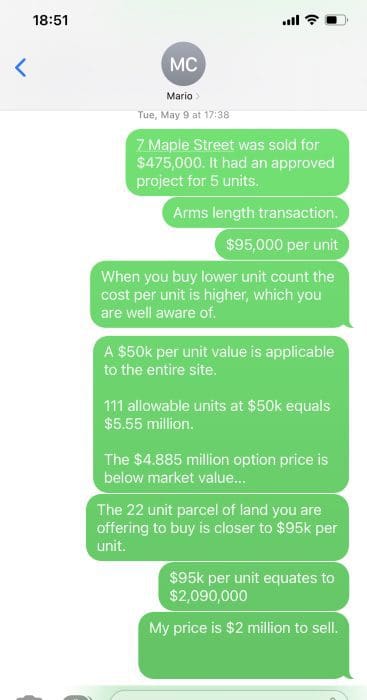 Milligan: 'I have absolutely nothing to do with this problem'
In an email, Milligan said:
"It is extremely unfortunate that after 6 years this is where we are with the library. We spent considerable time negotiating a settlement the lawsuit they brought against me. We had the same discussions back then. I wanted $2 million for the parking area portion of my property, and they felt it was better to buy the whole property for $4,885,000. The price I gave for the parking lot portion 6 years ago was $2 million.


"The big reason the parking lot piece is so valuable is that I can build a large building on that site while simultaneously keeping my existing building up. If I build residential on the smaller piece I can share all of the parking between the retail, office and residential. It is called being efficient and the zoning regulations encourage this type of mixed use efficiency. Having parking lots used around the clock through mixed use sharing is much more environmentally friendly than having an office building parking lot used during the week days and another residential parking lot used primarily overnight and weekends.


"I can build 111 apartments on the area I am willing to sell for $1,750,000. I have a design where I can establish 2 levels of parking. It is likely the most profitable use for my property, but it is not the best project for the area. Working together on a master plan would be best. I am not willing to continue to waste time though. We had 6 years to work on a master plan. "Right now, buying the parking lot piece from me for $1,750,000 is the best option for the city. It is a limited time offer. It secures base level parking, and it preserves the ability to start working on a master plan.

"Buying the parking lot portion from me and acquiring the parcel from the First Taxing District would at least give the library somewhat adequate parking, which is the absolute 1st step required to modernize and improve the library. It is just so obvious! Any meaningful improvements, renovations, or expansion will be worthless if adequate parking is not secured.

"What is so frustrating is that I have absolutely nothing to do with this problem. I have done nothing wrong. I have tried to assist.

"I did not buy 11 Belden Avenue to sell it to the City. I bought it to develop it. If the city does not exercise their option to buy my entire property or accept my limited time offer to sell just the parking lot piece than I will be pursuing my own independent development plans in the very near future."
Information added, 3:15 p.m. Friday.
Reminder:
NancyOnNorwalk requires full names from commenters.
For more information, go here.