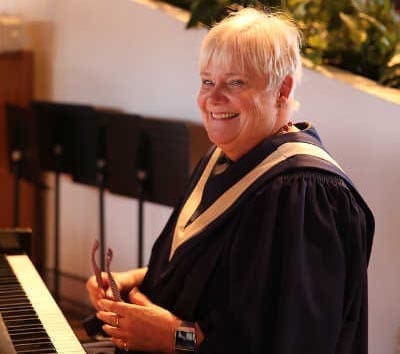 Renowned Norwalk music educator Marsha Hall announces her retirement, capping 45 years as choir director at the United Church of Rowayton. She'll be honored by the church on Sunday Nov. 19 during the 10:15 a.m. service and the Fellowship Hour that follows, according to a news release.
Along with her leadership position at the church, Hall spent 37 years in Norwalk Public Schools teaching music at Roton Middle School, directing the Norwalk High choir and conducting the Brien McMahon High chamber singers.
She graduated from University of Michigan School of Music and the University of Hartford's Hartt School of Music. A Board member of Wilton's "Music on the Hill" assemblage and a guest conductor at Connecticut festivals, she has directed and accompanied choirs touring Europe and the former Soviet Union. Notably, her senior choir has graced the stage at Carnegie Hall.
She performs as a handbell ringer in the Jubilate Ringers, and she instituted multiple handbell choirs at the church. Famed composer Gwyneth Walker honored Hall's 40th year at the church with an original work "A Glad New Song."
Hall said, "I believe longevity in a job is a combination of several factors. For me, the music program was always supported with dedicated, hard-working singers and ringers, the church generously funded the music programs, and I was supported by a loving and caring congregation who truly cared about me and my family."
The United Church of Rowayton is located at 210 Rowayton Ave. Address inquiries to Office Manager Kris Jenkins at (203) 866-1415 or email [email protected]. The church's website is at https://www.ucrowayton.org.