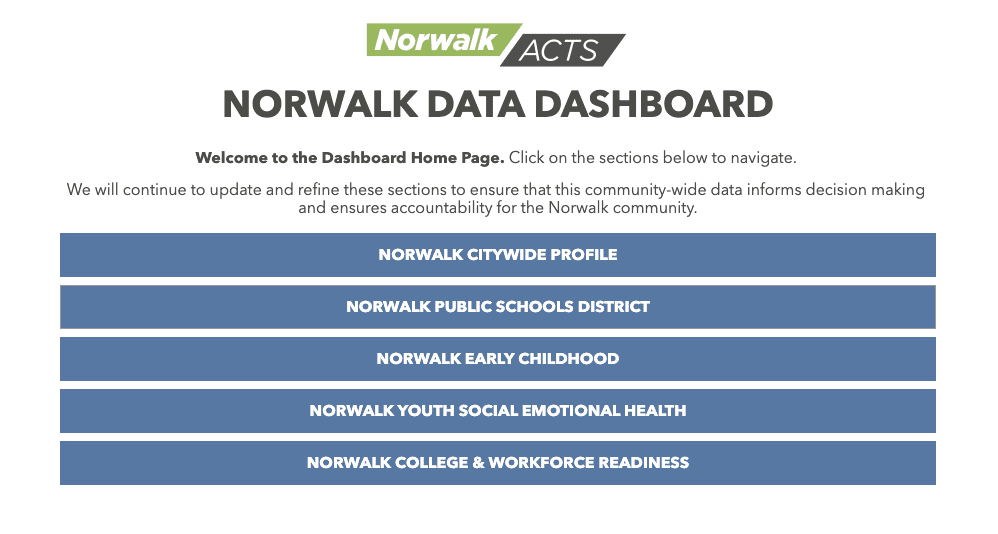 NORWALK, Conn. — Norwalk ACTs has aggregated multiple data points into an update of its community dashboard.
"In the past, Norwalk ACTS made specific dashboards for the community and its Initiatives, but it has redesigned these dashboards to include more data in an easy-to-read format that is centralized in one location. Now the dashboard includes five sections: Norwalk Citywide Profile, Norwalk Public Schools District, Norwalk Early Childhood, Norwalk Youth Social Emotional Health, and Norwalk College & Workforce Readiness," a news release said.
Information on the NPS page is relatively up to date, with some information from the current school year, while the city overview info stems from 2020 data.
According to Norwalk ACTS, the percentage of free and reduced lunch students has decreased, from 54.6% in 21-22 to 50.4% in 22-23. An interactive map shows the student population totals in different neighborhoods, such as 363 in Cranbury and 408 in Marvin Beach.
The school district's teaching staff had 20.6% educators of color in 2021-22, compared to the statewide 10.6% average, but the chronically absent rate was higher locally at 26.68% than the statewide 23.7% benchmark.
The Norwalk Youth Survey is represented on another page. In 2022, 6.4% of NPS students in seventh to twelfth grade attempted suicide, according to the survey results.
Norwalk's unemployment rate is said to be 4.3% this year in another section, while on the Norwalk Early Childhood page, it's revealed that 40% of kindergarteners were at or above level on the DIBELS Literary Assessment this year, compared to the 60% stat pre-pandemic.
"Norwalk ACTS' Data Dashboard helps frame both the celebrations and challenges that the community is facing, and it is intended to help inform the community in developing solutions that drive equitable outcomes for young people and families," the news release said.
"Behind every data point is a child. We owe it to our children and their families to know their larger story by collecting, connecting, and analyzing multiple data points, over time, across the cradle-to-career continuum," said Paula Palermo, Data Director for Norwalk ACTS, in the release.
"We will continue to update and refine these data dashboards to ensure that this community-wide data informs decision making and ensures accountability for the Norwalk community," said Ray Leslie, Data Analyst, who designed the new dashboard. Ray explained, "In the next year, we hope to strengthen the dashboard with more disaggregation by race and ethnicity and trend line analysis."
"Norwalk ACTS does an incredible job helping countless young people and families across our community," said Mayor Harry Rilling in the release. "The addition of their Data Dashboard will only enhance their ability to continue to provide critical information to the community as we collaborate in support of several programs geared towards creating positive outcomes for residents."
Reminder:
NancyOnNorwalk requires full names from commenters.
For more information, go here.