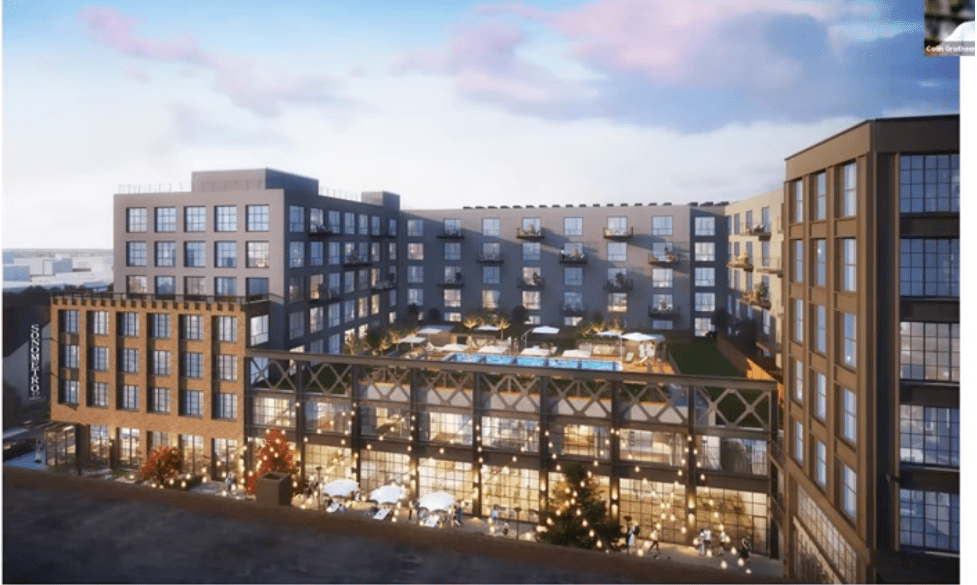 In the latest phase of Spinnaker's redevelopment efforts around the South Norwalk Train Station, the Norwalk Planning and Zoning Commission approved plans for 200 apartments, retail and restaurant space, and a public courtyard at 15 Chestnut St.
As a part of the project, Spinnaker will be taking over some of the area currently being used for commuter parking along the New Haven side of the train station, but providing 60 commuter spots in its garage as part of the development.
"It's a Spinnaker project, but it's also a joint venture or joint project because it involves Spinnaker purchasing land from the City in exchange for Spinnaker providing commuter parking as part of this development," said attorney Adam Blank, who was representing the developer.
In addition, Blank said that the project is a part of a $6 million infrastructure grant awarded to the City that will "provide and expand critical infrastructure that will enable the development of vacant and underutilized sites for a mixed-use/transit-oriented development adjacent to the train station," according to a statement from the State.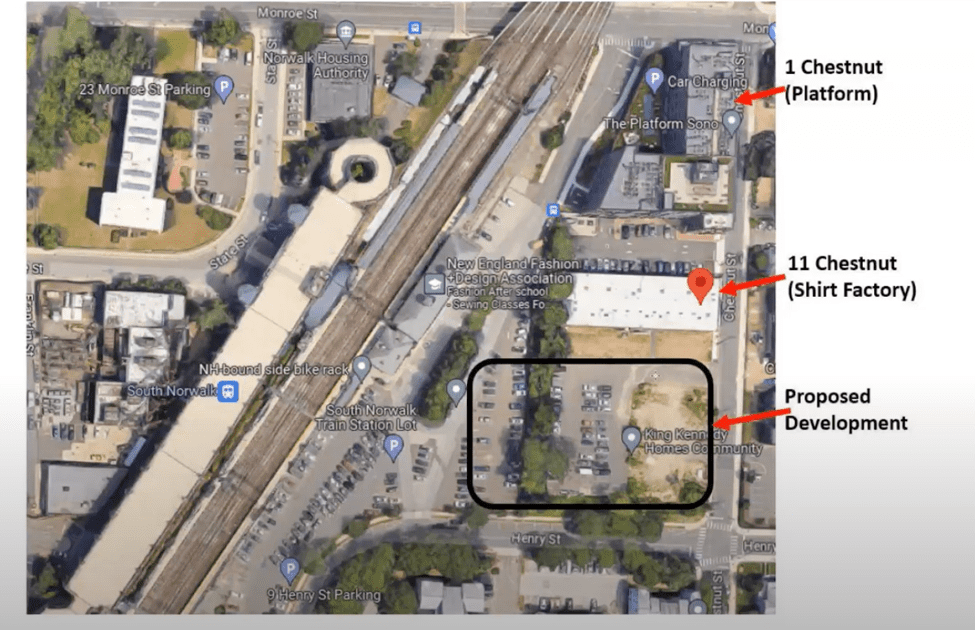 Blank said that this is the latest project in a series that includes the rehab of 11 Chestnut Street—the former shirt factory, 1 Chestnut, which is called The Platform, and the work currently taking place along Monroe Street.
"This area is kind of the culmination of what's been about a four-and-a-half acre, urban parcel redevelopment," said Colin Grotheer, an senior associate at Beinfield Architecture, which designed the project.
Grotheer said that they were focused on the "Norwalk train station as a gateway and arrival point."
"We're trying to reinforce and improve pedestrian connectivity between the train station and the important Washington Street Historic District in the surrounding area; uplift the neighborhood, getting more eyes on the street; make cool spaces for the public and private, that engage residents as well as visitors to the to the area into the neighborhood, provide proximate housing to transit and neighborhood amenities, and provide neighborhood-scale office and retail uses," he said.
Blank said that the proposal is for a seven-story building, which is "just over what's allowed without the historic preservation regulation bonus," due to the fact that they added a level for commuter parking.
The development includes 19 affordable housing apartments, including one three-bedroom, which Blank noted "counts as two," as the city is looking to encourage more three-bedroom affordable units. The project will also have 5,000 square feet of retail space, 8,500 of restaurant space, and a total of 295 parking spots.
"We're going to create a very nice courtyard area here that will give great views of the shirt factory building that don't currently exist," Blank said. "So obviously, the preservation of that would be a cultural benefit to the city of Norwalk."
Blank also said that 'there's obviously significant landscaping and drainage improvements to the site."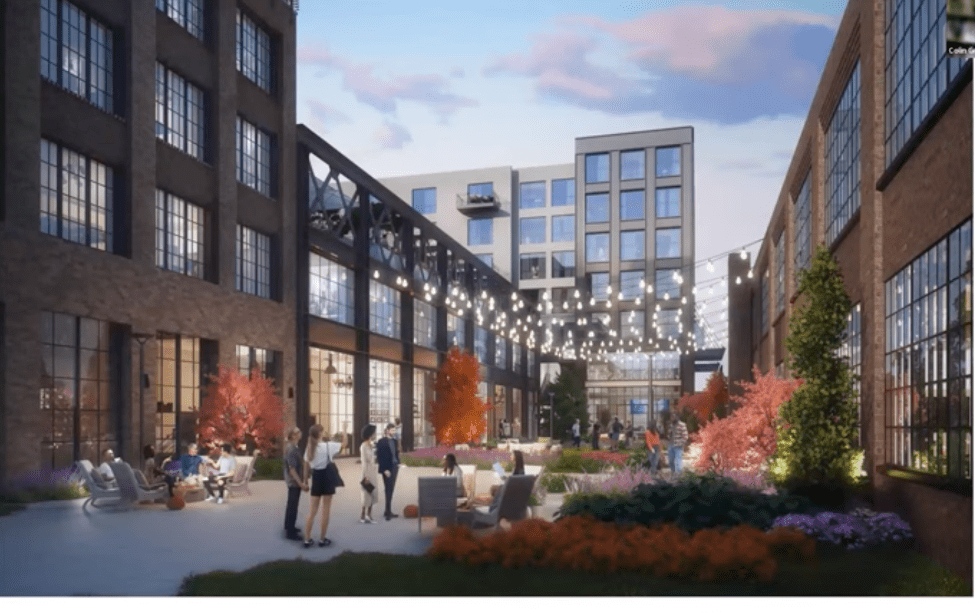 One of the highlights is a public private courtyard space with retail/restaurants surrounding it, which Grotheer called an "engaging public space."
"There is a staircase here that is part of the public private space, but that will allow pedestrians and visitors to the area to draw down into this newly created courtyard," Grotheer said. "That's really seen as a gathering space and an amenity that's public and private."
Some Commissioners raised concerns about the accessibility of the courtyard, since for members of the public coming from the train station, only stairs get them down there, but it is accessible on Chestnut Street. For residents, there are elevators in the building they can use to get down.
Grotheer noted that the design of the building has a "a nice, similar but different building facade to the 1 Chestnut building, taking that cue and the industrial heritage of the neighborhood and bringing that down the street."
Although the Commissioners voted unanimously to approve the project, some outlined concerns about traffic and displacement of seniors.
"I love the fact that it's opening it up to newcomers, young people, students, young professionals, but I'm now thinking about the seniors who are in this neighborhood or who have always been in this neighborhood, who will also be looking for housing as well," Commissioner Jacquen Jordan-Byron said. "Is there any room or has any thought been given to addressing this need for seniors…who cannot afford the upscale apartments that are going up across town, being that this is so close to the train station and easily accessible for them to get around?"
Grotheer said that there's no age restriction on the development and many of their properties have a mix of ages, from young professionals to empty nesters.
As a part of the work from this project, the road in the train station—Station Place—will be realigned, according to Greg Del Rio, the traffic engineer for the applicant.
"And the realignment of the roadway that will go through the station, buses, the transit buses, will no longer be able to make the U-turn that they make within the parking lot in front of the station building, so they will be rerouted," he said. "And we've accounted for that rerouting of the transit buses, which will now come out onto Henry Street, go to South Main north, and then come back onto Monroe Street and continue on their existing routes."
Jordan-Byron said that this was a big concern.
"Particularly on Henry Street, which is this one block of lovely residential homes, mostly owned by seniors, you want to make that the dumping ground for buses?" she said. "They're already getting the noise pollution, air pollution from the school buses, now you're going to add some city buses to that street? That's not fair."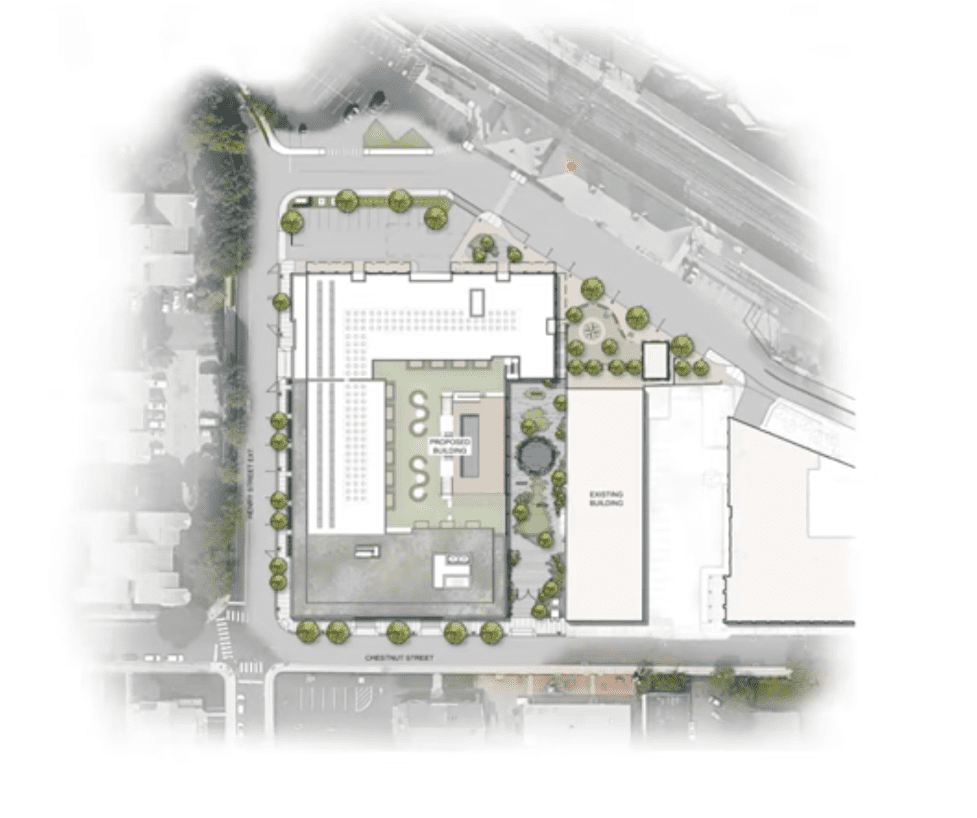 Commissioner Tammy Langalis said that she was concerned Henry Street would be overloaded.
Part of this stems from the City's Transportation, Mobility, and Parking department and its consideration of turning Chestnut Street into a one-way road.
"Chestnut Street serves as a get around from South Main Street, which is already congested," Jordan-Byron said. "So people like myself who live in this neighborhood, I literally would have to now get on South Main Street, all the way up those blocks to get to my home when I could have just gone down Chestnut Street, and not have to deal with all the traffic lights and the traffic and congestion."
Steve Kleppin, Norwalk's Director of Planning and Zoning, said that he would speak with Jim Travers about the traffic concerns, especially since the one-way on Chestnut hadn't been approved. He said that it was something the department asked them to consider.
Langalis said that she was also concerned about the traffic in the area from the former Columbus Magnet School, which is now the South Norwalk incubator school until the new one is built, and Side-by-Side Charter School.
"We had a Commissioner a few years ago on our Board who used to drop off his children at those schools and would bemoan the fact that it would take a half an hour to 40 minutes to go around the block to drop off somebody there," she said. "There's a lot of traffic there twice a day."
Blank said that from his understanding, once the new South Norwalk Elementary School opens, he's not sure what will happen with that site, but doesn't believe it will be a school.
"Once the SoNo school starts, the city has not committed to what the future use of that site will be—there doesn't appear to be a demand for it to be a school," he said. "I'm sure it won't be a vacant lot forever."
Only one member of the public, resident Paul Chenard, spoke at the public hearing.
"Overall, I really liked the project," he said. "I think it's well designed, very beautiful streetscape, and really great architecture. I do have some concerns…with all the additional curb cuts that are gonna be on the road. I think there were like four or five and overall, those two additional on Henry Street, two additional on Chestnut. It just creates a lot more conflict points for pedestrians and cyclists who traverse in the area."
Kelly Prinz, formerly Kelly Kultys, is the founder of Coastal Connecticut Times.
Reminder:
NancyOnNorwalk requires full names from commenters.
For more information, go here.