NFT President says plans were set before NHS teachers could weigh in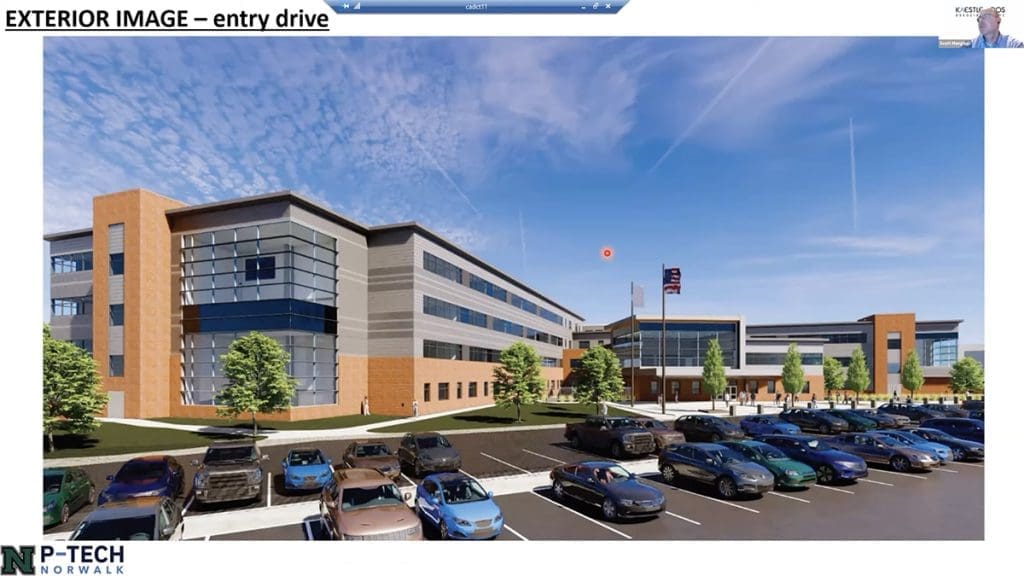 An assertion Wednesday that the new Norwalk High School construction budget has surely escalated $80 or $90 million since it was first presented was denied by construction managers. But lone Council Republican Bryan Meek's allegation that teachers will not have homerooms turned out to be on target.
In late 2019, State Senate Majority Leader Bob Duff (D-25) announced that the State would pay 80% of the cost of a new Norwalk High School, on the condition that 100 out-of-town students attend the P-Tech (Pathways in Technology) Middle College and 100 out-of-town students attend a new Visual and Performing Arts Academy, thus making it a pilot program facility.
Last year, the State budget passed by the legislature authorized a $239 million construction cost.
Meek has been against the project from its inception, calling it "Bob Duff High" and predicting that Norwalk will not get the promised 80% reimbursement.
The finalized high school campus design is going to the State for review in a few weeks, Scott Mangiagli of Kaestle Boos Associates Inc. told the Common Council Land Use and Building Committee at its Wednesday meeting. It should go out for bids within three months and construction should start next year, with students expected to move into the finished building in 2027.
Mangiagli's presentation resulted in a 3-1 Committee vote to approve the plans and submit them to the State. The Committee is authorized as the city's school building committee and the full Council vote is not required.
Mangiagli reviewed the basic history of the design, to flip the locations of the school building and playing fields. Access to the school will remain from County Street and Strawberry Hill Road but a prolonged bus loop will keep the buses from stacking on the streets and traffic improvements should alleviate the "orchestrated mess" that parent drop off is now.
As for the school's exterior, "we wanted to keep the material simple, just due to cost, and functionality, really," he said. The base is generally brick and metal wall panels are planned for the upper areas, to give it "a little bit of corrugated look" and "break down the scale slightly more."
Long ribbon windows "allow natural light to come into the building" and "taller curtain walls" highlight some building sections, he said. There's "a bit of a clerestory for the auxiliary gymnasium."
Land Use and Building Management Committee Chairwoman Barbara Smyth (D-At Large) called the design "very bright, not prison-like, like the old Norwalk High School." A retired teacher, Smyth said, "I know you spent a lot of time with the staff, really taking their feedback." She really liked "the collaborative workspace for the students."
Meek, representing District D, questioned the $239 million budget mentioned in the materials as dating to 2019 and suggested, "inflation adjusted that's probably another 80 or 90 million higher." He asked, "do we get a real estimate of the cost?"
Dan Phillips of Construction Solutions Group (CGS), project manager, said the final documents are going to the State and then out to bid.
"At this point, we received an estimate back from Gilbane (Construction Company)," he said. "…We've reconciled any discrepancies with the design team, we're backed into our soft costs, we're still within that $239 million budget that was originally approved by the state." Once bids come in, that "would be the final construction costs for the construction."
Meek alleged that Mangiagli had said they were using cheaper materials. Mangiali and Meek worked toward the phrase "cost-effective."
"For example, curtain walls a lot more expensive than then storefront," Mangiali said. "So you would only want to use a certain amount of curtain wall versus trying to go to the more cost effective curtain wall. Same thing with brick. If you use an insulated metal wall panel, you can be doubling the price of brick, when brick is a bit more cost effective … and a little bit more durable over the life of the building."
Meek asked if borings had been done given that "this property is primarily composed of ledge that will require blasting and significant excavation."
Mangiali said a "significant amount" of borings were done and none "showed ledge that were attainable. There is suspected ledge possibly underneath the existing building, which the construction manager is possibly anticipating and would be within their number."
Meek said he'd heard that there are fewer classrooms than teachers, and teachers will be assigned carts.
"The understanding is that the model for teaching is going to be slightly different than what it is now where each teacher has a home room, the actual number of classrooms and learning facilities has not decreased," Mangiali said. "As I mentioned, it's really the same size as the existing facility. They've been reorganized to provide future flexibility in the anticipation is that teachers would have to migrate from various rooms to room. And we have discussed that with the current administration, and believe we address their needs, but there was not a diminishing of the number of classrooms. I think it was just a parity of understanding of, of how classrooms and learning rooms are counted."
Smyth said she understood that teachers will have office space where they can work at a desk to grade papers and other things.
Mangiali had explained that a central core of the wings provides teacher space on each wing, where "they're accessible to the students if need be."
"It's not like teachers are wandering around with no place to work. … I have seen that model in other high schools," Smyth said.
On Thursday, Norwalk Federation of Teachers President Mary Yordon said in an email, "While we celebrate a new building, NFT members at NHS had little opportunity to provide input until after plans were already set. We are eager to work in a more modern building, for example with appropriate PA systems, connectivity and wiring. However, we expressed concerns about the model where all work spaces are temporarily assigned. No one has a dedicated classroom, workspace or even a desk assigned to them. In addition to the lack of initial input, the presentation of updates has not been made yet to the teachers, so it is hard to comment on the current impact of updated to teachers."
She said, "Every teacher has a different approach, but most do not prefer having to travel from classroom to classroom. There is an efficiency in having to share desks, works spaces and classrooms, but this is not a feature we are looking forward to."
On Wednesday, Meek also asked if Kaestle Boos Associates Inc. also designs prisons.
Mangiali said, "Our firm has never done a prison to my knowledge."
Duff has compared the existing high school to a prison.
That building's architect "designed prisons along with schools, firehouses, courthouses," Meek said. "I know it gets thrown out there that the old building looks like a prison. I find that insulting being an alumni. And I'll miss it, but I'm tired of hearing that as an argument."
Meek voted against the plans.
Smyth said she appreciated the prison comments. "A school is what you make of it, it's the people within it, and the teachers that, you know, teach our kids every day and make a family of it… It is a great, great building in that regard."
Reminder:
NancyOnNorwalk requires full names from commenters.
For more information, go here.