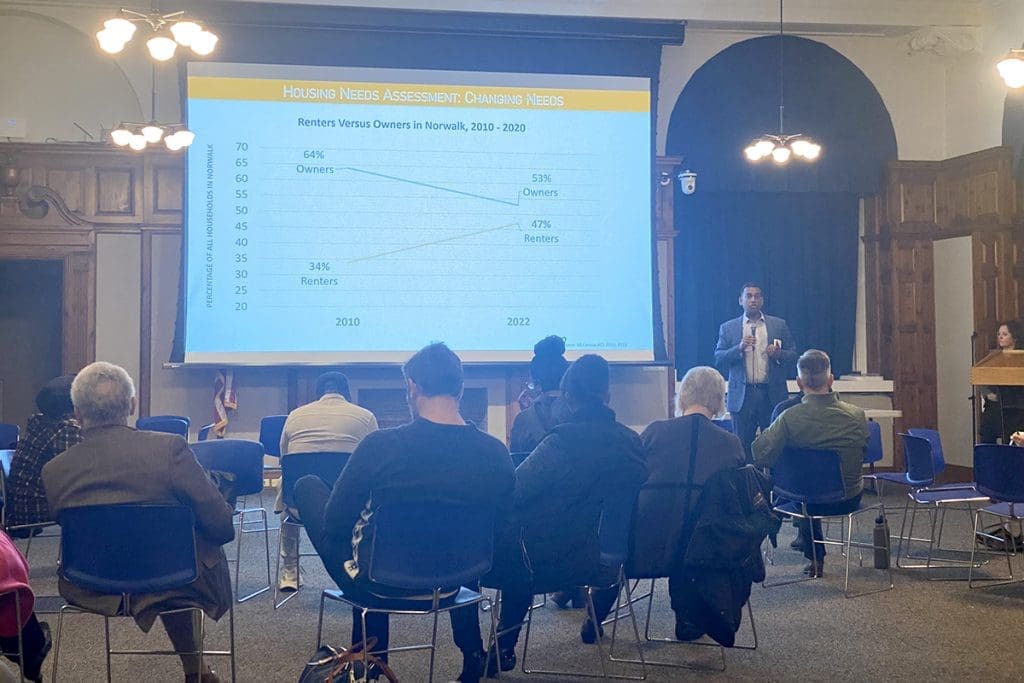 More than 25 residents had the chance to weigh in on Norwalk's current housing stock, what they'd like to see in the future, and challenges around housing that exist, at the first "Housing Needs Assessment" workshop.
The public event was part of the community engagement sessions that consultant AKRF is running as a part of developing the city's Affordable Housing Plan. This is part of a housing needs assessment phase, where the consultant is analyzing local, regional, and state data on demographics, and housing, conducting market analysis, engaging the community, and putting together a housing needs report.
Kevin Dwarka, a land use and economic consultant, who runs Kevin Dwarka LLC and is working with AKRF on the affordable housing plan, said that one of the things they're looking at is where the current housing needs are, but also what the future looks like.
He showed how from 2010 to 2022 the city went from about 66% homeowners and 34% renters to 53% home owners and 47% rents.
"That's a really interesting statistic because it reveals a lot about the changes in the housing inventory, and it also says something about the shifting needs of housing," he said.
He encouraged participants to think not just about their current needs, but what they'd like in the future—whether that's a bigger home to accommodate a larger family, or to downsize.
"We're asking you to be thinking robustly about your personal experiences, your households, your housing needs as we go through a series of questions which are aimed at helping us round out our understanding of the numbers with the actual stories of experiences you as residents are having in this city," he said.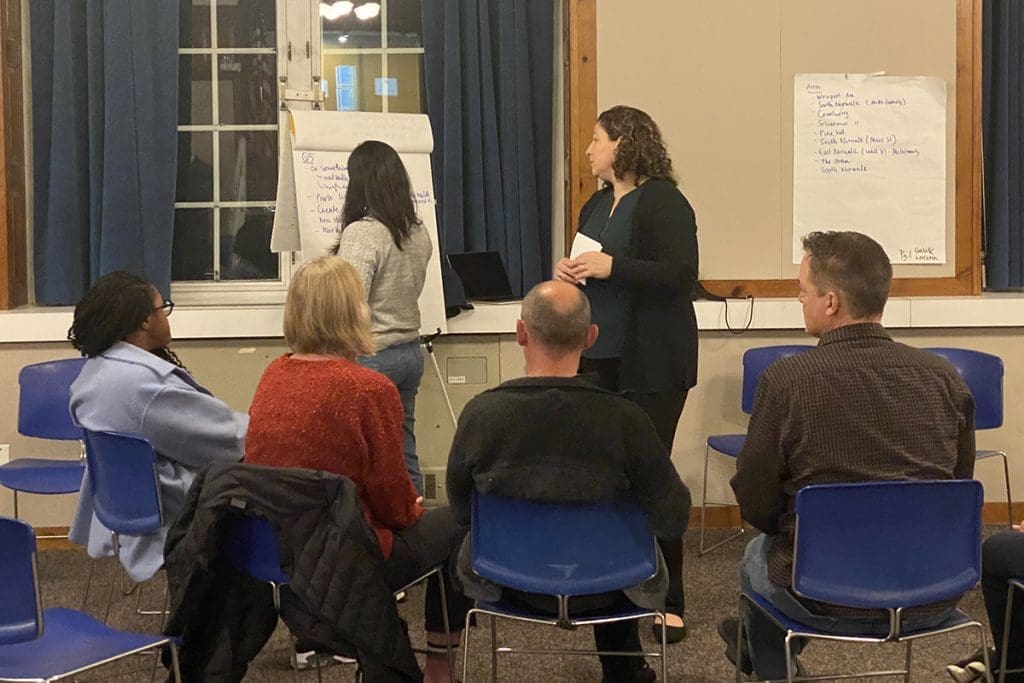 Residents were broken up into four small breakout groups, with facilitators, to answer five questions that would be recorded as a part of the report.
Here's a look at some of the ideas and topics discussed at the session:
Question 1: How would you define Norwalk's housing needs?
Some residents said that the city needed more housing of all types to help accommodate a range of needs and price ranges.
Others said that they wanted the city to "assess what it had" first before moving forward with adding more.
Some highlighted a need for "missing middle" housing, such as townhouses or smaller starter homes, stating that a lot of the inventory was out of their price range.
Others noted that the city specifically needed more affordable housing.
Question 2: Who are we trying to house?
"Affordable housing means everyone."
Current residents who are being priced out
Middle-income households
Question 3: Can the housing need be solved without increasing the current supply of housing?
Tiffany Zezula, one of the facilitators, said that this question was meant to get residents thinking about different options and ideas and to think critically about the issue. For the most part, Zezula noted that there would need to be "some type of supply increase," to meet a need for more housing.
Question 4: What are some of the obstacles to creating housing?
Some residents said public opinion and people being opposed to housing often limits the supply.
Others cited infrastructure challenges, such as crowded streets and a lack of sidewalks, as something that needed to be solved before more housing should be built.
Some mentioned the school district and how if housing is increased, attracting more families, the school system capacity would also have to increase.
Others noted that Norwalk is relatively built out and there's a lack of land to increase the supply.
Parking and crowded streets were also two concerns.
Question 5: What are some solutions?
Changing the negative connotation attached to affordable housing.
Partnering with nonprofit developers or smaller developers to help provide some smaller scale developments
Adding more transit-oriented development to help limit the impacts on the roadways
Getting an assessment of what currently exists to better plan housing
Next Steps
Zezula said that there would be a virtual session on November 30 for residents to participate and weigh in on similar questions. The group would also be popping up at Norwalk events to talk to more people, before compiling all the responses into a housing needs assessment report. 
Kelly Prinz, formerly Kelly Kultys, is the founder of Coastal Connecticut Times.