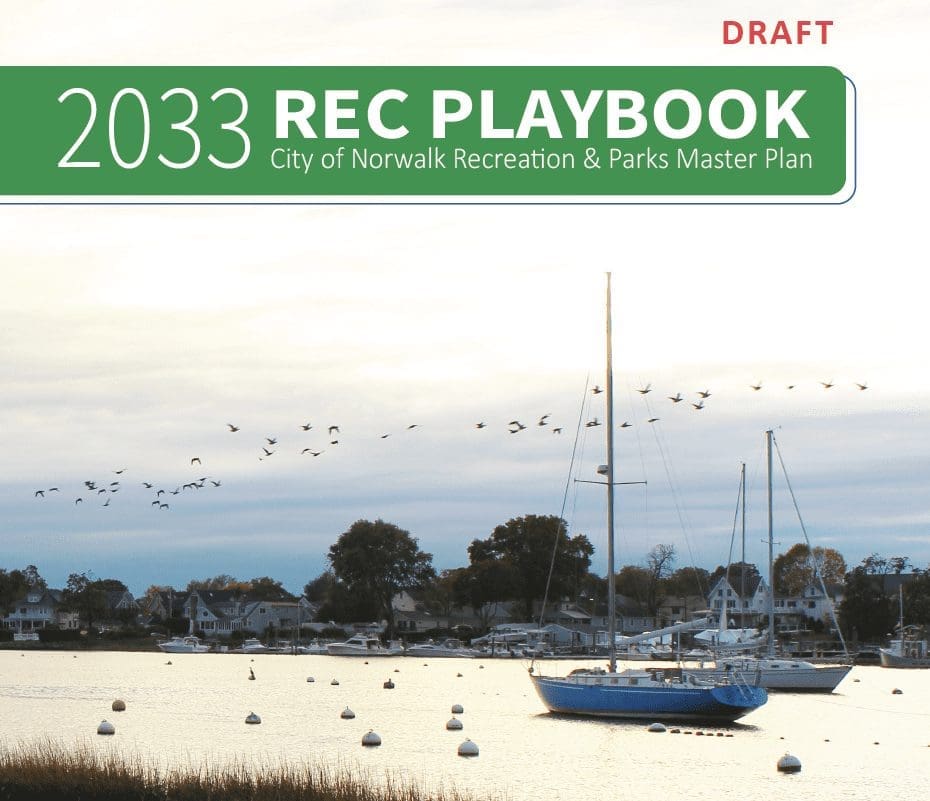 NORWALK, Conn. — A draft Norwalk Parks master plan three years in the making is ready for public review.
Its 254 pages include a recommendation for $58.1 million in expenditures over the coming 10 years to make "substantial progress" in its goals. Residents are invited to a June 8 community meeting to review and discuss the draft.
Then-Director of Recreation and Parks Nick Roberts initiated a master plan process in September 2019, telling Common Council members that the department had a "glaring" deficiency, "it currently lacks strategic plans or goals … we don't even have a mission statement or a vision statement for the parks department."
The effort stalled due to COVID and "the uncertainty of how to handle the public meetings and things like that," Roberts said in April 2021. The Council subsequently approved a $249,975 contract with White Plains-based engineering consultants Kimley-Horn.
When Norwalk Recreation and Parks Director Robert Stowers was hired that September, Mayor Harry Rilling promised he would pick up the ball and run with it.
Stowers told Council members in July that he expected to have a draft for public review "by fall." In May, he said it was almost ready and "The number one recommendation is for indoor recreation."
The last master plan was done in 1996, Kimley-Horn states.
The plan offers these "key takeaways" from the program and recreation trends assessment:
"Continue to explore ways to diversity the Department's core program areas beyond the current five: aquatics, camps, youth sports, cultural, and adult leagues.
"The Department currently lacks development and implementation of an annual program plan to identify age segments, recreation interests, and meeting community programmatic needs.
"The absences of access to flexible indoor space is a significant barrier to developing new and expanded programming opportunities.
"Department needs resources to identify and pursue additional partnerships, leasing opportunities, and/or acquisition opportunities for additional indoor space.
"Department is currently in process of executing a JUA with Norwalk Public Schools and will need resources to monitor its implementation, review and adjust terms as needed, and utilize access to additional indoor space.
"The Department is currently completing a cost recovery study to determine a consistent philosophy and set of goals.
"Survey results indicate a strong level of support (68.6%) for additional user fees or charges for programming and events. Support increases for households with children, representing a recognition of value.
"Team and outdoor sports are most desired activities for youth (under age 17), while fitness, aquatic, and outdoor sports were primary desired activities for adults."
A needs assessment summary lists top priorities:
"Prioritize waterfront and passive parks and programming to better connect to water.
"Provide equitable access to parks through connectivity and new acquisition or development.
"Diversify programming to better meet changing demographics and interests with additional indoor space and aquatic facilities.
"Enhance bike and pedestrian accessibility, including to park destinations and within parks.
"Prioritize alternative funding options to provide operational funding and additional capital improvements funding."
"Historic trends in capital improvement funding may provide $44.25 million over next ten years, 76% of needed funding, therefore requiring additional sources," it advises, later detailing seven strategies it says provide a roadmap that outlines funding targets, recommended policy changes, identification of capital and O&M projected costs, recommended phasing and prioritization of projects … and recommendations that may increase revenues."
If the recommendations are enacted, "funding has the potential to increase an estimated $44.25 million to an estimated $71.74 million, or 123% of the needed capital funding for all projects recommended for the next 10 years, providing flexibility to the plan," it states.
"You can view the Draft of the Master Plan by visiting https://issuu.com/nkuhn-parks/docs/norwalkrpmp_draftv2_2023.0531. You can also share your feedback directly and review the project's website by visiting https://engagekh.com/norwalkparksplan," a news release states.
Thursday's community meeting is scheduled for 5 to 7:30 p.m. in the Norwalk Public Library Community Room, located at 1 Belden Ave. The plan will be presented over the first hour and then participants will go to breakout tables to discuss it.
"The Master Plan is a ten-year plan that will establish the vision for recreation programs and focus on capital improvements in the City's parks and recreation facilities" a news release said. "It aims to provide high-quality parks and facilities by meeting changing recreation needs and addressing existing or new maintenance needs while presenting inclusive and equitable programming options based on community needs and recreation trends."
Reminder:
NancyOnNorwalk requires full names from commenters.
For more information, go here.