A new mixed-use development, featuring more than 200 apartments, a first-floor restaurant, and amenity spaces was approved at the site of the former YMCA site on West Avenue.
Randy Salvatore, the owner of RMS, which is developing the site, said that this is their latest project in Norwalk, which include spots like Hotel Zero Degrees on Main Avenue.
"​​I just want to thank you for the opportunity to develop here, we're really excited about the opportunity," he said. "So we're excited to, again, to have the opportunity here and look forward to the prospect of working with you all for many years to come."
Attorney Liz Suchy, who was representing RMS, said that all the structures currently on the site would be demolished and replaced with the new development, which would include 37 studio apartments, 101 one-bedrooms, and 67 two-bedrooms. The plan will include 20 affordable housing units as well.
"We also included a workforce housing at the ground floor where we have the two-story units, so they're not they're not only distributed in the floor plan in the building, but they're also distributed amongst their various unit types that we have," said Luz Rosado, the architect for the project.
The plans also include more than 270 parking spaces, including about 10 that the City's Transportation, Mobility, and Parking (TMP) department asked the developer to add along both West Avenue and Maple Street.
Resident Paul Chenard complimented the improvements this project would bring to the area during the public hearing.
"This is a great project. I really like seeing all the architectural design that's going on there, it's going to really plug up a hole that's just in nothing going on for a long time right there at West Street at the old YMCA lot," he said.
Commissioner Richard Roina also praised the developer for their projects in the city.
"I really feel like we're fortunate to have some of the developers with the pockets that they have that they can start and finish a project, unlike some I can think of on Wall Street," he said. "Mr. Salvatore gave us a little history of what he's done in Norwalk, and I'm happy to have him here. I think he's going to do a great job on this."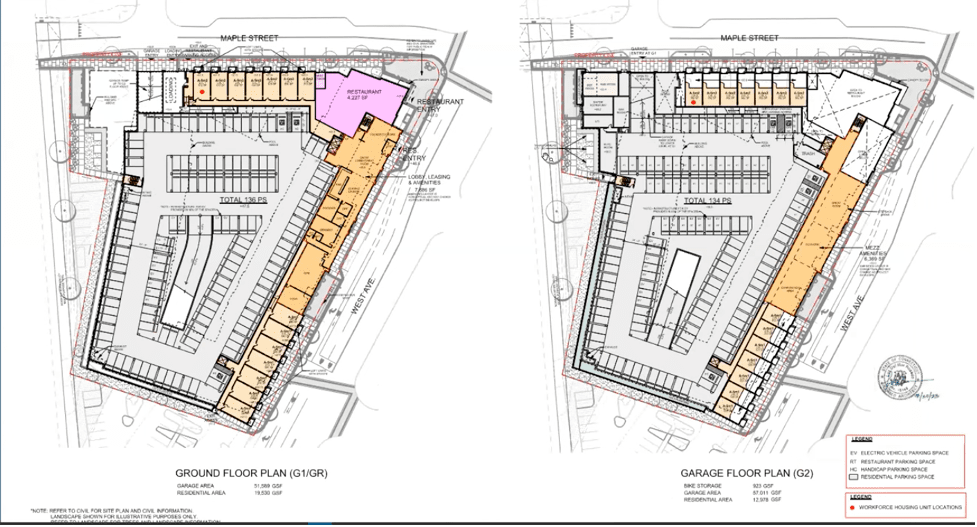 Andy Soumelidis, a principal engineer at LandTech who was the engineer for the project, said that the project would be a "huge improvement from a stormwater perspective."
"We will be adding an underground retention system in this area as well as a hydrodynamic separator which is basically a manhole structure with a swirl chamber to remove sediments and hydrocarbons and gasses and oils and such," he said.
Also, at the request of TMP, the developer will be moving the bus stop that currently exists in front of the YMCA to the corner of West Avenue and Maple Street.
"You'll see a bunch of striping and improvements that the town or the city is looking to undertake, which is essentially adding some bike lanes to the existing corridor here along West Ave. and really extending those that currently exist further down," Soumelidis said.
He also noted that they "added bike amenities here to support the Norwalk River Valley Trail as well as support bike access along the West Ave corridor."
"The idea is to slow down traffic through this corridor, again, working with TMP, to slow down the traffic, make this more pedestrian friendly, bike friendly and such," Soumelidis said.
During the public hearing, resident Richard Bonenfant, who is running for Common Council, said that adding the on street parking would be a public safety issue.
"Ambulances got to fly up that street to hospitals right there and you guys know it," he said. "You want to narrow it and get the ambulance all boxed up because somebody's there, parallel parking, while the ambulance is trying to get around and there's no room. So that's a huge public safety issue."
The developer's traffic engineer Greg Del Rio said that the additional traffic caused by the development "fits under existing conditions with existing roadway and network, which was accounted for."
The developer also is required to work with Eversource and other providers to try and underground the utilities in that area, but Suchy said that might not be feasible given timing and cost. If it's not feasible, they'd have to come back before the commission to adjust that condition of approval.
Suchy also said that TMP asked them to add another crosswalk across West Avenue connecting the other side of Butler Street, but they were opposed to this.
"TMP was really to add another crosswalk here to get you to here, which we feel isn't necessary. Somebody who's walking along here can easily walk another 20 feet to get across the street," Soumelidis said. "It would just seem silly to add another leg here to cross you to this corner."
Tom Carman, the project's landscape architect said that near the public space and the restaurant, there would be "decorative pavement there with some bench seating, planters that would be maintained by the owner throughout the year, trash receptacles, and bike racks are proposed there."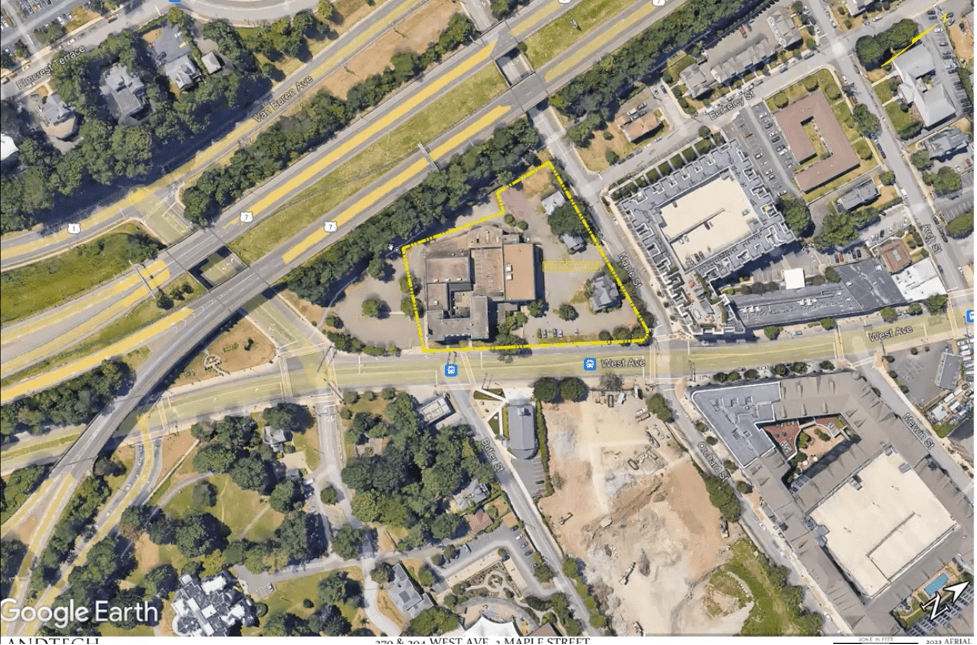 Commissioner Tammy Langalis raised a concern—which was also raised by Bonenfant—about where residents could work their dogs. Suchy recommended the nearby Norwalk River Valley Trail or Mathews Park.
"That's an irresponsible answer, because Matthews Park is not a dog park," Bonenfant said. "I see people with their dogs, they don't pick up after them and they're ruining the parks."
Other Commissioners also questioned the lack of solar panels and other sustainability efforts.
"I abstain because I really in good conscience can't say yes to a project where their answer to solar panels is plugins for your cell phone," she said. "I think that's really cynical. And we are in a climate emergency and I feel nothing is more important than sustainability at this point."
Langalis also noted that the original intent for the YMCA was a project from Norwalk Hospital, which would have brought jobs to the area.
"I think that RMS has done a nice job with this project, but I would like to go on the record that I'm extremely disappointed that this parcel of land was not developed into something by Norwalk Hospital, as was proposed to the Planning Commission," she said. "There was an opportunity to bring jobs to Norwalk, rather than just housing. It's no fault of this applicant, but I just think that it should go on the record that Nuvance bought the Norwalk hospital. And I guess that opportunity went out the window, but I think that's really disappointing."
Kelly Prinz, formerly Kelly Kultys, is the founder of Coastal Connecticut Times.
Reminder:
NancyOnNorwalk requires full names from commenters.
For more information, go here.