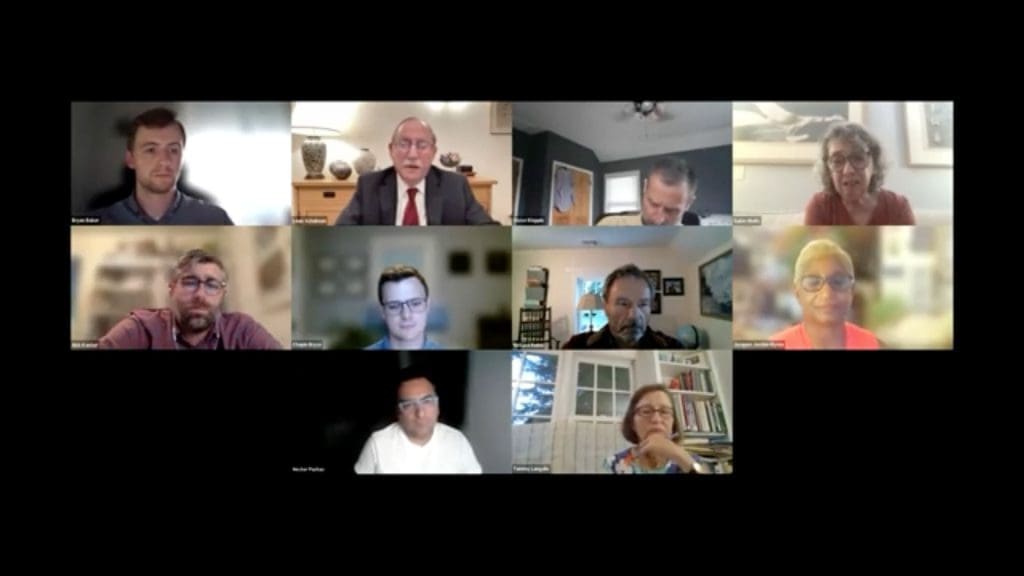 After listening to Norwalk citizens weigh in for two straight hearings, the Planning and Zoning Commission started its discussion of the proposed zoning changes—which divided many members.
The Commission focused its discussion primarily around the proposal which drew the most pushback from the public, one that would rezone some single-family neighborhoods to allow for two-family houses.
Chair Lou Schulman said that he thought they should remove the plans to upzone the zones from the overall zoning rewrite.
"I have walked virtually every neighborhood that is proposed to be rezoned and it just doesn't look to me as if it's appropriate to allow that rezoning," he said.
Some Commission members, including Tammy Langalis and Richard Roina, voiced their support for the Chair's position. Mayor Harry Rilling also spoke up at the first public hearing and said that he had "serious concerns" about moving single family zones to two family and encouraged the Planning and Zoning Commission to take a step back.
But at least four other Commission members said that they wanted to move forward with the proposal to change the zoning, leaving the Commission split.
No votes were taken on the item and Schulman said that the Commission's discussion would continue over the next few weeks.
Arguments For removing the upzoning proposal
Schulman drew from his experience in running a bus system as to why he was opposed to the upzoning.
"I do agree that there is kind of an unspoken agreement between a municipality and its residents—I remember when I ran a bus system, it was important to me and I think it was important to the system that the bus that ran on your street today would be running on your street tomorrow, and the day after that. And this is not different than that."
He also noted that while some parts of the map looked great on paper, such as having the upzoning take place in areas close to public transit, it looked different in reality.
"When you move from the planning world where they are, to the real world where we find ourselves, I think that's different, I think it makes it different," he said. "And I sort of would like to keep faith with the residents of the city on this issue."
He wasn't alone in calling for the proposal to be removed.
"Even though he was the only Council member who voted against me, I'm in agreement with what Mr. Bonefant had to say—the entire prospect of upzoning should be removed at this time," Roina said. "I am against changing the single-family zones into two-family zones."
Langalis drew on her experience as a realtor, stating that people pick their neighborhoods for a reason and that there can be challenges in getting financing for a two-family property.
"They liked the neighborhood that they bought in because, one, that's where they chose to live—it's probably where they can afford to live because people buy where they can afford to live," she said, adding that "if somebody is looking for a single-family home, that's what they want to buy."
Langalis noted how the city has "very distinct neighborhoods" and people choose their neighborhoods based on what type of area they want to live in. She also said that she believes a lot of the housing shortage was caused by people moving to Norwalk and the surrounding areas from New York City and the fact that many millennials delayed buying a home, with all of that hitting at once.
"I feel a lot of compassion for the people that spoke that don't want to have their neighborhood upzoned," she said.
Support for upzoning some single-family zones
Other members, such as Jacquen Jordan-Byron, said that it was "a fairytale" for people not to expect their neighborhoods to ever change.
"Every neighborhood goes through transition—whether good or bad, or in the middle, they're going to go through something," she said. "And to think that this neighborhood is never going to transition into anything else, it's going to stay as storybook as they think it is, I think is unrealistic. And it's also unfair to the rest of the city that has been carrying the burden of change."
Jordan-Byron said that she heard a lot of people at the hearings talk about family. She said that having a diversity of housing options available would allow for those who go away to college to come back home and have a place to live or for grandparents to downsize and stay close.
She also raised the issue of how zoning was used to redline neighborhoods to keep people out and how that's still happening.
"We got into this problem with decreased housing because of this very issue that people want to protect the lines of their neighborhood and don't want to allow more people to have access," she said.
Commissioner Galen Wells said that she believed that many of the people who spoke out were "frightened" and were responding to "Facebook posts" encouraging them to come out and didn't understand all of the facts.
"Neighborhoods change all the time," she said. "When I moved to Norwalk the big boogeyman was all the condos. Everyone was up in arms, 'oh there's all these condos. These people living in the condos have no skin in the game. They don't pay enough taxes. They put their kids in schools, all the things.' Now we've forgotten about the condos, they turned out to be not that big of a deal."
Commissioner Nick Kantor also said that he didn't want to just remove the upzoning entirely.
"I, at this point, don't feel the need to throw everything out the window, because I think we've talked over and over about this notion of this missing middle," he said.
Some Potential Compromises
Kantor and others, such as Commissioner Chapin Bryce, said that they would concede that maybe the proposed upzoning could be scaled back in areas where there were some challenges.
"I think there's definitely some here or some ways to potentially not throw the baby out with the bathwater so to speak," Kantor said. "The parking thing I get, so where it's most egregious—we've heard for years about this parking residents' pass that hasn't come to fruition. I could understand pulling back that area, East Norwalk, until the parking solution comes into place."
There was no action taken on the proposals at this time. Schulman said that they would be continuing the discussion and while the proposed timeline now has them voting in September, that timeline will get pushed back. Right now, Schulman said that they would be looking at some minor edits to the proposal at the Commission's next meeting and continuing the discussion about the major zoning changes.
Kelly Prinz, formerly Kelly Kultys, is the founder of Coastal Connecticut Times.
Reminder:
NancyOnNorwalk requires full names from commenters.
For more information, go here.