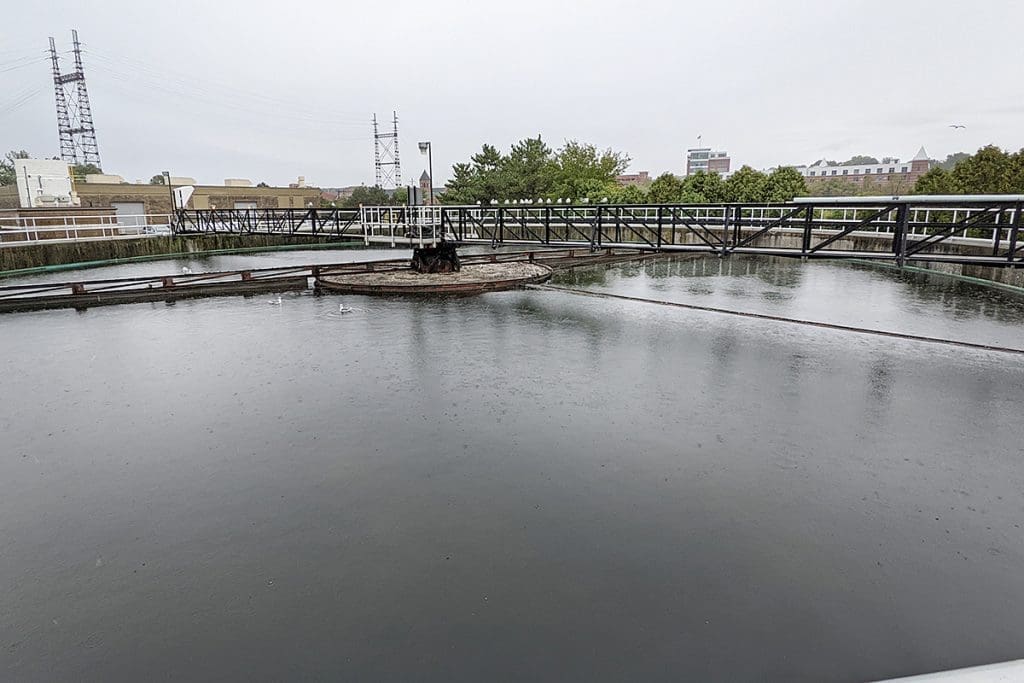 Norwalk is poised to spend $50 million on its wastewater treatment system to meet the second set of requirements laid out in the consent order the City recently signed with the Connecticut Department of Energy and Environmental Protection (DEEP), though not in the way originally imagined.
In addition, the Water Pollution Control Authority aspires to spend an additional $78 million in the decade after the consent order work is completed, to upgrade and enhance the system, creating efficiencies and updating the system's assets.
WPCA voted 5-1 to approve sending the $50 million plan to DEEP for approval, with lone Common Council Republican Bryan Meek, appointed to represent District D, voting no. The other recommendations would work their way through the capital budget process in coming years, Chief of Operations and Public Works Vanessa Valadares said.
Mayor Harry Rilling signed the consent order with DEEP in May 2022. Norwalk has dumped raw sewage and under-treated sewage into the Sound on multiple occasions because of specific inadequate mechanisms and can be reasonably expected to pollute state waters further given the system's existing conditions, DEEP said in the consent order.
The raw sewage emanates from the Ann Street siphon, across the river from the actual wastewater treatment plant, when it is overwhelmed by a heavy rainstorm, according to DEEP. Norwalk is required to eliminate the siphon. Overflows from the plant itself are filtered and treated with chlorine before they're discharged.
The consent order evolved from the City's 2020 application to renew its wastewater treatment plant permit under the U.S. Environmental Protection Agency's (EPA) National Pollutant Discharge Elimination System (NPDES), documents provided by DEEP show.
About a year ago, consultants pegged the cost of addressing collection system issues, as required in the consent order, as $16.6 million over five years. But that sanitary sewer collection system work was only part of what DEEP required; the City was expected to submit a facilities plan for the plant itself by June 30.
Norwalk got an extension from DEEP after a last-minute change of heart, Valadares said at Monday's WPCA meeting.
Mat Todaro, an environmental attorney and a partner at Verrill Law Firm, said the consent order required WPCA to address an outfall pipe that discharges raw sewage during heavy rainfall by either modifying it to provide sewage treatment or eliminate it.
Arcadis, an engineering firm hired to do the work, explored options to provide treatment and DPW estimated it would cost about $45 million "and we're only going to be using that outfall in a average of less than four times a year," Valdares said. "…We only had six wet weather events in the last three years."
Just before the deadline to submit the proposal, "we realized that … we're not gonna get much for the investment, it would be $45 million to be used just sporadically," she said.
Instead, Brown and Caldwell, an environmental engineering firm that developed the collection system plan, looked at eliminating the outfall, Valadares said.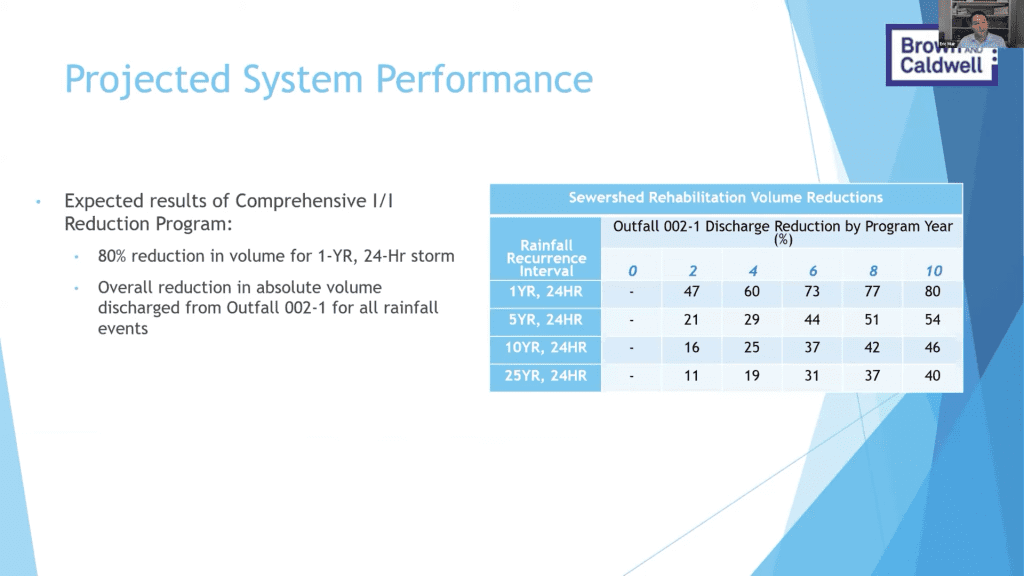 "We took that (data) model that we had generated about a year ago and looked at it again," said Eric Muir of Brown and Caldwell. "…We modelled key rehabilitation activities in those 18 sewer sheds that still exhibited high excess flow. We looked at lining the sewers, which is an asset renewal and keeps that flow out; we looked at doing epoxy lining of the manholes, grouting the pipe penetrations to the manhole connections and then grouting the laterals' connection point to the sewer mains. And then what we did is we modeled what those flow reductions would look like."
It turned out to be "really good news," he said, predicting an 80% reduction in overall volume going through the outfall in a once-a-year 24-hour storm. Looking at a model of outfall uses in a typical year, "you get almost a 90% reduction."
For a price "pretty close" to the Arcadis estimate of $45 million, "you're getting is really a completely renewed asset," about 25% of the collection system, instead of a new asset that gets used sporadically, Muir said. "An asset that you already own, that gets renewed and has a new 50 year lifecycle on it."
Besides reducing sewage overflows and the environmental benefits, "We'll get some energy efficiency benefits, because we're going to reduce the WPCF operation and maintenance, because it will be a decrease on the overall flow, also improve the process through reduction in peak flow and duration of sustained high flows," Valadares said. "We're going to probably consistently be operating in a more optimal stage."
Beyond the consent order requirements, Vanessa McPherson of Arcadis outlined a hoped-for $48 million in a "comprehensive upgrade" to the entire aeration system. Another $20 million would go to settlement tanks.
Meek asked if the estimates represented inflation-adjusted dollars.
Valadares said the numbers were "based on the models that we have it today" and "the biggest investments are really in the first few years. …So yes, we took into consideration what will be spent within 10 years, but there may be some adjustment in the future, depending on how the inflation will play."
Muir volunteered that his company has experience with collection system rehabilitation bids and "this is this is not buying equipment and things that have been affected by inflation. Instead, we've seen relatively flat prices on the sort of collection system work that we're proposing, even through this period over the last two years of heavier inflation."
Meek offered no other comments.
WPCA has until Oct. 2 to submit the proposals, Valadares said.
The $16.6 million collection system plan submitted a year ago is still awaiting DEEP approval, Todaro and others said.
As for the aspirational work outside the consent order requirements, "in the next few years we're going to start asking for money to be able to achieve that. I also want to remind everyone that we do have a financial model that we follow," Valadares said.
WPCA has worked with the City and outside consultants to develop a "dynamic financial model to forecast and plan for costs associated with capital improvement projects, including those related to the Consent Order," Norwalk Director of Communications Michelle Woods Matthews said in March.
"We're going to use our financial model in the next coming years to see what will be the financial impact on the rates," Valadares said Monday.
In March, Supervising Environmental Engineer Ralph Kolb said WPCA had a $25 million "placeholder" in the capital budget for the expected facilities plan work.
On Monday, Valadares said it had become a $50 million placeholder. The approved plan would not result in "any financial impact different than what we were already expecting."
Why vote no?
Shortly after the WPCA meeting, Meek told fellow Republican Town Committee members his rationale for voting no on the plan.
"It's not that we don't need the improvements," he said at the RTC monthly meeting. "I voted no because it was a total of $128 million in spend. And when I asked the Department Head of Public Works, if these were, since it's a project that could go over 20 years, if these were inflation adjusted estimates were looking at, she couldn't answer."
Meek said WPCA Commissioners had "found out the price for what we need to do to the sewer system in order to stop being sued by the federal government for dumping too much poop into the river. And that part is going to cost $48 million. There's another part of stuff that we're supposed to do later on too, otherwise, we're just gonna get sued again."
There are no lawsuits filed by the U.S. Environmental Protection Agency (EPA) or DEEP against Norwalk. As noted above, the consent order was developed as part of the wastewater treatment plant permitting process, in response to public input.
In March, Meek predicted that the facilities work needed to comply with the DEEP order would be at least $50 million, possibly $100 million.
On Monday, he said, "We don't really know, is it 50 million today, by the time we're done? Is it going to be two 300 million? What is it? I didn't really get an answer I was comfortable with. So I voted no against it. I mean, obviously, we're here, we have to stop dumping sewage into the river as much as we can. So, you know, we don't have the votes to stop it and come up with a more rational, cost effective plan. It's going to go through, this is what's happening. But you know, there's, again, when a department head tells me that there's no impact on change of money over, you know, over 10 years in an 8% inflationary environment. I just can't accept that answer."
Updated, 2:58 p.m.: More information.
Reminder:
NancyOnNorwalk requires full names from commenters.
For more information, go here.