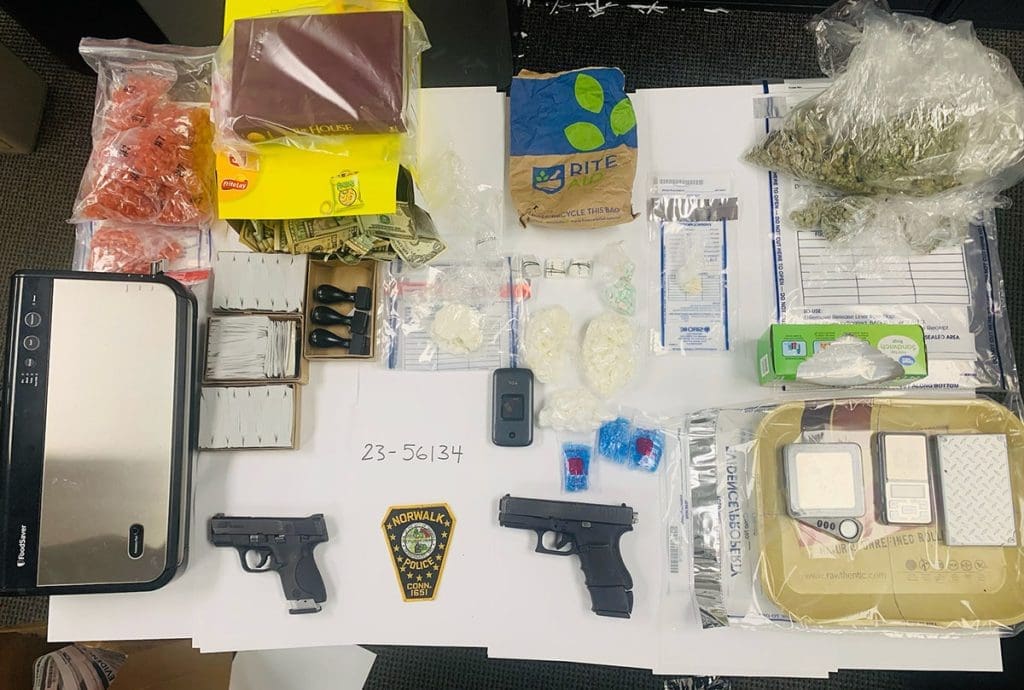 Norwalk Police officers executing a search warrant Tuesday caught four men in the act of packaging fentanyl and crack cocaine, a news release said.
The warrant was obtained as the result of a lengthy investigation conducted by the Special Services Division, the release said. The Special Services Division and the Emergency Services Unit Tactical Response Team executed the warrant at 21 Osbourne Ave.
Police said they seized:
534 grams of crack cocaine packaged for street level sale
53 glassine folds of pure fentanyl packaged for street level sale
61.8 grams of MDNA /Ecstasy pills
Approximately 542 grams of marijuana packaged for street level sales
Scales
Cutting Agents
Drug paraphernalia
Four quarter sticks of dynamite
Stolen .40 caliber loaded handgun with extended magazine
Fully automatic loaded 10-millimeter handgun
"I commend the work of the Special Services Division and thank the members of the community who provided information about the criminal activity occurring in this area," Police Chief James Walsh is quoted as saying.
Arrested: Samuel Branch, 25, of 21 Osbourne Ave. Apt. #1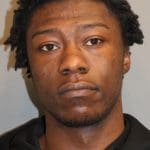 Charges: Criminal Possession of a Firearm, use of a Machine Gun-Aggressive Purpose, Illegal Possession of Exploding Fireworks, Two Counts of Sale of Narcotics, Three Counts of Possession of Narcotics, Operation of a Drug Factory, Sale of Hallucinogen, Use of Drug Paraphernalia, Conspiracy to Commit/ Sale of a Hallucinogen, Conspiracy to Commit/Operation of a Drug Factory, Conspiracy to Commit/ Use of Drug Paraphernalia, Conspiracy to Commit Illegal Sale/Manufacturing of Cannabis, Conspiracy to Commit Possession >5 oz of Cannabis
Bond: $1,000,000, plus a $50,000 bond on warrant served for motor vehicle charges.
Court: Oct. 10
Arrested: Jermaine Joseph, 21, of 21 Osbourne Ave. Apt.#1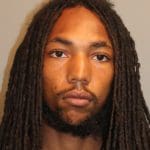 Charges: Criminal Possession of a Firearm, stealing a Firearm, Operation of a Drug Factory, Three Counts of Possession of Controlled Substance, Sale of Narcotic Substance, Sale of Hallucinogen, Use of Drug Paraphernalia, Conspiracy to Commit Operation of a Drug Factory, Conspiracy to Commit/Possession of a Controlled Substance, Conspiracy to Commit/ Sale of a Narcotics Substance Conspiracy to Commit/Sale of a Hallucinogen, Conspiracy to Commit/ Use of Drug Paraphernalia Conspiracy to Commit/ Illegal Selling/Manufacturing of Cannabis, Conspiracy to Commit/ Possession of over 5 Ounces of Cannabis
Bond: $500,000
Court: Oct. 10
Arrested: Javon Coleman, 22, of 554 Connecticut Ave. Apt #322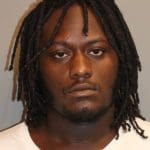 Charges: Three Counts of Possession of Controlled Substance, Two Counts of Sale of Narcotic Substance, Sale of a Hallucinogen, Operation of a Drug Factory, Use of Drug Paraphernalia, Illegal Selling/Manufacturing of Cannabis, Possession of over 5 Ounces of Cannabis, Conspiracy to Commit/ Possession of Controlled Substance, Conspiracy to Commit/ Sale of Narcotic Substance, Conspiracy to Commit/ Sale of a Hallucinogen, Conspiracy to Commit/ Operation of a Drug Factory, Conspiracy to Commit/ Use of Drug Paraphernalia, and Illegal Selling/Manufacturing of Cannabis
Bond: $250,000
Court: Oct. 10
Arrested: Dontae Scullark 20, of 11 Norden Place Apt #10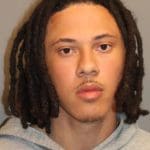 Charges: Three Counts of Possession of Controlled Substance, Two Counts of Sale of Narcotic Substance, Sale of a Hallucinogen, Operation of a Drug Factory, Use of Drug Paraphernalia, Illegal Selling/Manufacturing of Cannabis, Possession of over 5 Ounces of Cannabis, Conspiracy to Commit/ Possession of Controlled Substance, Conspiracy to Commit/ Sale of Narcotic Substance, Conspiracy to Commit/ Sale of a Hallucinogen, Conspiracy to Commit/ Operation of a Drug Factory, Conspiracy to Commit/ Use of Drug Paraphernalia, and Illegal Selling/Manufacturing of Cannabis
Bond: $350,000
Court: Oct. 10