NORWALK, Conn. — Some Norwalk political notes for you:
Meek contradicts Meek
A Mayoral campaign contributor with a big contract?
Levin's comedy act
Flip flop
On May 13, Common Council Minority Leader Bryan Meek (R-District D) alleged that four resolutions on a Council Committee meeting two nights earlier potentially violated the Freedom of Information Act.
"They were put on the agenda less than 24 hours before the meeting, not that they even bother to barely publish these things anymore like the Charter requires. But the items required a 2/3rds vote to be added to the agenda. That doesn't appear to have happened. But heck, it's only $10 million dollars with no real plans presented," Meek said, urging that a news story be written.
The resolutions assigned $9.4 million in American Rescue Plan Act (ARPA) funds to four projects. One was for renovations at 98 South Main St.; details were not presented. Building and Facilities Manager Alan Lo said the money needed to be dedicated by a deadline and full plans would be discussed June 7 at a joint meeting of the Land Use and Recreations & Parks Committees.
On Thursday, when NoN asked Meek about the claim regarding the May 11 Finance and Claims Committee meeting agenda, he replied, "It's really not a big deal, since it's a committee meeting and they could have just put it up to the full council anyway. Plus it's on land use next week. Don't you have anything better to report on?"
Correction, 3:48 p.m.: Item was on the Finance and Claims Committee agenda, not Recreation and Parks.
A donation
Attorney Steven G. Mednick is expected to earn about $180,000 in the two-year effort to overhaul Norwalk's 100-year-old charter. Would you be surprised to learn he once donated to a certain Democratic Mayoral candidate's campaign?
Not Mayor Harry Rilling's campaign. It looks like Mednick donated $100 in 2013 to one of three Democrats who vied with Rilling for the chance to unseat then-Mayor Richard Moccia, Vinny Mangiacopra.
NancyOnNorwalk tripped over the 10-year-old donation while researching another story, then asked Mednick if it was he who contributed to Mangiacopra's campaign.
"It could be; although I have no recollection," Mednick said in an email. "I have many friends from around the state and at the time was working on legal issues in Bridgeport. It is highly likely that one of my friends asked me to help out. The last time I helped someone was n Norwalk was the late Mayor Bill Collins."
WhitePages shows only one Steven Mednick living in New Haven. His middle initial is "G."
'Norwalk needs a cat whisperer'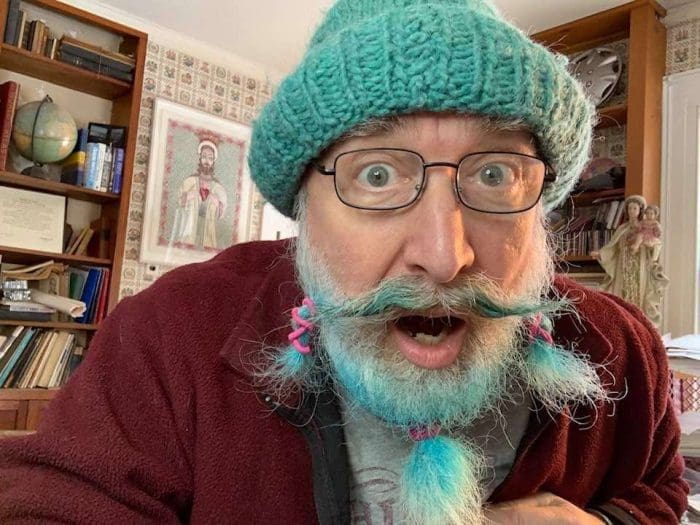 The new Norwalk charter needs "Easter eggs and golden nuggets," according to John Levin, a Republican Town Committee auxiliary member who has attended nearly every meeting held by the Charter Revision Commission.
Arguing at the Commission's first public hearing that Norwalk averages a charter revision once every 100 years, Levin told Commission members, "I think we should have fun… there is no rule that says that the charter of Norwalk has to be a profoundly boring document that no one gives a shit about because it's just all legalese."
First recommendation: "I think we should have a royal family. This could be an appointed position and obviously nonpaying. None of these would be paid positions, because, you know, they're not going to do anything," Levin said.
What would the royal family do?
"I don't know what whatever they do in England, I guess, you know, scandals and things like that," he said, in October.
Norwalk needs a town crier who would not get paid to "stand on the town green and, you know, read things or something like that," Levin said.
Town Clerk Rick McQuaid, a Commission member, likened that to his job.
An "arbiter of stupid shit" would be "otherwise known as 'the ass,'" and would deal with "all the nonsense," Levin said.
Other unpaid positions recommended by Levin:
Contrail inspector
Soothsayer
Dungeon master
Air raid warden ("I mean, you never know")
Cat whisperer
Hoarding consultant
"And last, but not least, we should have a village idiot," Levin said. "I volunteer."
McQuaid replied, "In 1972-73 at Norwalk High School, we decided to go to a royal family-type student government. … It was very entertaining."
Attorney Steven Mednick, a veteran charter consultant, said, "this in the most unique and interesting testimony I've ever heard." He'd taken "copious notes."
On May 17, Levin revisited the topic, only to have Chairwoman Patsy Brescia predict that it won't be another 100 years before Norwalk revises its charter.
Levin urged "hope that there might be some tiny room for some amount of levity and enjoyment … nestled into one tiny corner or paragraph somewhere within this charter."
McQuaid said it had been "enlightening" to have Levin watch over the Commission and, "some of the comments that you've made on the monarchy, one will stick with me forever." But, "I couldn't get Steve to agree on putting the whole monarchy system in. Maybe the next charter. We'll look at it."
John Levin is Chapman Hyperlocal Media Board President.
Reminder:
NancyOnNorwalk requires full names from commenters.
For more information, go here.