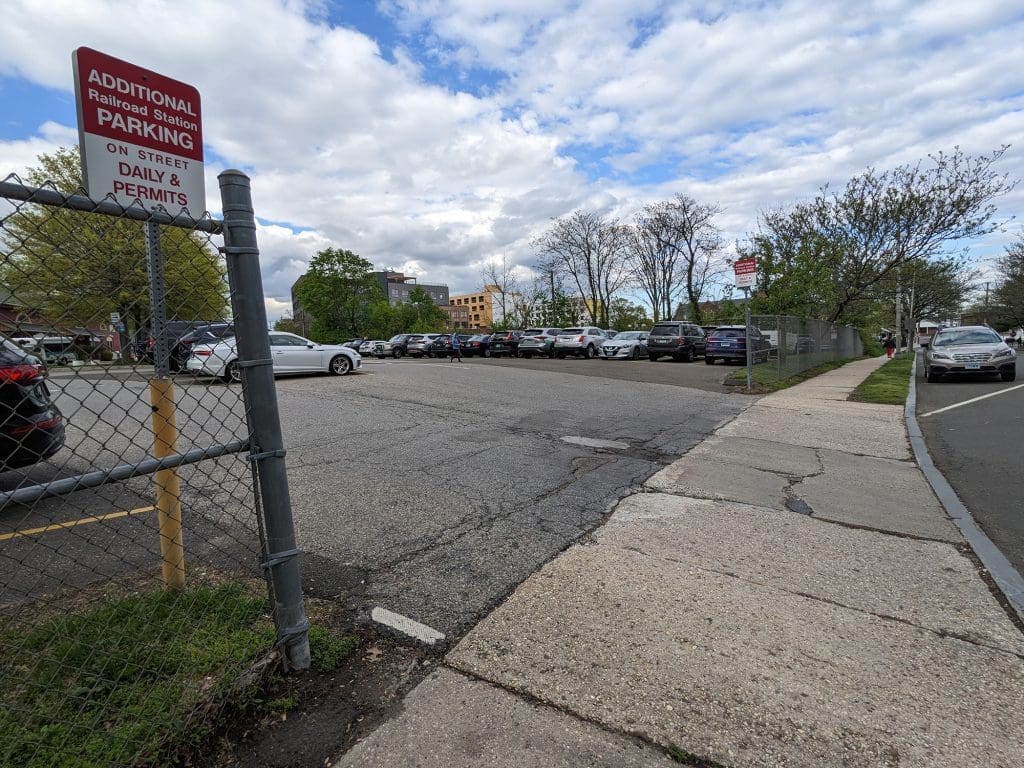 NORWALK, Conn. — The City is poised to sell a municipal parking lot to a company that plans to build a mixed-use development on the site and provide public parking spaces equal to what the City is giving up.
If that sounds familiar to you, officials say fear not – Assistant Corporation Counsel Darin Callahan has taken great pains to avoid the boondoggle that was "POKO" in the Wall Street area. And the lot isn't going for $1; Spinnaker Real Estate Partners will pay a net of about $3.6 million.
About a year ago, Common Council members approved a term sheet for a Land Disposition Agreement with Spinnaker Real Estate Partners for the South Norwalk train station's parking lot off Henry Street.
Spinnaker plans to build a 202-unit mixed-use project at 15-17 Chestnut St., adjacent to the City's lot. It would include 60 parking spaces in its 290-space garage, Matt Edvardsen of Spinnaker said.
"The parcel is being acquired at an appraised fair market value of $4.6 million," Redevelopment Agency Executive Director Brian Bidolli told Common Council members. Spinnaker would get a structured credit of $1,050,000 because "the cost of structured parking is obviously expensive. It's valued about $35,000 a space for this transaction. So, it's 60 spaces, that's about $2.1 million to construct that parking."
He said, "A key component of this deal so that the money will be escrowed and will be paid out as the parking is replaced. Obviously, as we look into history, we want to make sure that the parking is replaced."
POKO Partners acquired two Wall Street area City parking lots in 2007, legally agreeing to build on the lots and provide an equal amount of parking spaces as part of its planned Wall Street Place development. Construction began but stopped in 2016; Citibank executed a deed in lieu of foreclosure and the work has yet to restart. The City parking spaces on that lot have yet to return.
The Chestnut Street project "unlocks a $6 million grant from the Department of Economic and Community Development," Bidolli said April 6. "… It's what I would consider an innovative financing plan in order to effectuate the requisite infrastructure improvements."
Last year's capital budget allocated $3 million as half of the City's match to the grant, Bidolli explained. Station Place, the road that abuts the train station and is used by buses, will be reconstructed and its land, valued at $1.3 million, is considered a donation and is also part of the match. Then a $500,000 U.S. EPA Brownfield Grant and the City's matching funds of $100,000 are also factored in.
Finally, the $1,050,000 to Spinnaker rounds out the needed $6 million match.
"We wanted to limit the amount of cash the City would actually have to contribute to this deal," Bidolli said.
Also in the mix is a hoped-for $250,000 grant to address additional suspected environmental contamination, he said.
"It took a bit of convincing and negotiating with the State for them to kind of understand the nexus between, you know, providing infrastructure money for our project versus understanding that a project has community impact and trying to help mitigate that with funds," Bidolli said. The grant includes $1 million for affordable housing improvements, including funding for deferred maintenance and structural issues at the adjacent Columbus Court.
While the plan "sets a standard" for public-private partnerships, "I'd be remiss to say that there's no risk involved in real estate, particularly when you sell a property," Bidolli said. But the City isn't selling property and turning its back, with its desire to get what it wants Callahan has "done a great job" with risk minimization.
The property won't be conveyed until the zoning approvals are in place and the project is permit-ready, he explained. And, "We're working with a thoroughly vetted Norwalk-based company with a demonstrated history of performance."
Spinnaker will have three months after the LDA is executed to get zoning approval, Callahan said. Shovels should be in the ground next spring and a "quick timeline" indicates the public should be able to park on the lot again in about 30 months, but in a parking garage.
"Before we lose access to the lot, temporary parking has to be available and I believe that there's agreement on location for that," Callahan said.
"Additionally, we're securing it with a performance bond in the same sum of $1.5 million, and a personal construction guarantee that has no dollar limit on it. So we we have multiple forms of securing the project.
Council members Tom Livingston (D-District E), Darlene Young (D-District B) and John Kydes (D-District C) praised Bidolli and Callahan.
"I bust chops, but you guys really do pay attention to detail and follow up. This project has been started a long, long time ago. And to see it here and as as clear and buttoned up as it is it's it's a huge task. And so far, you guys are doing a great job," said Kydes, Economic & Community Development Committee Chairman.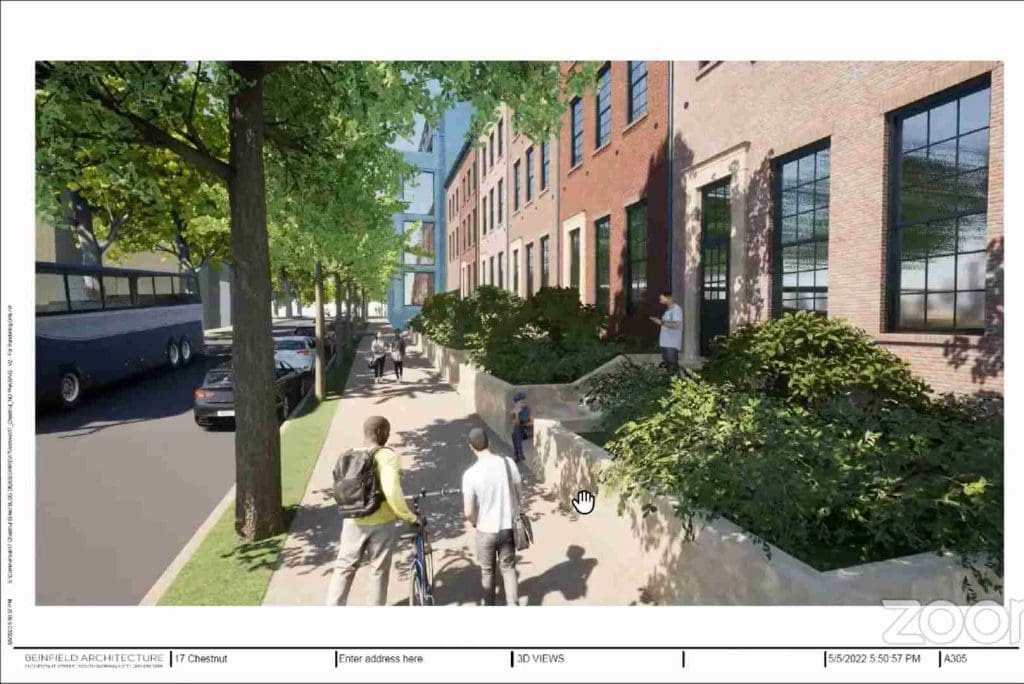 202 apartments
Edvardsen touched briefly on the project, which a year ago he said he's been involved with for a decade.
The project adds active uses to Chestnut Street but also an entry to the parking garage.
In May 2022, Architect Bruce Beinfield said he designed townhouse-like structures along Henry Street, to meld with the existing three-story homes across the street. Upper floors would be stepped back to disguise the building's planned bulk.
The train station entrance from Monroe Street will be redone with the State grant funds, he said.
"Right now, it's somewhat of a of a mess, and that there's very little organization there in terms of where taxis go, where buses go, where you drop people off, and the parking itself is, is not well organized. So this proposal would clean up, all of that," he said.
Edvardsen, on April 6, spoke of public realm space between the new building and the building Spinnaker renovated a few years ago. The side facing the train station is being treated as "a kind of public right of way," providing retail and an entry to the public portion of the parking garage.
Young said Chestnut Street traffic is awful.
Traffic consultants are considering options, including making Chestnut Street one way, Bidolli said. Spinnaker is required to show the development can work with a one-way or two-way configuration and the grant can fund improvements.
Bidolli promised public outreach sessions regarding the design.
On April 25, Planning and Zoning Commission member Nick Kantor called the property a "prime spot" and asked if the development might become bigger "at any point in time" because "we're not gonna have many bites of the apple for something like this, right on the train station."
Bidolli said 202 apartments is the maximum density allowed on the site and Kantor wondered if a text amendment would be appropriate considering the unique value of the location.
Planning and Zoning Director Steven Kleppin said he didn't know if Spinnaker had any appetite for that "but we can explore it for sure."
Reminder:
NancyOnNorwalk requires full names from commenters.
For more information, go here.