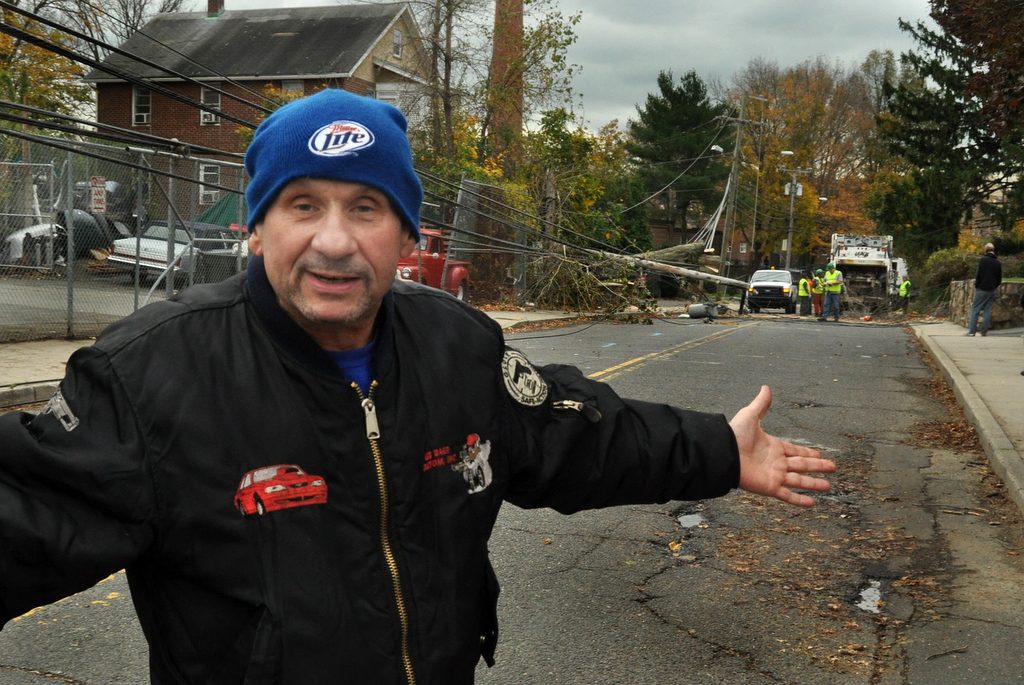 NORWALK, Conn. – Al Varga does not mince words: his South Norwalk neighbor should have had that tree cut down, no matter what the cost.
Varga is one of about 1,000 South Norwalk residents who have been without power since Hurricane Sandy came through because the ailing tree crashed down on Ely Avenue, taking CL&P wires and poles with it. To add to the fun, the transformer exploded, sending scared people running through Varga's back yard to get away from the flames.
The concentrated pocket of those without electricity includes residents of Roodner Court. It's one of the hardest hit areas in Norwalk, according to the city's website (although the report is misleading because it's incorrectly listed as Rockland Road).
"I was born and raised here," said Varga. "I haven't seen anything like this in 62 years living in Norwalk. This is the worst I have ever seen."
Varga and others said the tree was supposed to be cut down last year, but the owner of the house balked at the $3,000 price. He was irate as "All these people have to suffer."
His childhood friend, Joan Thane, who grew up across the street, was more forgiving.
"She's probably 90 years old," Thane said of the neighbor.
"I don't care," Varga said. "She should have paid for it. We all wouldn't be suffering."
Varga is worried about his 86-year-old mother, who lives below him on the first floor of their Moscariello Place home, given there is no heat in their home and no power. City officials suggested she go to the Brien McMahon High School shelter but Varga would have none of it.
The transformer fire put itself out as the storm raged, residents said, burning a hole in the pavement below it. A smell of rubber filled the air. "It looked like 'The War of the Worlds' here," Varga said. "It was bad, bad."
In the days since Varga and his son-in-law have called and called the city and CL&P, he said.
He's now getting robo-calls from Mayor Richard Moccia about the situation but wondered if CL&P was avoiding the area formerly called "Whistleville" because workers are prejudiced.
A first step in restoring power was made Wednesday evening as a crew cut up the offensive tree. Some Roodner Court residents watched, wondering when the power would be restored.
Varga, a retired butcher, said he had lost $250 in food. He asked, "Is CL&P going to reimburse me for all of this? No."
The expense of cutting down the tree was the root of the problem, Thane said, expressing sympathy for the neighbor.
She had told Varga and others that things could be worse. "You could be in Rowayton," she said, of the hard hit area.