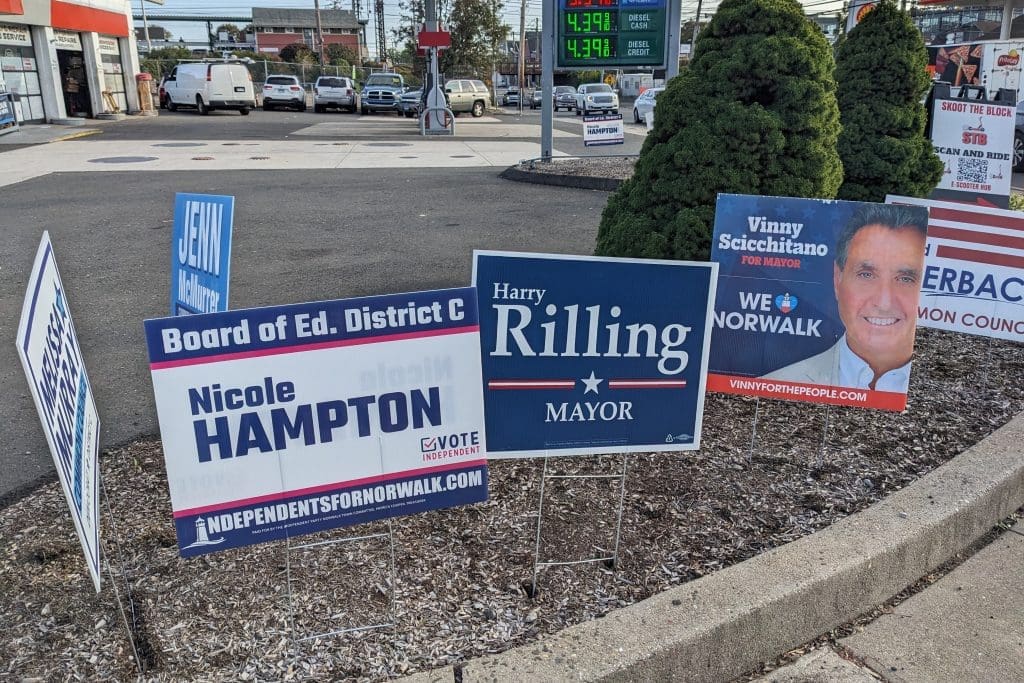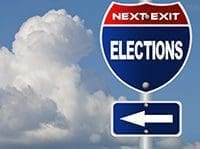 Most Democratic and Independent campaign literature highlights party affiliation. Some Republicans don't mention it at all.
It would be easy for some to think the omission is due to Donald Trump's unpopularity in Connecticut but Mayoral candidate Vinny Scicchitano and Council at-Large candidate Richard Bonenfant say otherwise.
"We didn't really think about it. I don't think we intentionally omitted it," Scicchitano said. "We wanted to get our information out there, but you know, void of politics."
Scicchitano, a Republican looking to unseat Democratic Mayor Harry Rilling, said he's run a campaign based on issues and "I've said right from right from the beginning, that we're all Norwalkers first and we have political affiliation second."
Bonenfant is a long-time Republican Town Committee member who has served as a Council member seven times, under three different Mayors. His "palm card," the card candidates leave on doorknobs or handout to voters, doesn't mention the word Republican.
He wrote:
"I wouldn't look too deep into the party omissions on my palm card. It's the same card I used four years ago with the photos and dates being the only changes. Well on front I changed my phone from the family landline to my cell phone and on the back I mentioned that we have three grandchildren. Otherwise it's the same card I used in 2019, mostly because the card is good enough and I didn't feel like spending too much time on it. Even the graphic artist gave me a discounted price because it was basically the same card as she once made.
"Your question is legitimate however, and on my lawn sign I removed the elephant logo in an agreement with the Independent party. I think I was the last person to indicate party on their sign so that was no big deal anyway.
"I'm very happy to have been endorsed by the Independent party besides being a Republican nominee for a Council At-Large position. At the very least, I'll pick up a few hundred votes on the Indy line, which helps me and also helps the Independents gain strength and grow their party. Lisa Brinton and I are friends and we worked together along with her network of active citizens as well as some neighborhood groups to convince the Zoning Commission to back off on their assault of the single-family zone in Norwalk. We don't have to agree on everything, but our viewpoints are similar on protecting the City's neighborhoods."
Many of Rilling's palm cards don't mention party, but all say "Vote Row A." One shows he's been endorsed by the Working Families Party. Other Rilling campaign literature features the word "Democrat" prominently.
Republican District A Council candidate Tricia Massucco, who is cross endorsed by the Independent Party, doesn't mention party on her palm card. Republican Council at Large candidate Glenn Iannacone's card only mentions "Republican Town Committee" in the fine print on the bottom, as funding the card.
John Levin, a newbie to running for office, doesn't have Republican on his card.  Levin said he reviewed other cards before designing his own, and said that Democrat Stephanie Thomas didn't mention party affiliation when she successfully ran for Secretary of State last year.
"I am certain there are voters who won't ever vote for a Republican candidate and others who won't ever vote for a Democratic candidate," Levin said. "I have met some of both. It makes me sad. That level of tribalism in our politics is not healthy, but I understand it, I think."
Scicchitano said he'd like to see people vote for the candidate, what the candidate stands for and what he or she wants to do, not just along party lines, because "especially in a local election… should be that you vote for the person that best represents you, or best represents what you'd like to see get done."