Following up on opposition letters sent by Norwalk's water-related commissions, many Norwalk residents voiced their questions and concerns about a draft Norwalk Industrial Waterfront Land Use Plan. 
On Wednesday, Sept. 20, the Planning and Zoning Commission opened a public hearing on the plan, where about 10 residents questioned some of the recommendations. Some questioned the decision to allow more density and development in a flood zone, while others said they didn't trust the City to follow through with enforcement in the area.
"I don't want Water Street to turn into dock-o-minimums—we have a very vibrant marine services industry," Chris MacDonald, a resident who sits on the Harbor Management Commission said.
MacDonald said that many of the small water-related businesses, like companies that fix boats, aren't allowed in other communities, but were essential water-related industries like marinas and shellfishing operations.
"We're one of the last bastions of the boating economy here," he said. "We're speaking up to support water, marine commercial industry."
John Palladino, who said he and his family own property on Water Street, asked how infrastructure capacity was being factored into the plan.
"How much forethought is really going into the development of the waterfront properties? It always seems like it's a catchup situation," he said. "What goes into that infrastructure part of it?"
He said that he's seen challenges for city buses to make turns in the area and sewer systems that back up, so while he wasn't necessarily opposed to the plans, he wanted to make sure infrastructure improvements were factored in.
The Planning and Zoning Commission did not vote on the plan, with Chairman Lou Schulman stating that they were waiting for a letter from Connecticut's Department of Energy and Environmental Protection (DEEP) weighing in on the proposal plan.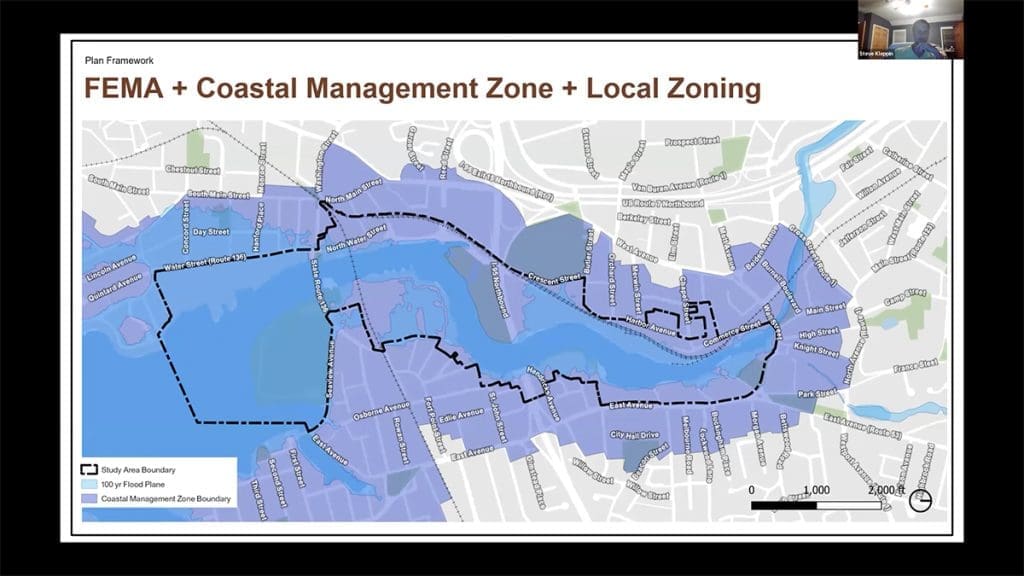 What's in the Waterfront Industrial Plan?

Planning and Zoning Director Steven Kleppin gave an overview of the study, stating that it came from recommendations in the 2019 Plan of Conservation and Development calling for an evaluation of they city's industrial zoning districts. As that work started, they realized the waterfront was unique and pulled it out separately to take a closer look at existing conditions and make recommendations for future zoning. 
As a part of the plan, Kleppin said that they conducted multiple public engagement sessions where residents and business owners stated that they wanted to see the city address contamination, water quality, and flood resilience issues, and improve public access in the area.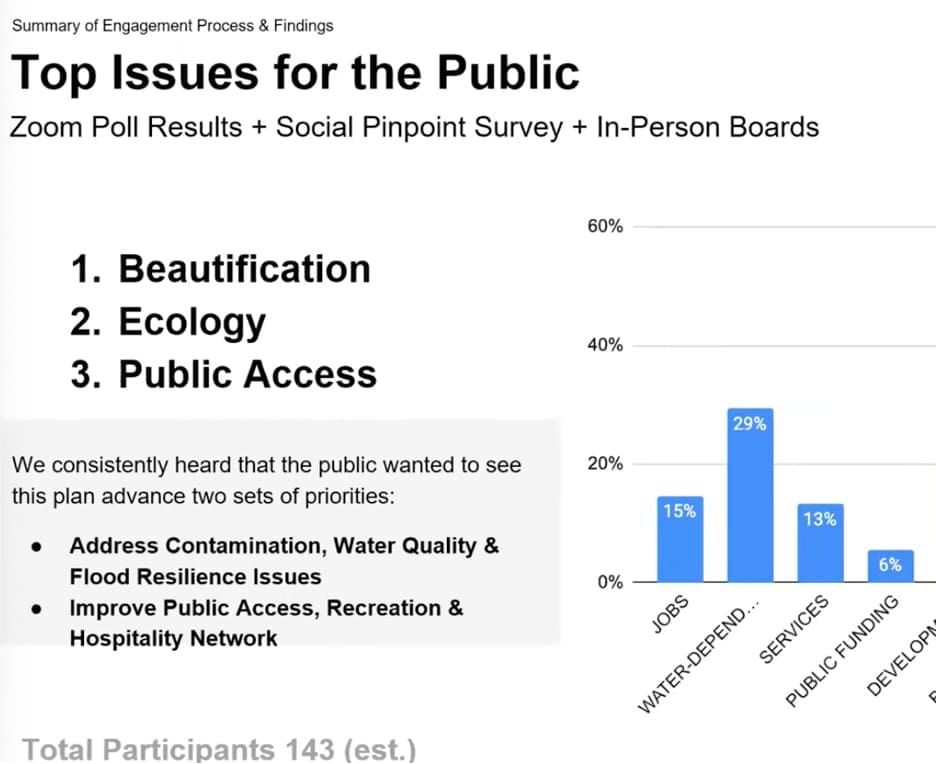 There were also points of "disagreements and differing opinions," Kleppin said, that the plan tried to work through, particularly on the future of the Water Street Marine Commercial area and the upper harbor sections.
Kleppin said that they were asked "why are we building near the flood zone and recommending adding density in a flood zone?"
"Some of our most important and most valuable properties are in that flood zone," he said. "We're very cognizant of the fact of the potential for additional sea level rise in the future and what that means. I don't think it's a wise idea to say, 'we're just not going to develop in the flood zone. It's how you develop in the flood zone that matters.'"
He pointed to the redevelopment of Washington Village into Soundview Landing as an example, but many of the participants said that development has made problems worse, not better.
Resident concerns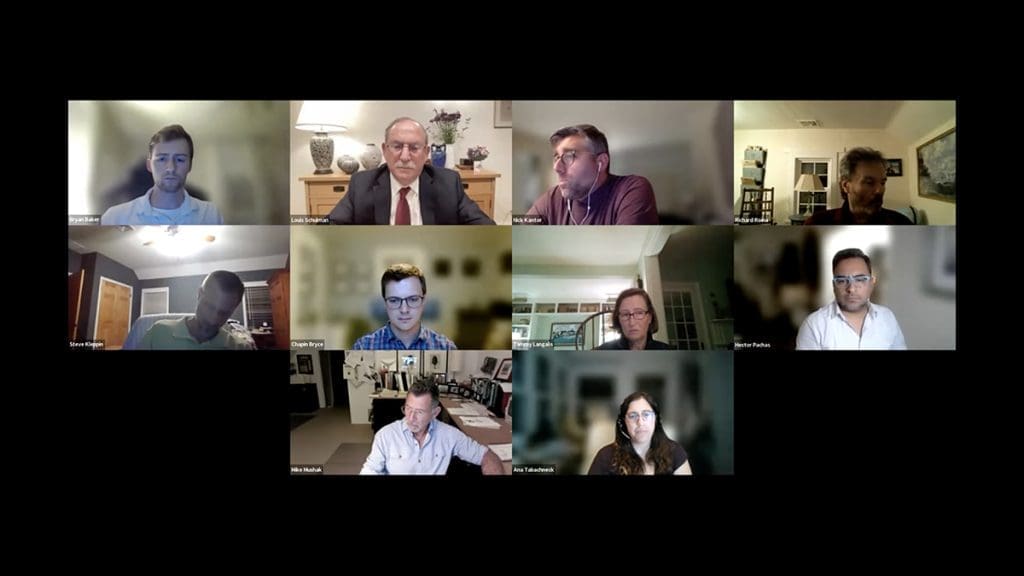 "My problem with this amendment—I don't think it's a bad idea to revitalize the waterfront," Donna Smirniotopoulos, a resident in Shorefront Park who is running as an independent District B candidate for Common Council, said. "I just don't think I trust this City Hall with this particular tool given the history of Soundview Landing. What has happened so far has not been well executed."
She added, "Soundview Landing is the number one example of bad coastal development.
The roofs of those buildings are pitched to drain onto Water Street."
Others, including Diane Lauricella, an environmental activist in Norwalk, and resident Katherine Price Snedaker, said that they had concerns about potential contaminated sites in the area.
"I would like to see on the plan where the toxic waste sites are, where the contamination is," Snedaker said.
Kleppin said that they checked with DEEP and the federal Environmental Protection Agency and found no active sites in the area on their lists, although there could be contamination on sites based on prior uses.
"I think we spent way too much talking about it," he said. "There very well could be brownfields and contaminated sites in this study area—it's really not a relevant point whatsoever. We're not talking about city property, we're not talking about existing parkland. We're talking about properties that are already developed with something."
He said that if a site was to be redeveloped and contaminants were found along the way, the developer would have to report it and figure out how to address it, as is the case with other properties throughout the city.
"I'm not going to recommend putting a site into any document if we don't have it as a documented site," he said.
Kleppin said that they were not taking the issue of water quality lightly and in fact hoped that the recommendations in this plan would help address it. He said that if a site was redeveloped, the stricter regulations would make sure there were buffers or treatments put in place so that way stormwater was treated on site before draining into the Sound and Norwalk Harbor. Right now, many sites with a lot of impervious surface were built up before regulations came into place so they aren't required to have those protections.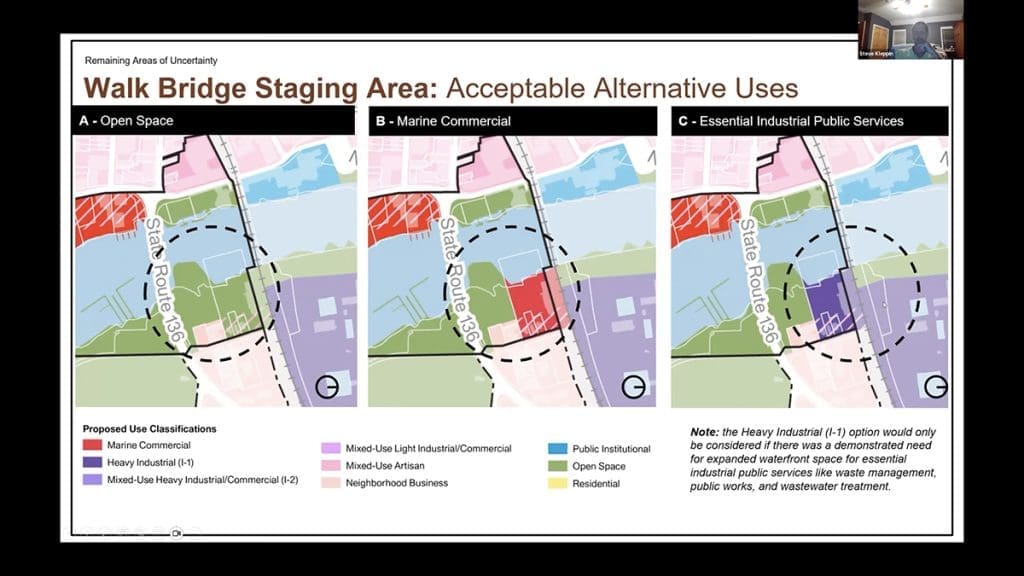 Public comments and letters
In addition to the public comments received at the meeting, the Commission also received multiple letters in opposition, including from the Harbor Management Commission, Shellfish Commission, and Mayor's Water Quality Commission, along with some from residents, like Lisa Brinton, Jessica Garnett, and Lynnelle Jones.
Jones' letter became a point of contention in the hearing. She said that the reason she sent the letter was to ask for it to be read.
"When I found out it would not be read, I canceled what I had this evening because I feel it's important to be read for the public that's listening," she said.
However, Schulman asked her not to read the letter verbatim, since it was already sent to the Commission and part of the record.
"Ms. Jones, we have your letter on file, you're more than welcome to speak, but I ask that you not reiterate what's in your letter since that's already on file," he said.
Jones asked if he was "going to cut her off?" and he said, "Yes I am, if you want to make other points that were not in the letter, we'll be happy to hear them."
Other members of the public who spoke said that they were upset Jones didn't get to read her letter and wanted the Commission to better engage with the public. Some said that the letter wasn't posted online before the meeting so they couldn't read it, even if they wanted to.
"I'm shocked, but I shouldn't be, that Mr. Schulman didn't allow Ms. Jones to read her letter into the record," Diane Cece, a resident and East Norwalk Neighborhood Association (ENNA) Board President, said. "It's a new low in terms of public engagement for the City of Norwalk."
Cece said that she would like to see existing regulations on stormwater management be enforced on properties in this area before getting into plans for future development.
The Commission held the public hearing open to wait for the letter from DEEP on its opinion of the plan. Kleppin, however, told the Commission to keep in mind that it's a nonbinding opinion.
"While DEEP is a regulatory agency, their decision is not binding on you at all. It's an advisory opinion, advisory recommendation," he said. "There are differing visions of what these areas should look like. What we tried to do was strike the best balance we could between those two visions to make as many people happy as possible—it's a very tricky thing to do." 
Kelly Prinz, formerly Kelly Kultys, is the founder of Coastal Connecticut Times.
Reminder:
NancyOnNorwalk requires full names from commenters.
For more information, go here.