Urges public participation in update process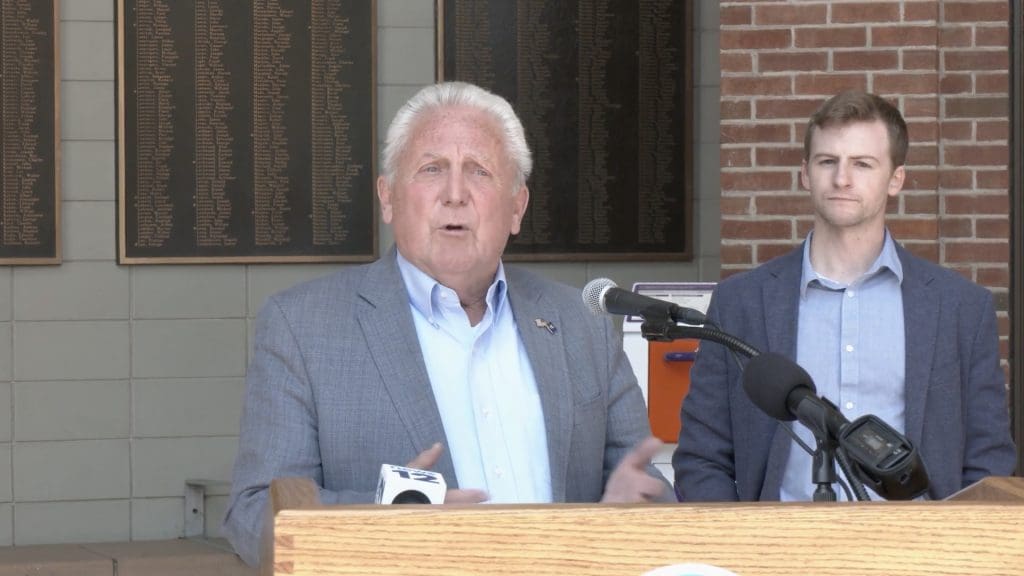 NORWALK, Conn. — Mayor Harry Rilling has joined the citizens who object to the citywide zoning rewrite's proposal to change some single-family areas into districts where two-family homes can be built.
Rilling held a news conference Thursday to assure residents that their voices are being heard.
"I wanted to get out up front so that people can feel a little bit more relaxed, that we're going to take a serious look at the areas where the zoning regulations suggest that perhaps we should have a two-family residence area where there's only one right now," Rilling said at City Hall. "I believe there's room for modifications that we should be looking at, and making modifications to the recommendations by the team that's looking at our zoning regulations."
In January 2021, the City hired consultant Town Planning and Urban Development (TPUDC) at a cost of $190,040 to review and update the city's zoning code, which hasn't had a comprehensive overhaul in more than 30 years, according to Planning and Zoning Director Steven Kleppin. The rewrite is meant to align with the City's Plan of Conservation and Development (POCD), a state-mandated 10-year guide revised in 2019. 
Rilling, a former Zoning Commissioner, voiced a widely held opinion about the current zoning regulations when he spoke to the press Thursday.
"I think the zoning in the city of Norwalk is very complex, not easily understandable," he said. "…It's all over the place. So, I think it's time for us to take a look at all the areas, make the zoning more consistent, and more appropriate for a city that's growing like this, like the city of Norwalk."
But he's been hearing from citizens who object to some single-family areas being converted into two-family areas.
"I want people to know upfront I share those same concerns," he said. "I think we all can agree that Norwalk needs more housing. More housing helps the city grow and Norwalk is a growing city. But I think it's a little too much, too fast."
He's met with Planning and Zoning and conversations will continue, he said, urging people to speak at the zoning regulation update public hearings planned for June 21 and June 28, at 6 p.m. on Zoom.
"I have all the confidence in the world that the Planning and Zoning Commission, during the next two public hearings, will take their advice or take their comments seriously and will make the appropriate decisions," he said.
Kleppin said the Planning and Zoning Commission will digest the public's feedback over the summer and delay a vote until late fall, when everyone is engaged again.
He described the draft rewrite as "vastly different structurally and aesthetically" from the decades-old code, but said that once people learn how to navigate it, it will be easier for them to use and understand.
"We've proposed to consolidate a portion of the B zone, which is basically a single-family zone on a very small lot, with a C zone into what's called the CD-3. And that would allow for one or two family – you don't have to do a two, but it would allow for one or two," Kleppin said at a recent town hall, where Shorefront Park homeowners voiced objections.
"We don't see that as an increase in density basically because ADUs (accessory dwelling units) are allowed in all single-family zones today. So you can already do a second unit on your property," Principal Planner Bryan Baker said Monday at a discussion for Harbor View, Village Creek and Brookside. P&Z can guide the look of a two-family home and, "We're hoping that it increases some homeownership opportunity."
Harbor View and Village Creek would remain single family zones under the proposal, he said. Devil's Garden is proposed to become two-family as part of Brookside, but since it's further away from the South Norwalk train station and the downtown density this is likely to be changed, in light of feedback at a Sixth Taxing District meeting. Highland Avenue might become "sort of the dividing line" between the two zoning designations, he said.
"In the community meetings we've had, I think it's been a good dialogue," Kleppin said Thursday. "I know people get exercised when you talk about change on their property. And you know, we've told them, 'Look, it's the first step, we're here to listen. And here's why we've made the changes. And when we understand you don't always like those. But here's what we're recommending, but we'll take anything you have under consideration.'"
The "key thing" is that no determinations have been made yet, he said. The recommendations follow the planning documents that have been done over the last few years but "these are just recommendations in that the final verdict hasn't been made on any of these yet."
Rilling said that not only should people attend the public hearings, but "I would encourage them to send us emails, whatever other correspondence they have available that they feel is appropriate, because we do listen."
Again, homes are needed and, "Density is not a bad thing. It's just how you go about it," he said.
"Norwalk is unique in that we have many little neighborhoods that are identifiable as neighborhoods, and we want to maintain the integrity of those neighborhoods," Rilling said. "…When you act quickly, sometimes you don't get it right. We want to make sure we get it right."
Reminder:
NancyOnNorwalk requires full names from commenters.
For more information, go here.