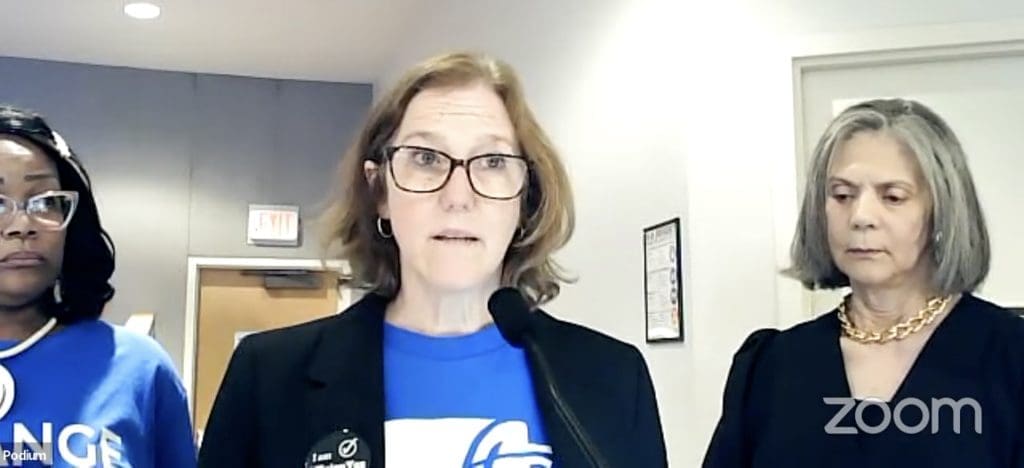 NORWALK, Conn. — School district efforts to slash its plans for next year by $18.9 million, necessary to meet the funding allocated by the City, are being criticized before they're publicly unveiled.
There's been "no partnership, little trust, no discussion, just cuts," Norwalk Federation of Teachers President Mary Yordon said, calling this year "the most troubling of any reduction in force that I've been involved with as a union leader."
About 35 NFT members will be "uprooted from their positions and impacting their colleagues, their school teammates, their students, and all of their network of support," she said at Tuesday's BoE meeting.
"The district appears to have decided that teachers with less seniority are going to be the ones to be placed on the hitlist no matter what services they are providing to our student population," said Norwalk High School Principal Lynne Moore, who is also Norwalk Association of School Administrators (NASA) President.
She warned against cutting school counselors, alleging that NPS is using a formula that doesn't benefit students to cut the mental health professionals. If recommendations to cut Norwalk High counselors appear, they didn't come from her, she said.
Federal COVID-19 relief dollars, commonly called ESSER (Elementary and Secondary School Emergency Relief Fund), funded counselors to fight the pandemic-inspired student mental health crisis. Those dollars are drying up, a factor in the budget crisis.
Norwalk Superintendent of Schools Alexandra Estrella's recommended $245.5 million budget, approved by the Board of Education in December, would have been a 12.7% increase from 2022-23 if it were funded by the City.
Instead, the Common Council authorized a 4.6% increase for NPS. But the Board of Estimate and Taxation declined to go that high, allowing $226.6 million in school district expenses, $1 million less than the split vote of elected leaders allowed.
The gap decreased recently as NPS Chief Financial Officer Lunda Asmani announced $4.1 million that can be directed to the budget, about $2.5 million from budget carryover and $1.6 million more from the State than anticipated.
Another $2.5 million is expected in American Rescue Plan Act (ARPA) funds, a plan developed by Mayor Harry Rilling and advanced last week by Council Finance Committee members.
Norwalk Chief Financial Officer Henry Dachowitz said Thursday that the ARPA funds will go toward one-time expenses for the district.
Asmani said it's mostly supplies that aren't purchased every year. NPS originally suggested one-time contracts, but this was problematic as the Board of Education is party to the contracts, not the City.
Asmani, on May 10, said NPS is considering delaying some expenses for the following year. He also explained that each school was working on its student-based budget (SBB), concurrent with Central Office efforts to make cuts.
Yordon, on Tuesday, slammed the SBB process as being under the public's radar screen.
"We are eliminating certain programs and key positions without any public discussion or hearing our elected leaders weigh in," she said.
Highly skilled certified professionals who are NPS veterans are being cut alongside newer hires in the "serious programmatic changes" decided upon at the school level, she said.
Previous Boards of Education have "kept a watchful eye" and prevented some planned cuts in a "painstaking process" with priorities set by elected officials and even when the results was painful, "at least we understood that there was a plan that had some kind of integrity and an awareness at the Board level of the upheaval involved," Yordon said.
"The students need some careful consideration and a better plan," she said. "If we wish to repair our reputation in the region as a decent place to work, we need a better plan. I would expect cuts from each department and pain shared all around. We are not seeing that."
Moore said unions are not receiving proposed budget cuts.
"The BoE has the right to vote down the administration's reconciliation recommendations and can request additional time to consider what reductions least affect students," she said. "It will be your BoE reconciliation document and that is how the public and school communities will remember it."
One planned cut of a non-tenured NHS teacher would cause 250 students to "lose their right to timely be enrolled in required graduation courses," Moore said. "We stand to lose a program that has been in existence for 30 plus years, as well as a certain language. We stand to lose department chairs who will do that work. The district has false notions that $800,000 can be saved by eliminating department chairs. I have yet to see any documentation that really makes this notion accurate."
She said it all adds up to an attitude: "Forget about students, just make it balance so we can all go on about our business."
Estrella offered no comments about the budget, letting Asmani do the talking. Board of Education members did not reply to the union leaders.
Asmani said Board members will discuss the recommended reconciliation at the June 7 Finance Committee meeting and the Board will vote June 13.
"This year, unlike any other year, it has been extremely challenging, with the expiration of the ESSER funds," Asmani said. "We are unfortunate in that our ESSER funds expire before most other districts."
In a related disappointment, NPS had hoped to reduce its expenses by switching employees to a high deductible health insurance plan in an agreement negotiated with NFT but other unions refused the plan.
The Board therefore needs to renegotiate with NFT, on a timeline, Asmani explained Tuesday. If an agreement isn't reached within 50 days, it will go to mediation.
The move to a high deductible health insurance plan would have disproportionately affected employees with lower pay scales, Asmani said. Solutions are being sought, "We're still working to see if that's viable. The challenge is that this short term solution; long term, it doesn't solve what we're looking for."
Reminder:
NancyOnNorwalk requires full names from commenters.
For more information, go here.