Duff seeks 60% reimbursement, according to Lo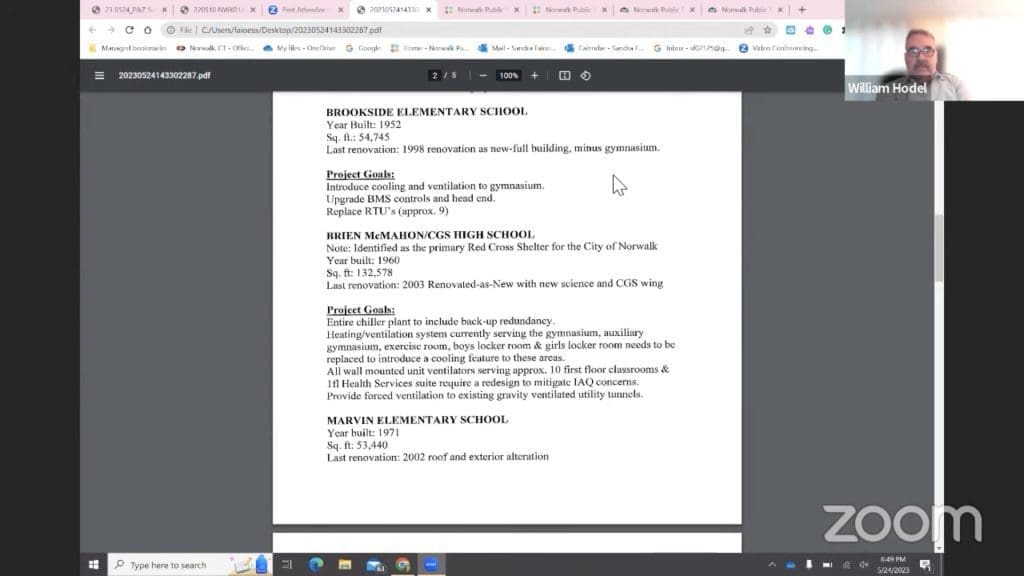 NORWALK, Conn. — New hopes are developing that Norwalk Public Schools can upgrade air quality in some of its buildings via a State grant program, which would help pay for cooling equipment and new boilers.
NPS failed to win funds in the first round of the Lamont Administration's HVAC Indoor Air Quality Grants Program for Public Schools. City-side Building and Facilities Manager Alan Lo is working with NPS Director of Facilities Bill Hodel to take aim at the second round, Lo said at Wednesday's Board of Education Facilities Committee meeting.
State Senate Majority Leader Bob Duff (D-25) is trying to get Norwalk a 60% reimbursement rate, which would lower the City's portion of the bill considerably, Lo said. The rate is traditionally 33% but if Duff is successful, then a $10 million project would cost the City $4 million.
"I need to work with the City to figure out what the City can afford, for the next few years," Lo said, predicting the work would be done over three or four years. Although a priority list has been developed for improvements, six schools that are further down the list will be listed in the grant application.
The HVAC grant program was created as part of last year's 2022 State budget adjustment bill, allocating $150 million, half from State bonding and the other half from American Rescue Plan Act (ARPA) funds, a Governor's Office news release said.
It's separate from the money schools received for HVAC as COVID-19 continued as a health emergency.
"When the pandemic began, we dedicated more than $165 million in our federal relief funding to make air filtration upgrades in schools," Gov. Ned Lamont said in the release. "Now, with this new state program, we have a dedicated source of funding to continue these upgrades and partner with schools on these much-needed infrastructure improvements."
Eligible for grant funding are:
Replacing, upgrading, or repairing boilers and other heating and ventilation components;
Replacing controls and technology systems related to HVAC operations;
Installing or upgrading air conditioning or ventilation systems; and
Other similar work approved by the commissioner of the Department of Administrative Services.
Lamont announced $56 million in HVAC grants for public schools last month, stemming from applications that were received by Dec. 1. Bridgeport was greenlighted for about $982,000 toward a $1.25 million project and Stamford won seven grants totaling $3 million, but Norwalk was not on the list.
"We did not receive the grants. So this was something that was a little controversial because some area districts received the grant," Assistant Superintendent of Business and Operations Sandra Faioes said Wednesday. With a second chance on the way, "We went to the city and asked Alan essentially to partner with us."
Lo described the State's application process as "very challenging" and "not easy."
There's "there's no submission deadline" for round two but he laid out a timeline to prepare for the grant application, starting with hiring mechanical consultants to evaluate buildings and working through City approval processes for the matching funds, into October.
"All districts are encouraged to apply for the second round of grants from August 1, 2023, to December 1, 2023," the State's website states.
A year ago, Duff announced that Norwalk and Stamford would be getting 60% State reimbursement for all school construction projects for the next 25 years. Norwalk's rate has been 22.5% for new school construction and 32.5% to renovate schools into a new condition.
That was awarded in the same budget bill that created the HVAC grant program, Lo said. So while the grant is tied to the old 33% rate, Duff is "in the process of requesting the state to amend state legislation to amend it so that the city will get 60% of this grant as well."
Ordinarily, a boiler is not eligible for reimbursement but "potentially" it would be 60% paid via the State grant, Lo said.
"If a facility was renovated or built new with State grant funding in the last 20 years, it is not eligible for the HVAC grant unless there are identified indoor air quality issues," the State explains on its website.
Hodel presented a list of six schools:
Brookside Elementary School
Brien McMahon High School
Marvin Elementary School
Silvermine Elementary School
Rowayton Elementary School
Naramake Elementary School
"As Alan had mentioned, it is our hope to get $10 million, of which 60% of that will come back to us," Hodel said. "However, when you look at these proposed jobs here, it is most likely in excess of 10 million. So we might do a mixed bag. All of the projects at one school, perhaps a handful at one school, so on and so forth."
The list is formulated from the 2021 facility assessment study, he said. While Brien McMahon and its central air conditioning is probably the "biggest ticket" on the list and there's actually no BMHS upgrade planned for decades, "Why not take advantage of that money now?"
Lo said the projects could add up to $25 million. "I don't know what the balance is and affordability of capital budget to support all this but it is opportunity to get 60% (reimbursement) on something that we're not getting anything for."
"There's no limit to what we can ask for. And the amount that we will be asking for is quite sizable," Hodel said.
Faioes said the failed grant application sought funds for air conditioning at Nathan Hale Middle School "and then later on (we) discover that that's possibly not even something that would have been covered. Because it's not the type of project that that is supposed to actually lead to the improvements that they want to see, which are major improvements for school facilities."
She said, "When we went back to the drawing board, we chose and prioritized projects that are not the priorities in the 25-year plan" because, "There's another plan for those schools, and we didn't want to commingle them, because we don't want to start to sort of compete with one another for these funding sources."
Reminder:
NancyOnNorwalk requires full names from commenters.
For more information, go here.