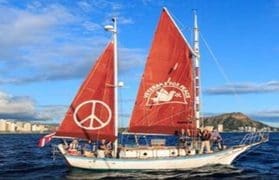 On January 7th 1945, the last V2 rocket to fall on London in World War II fell in our street. I was only eight years old but there are things one does not forget, the noise, the smoke, the dust, the smell, the cries and the blood.
On September 11th, 2001, when the World Trade Center was attacked in New York, the United States endured a similar event.
Although the damage caused by these two events was disastrous, it pales in comparison to the Armageddon a nuclear explosion would cause.
It is no longer possible to deny or ignore the extremely dangerous predicament that the world and all living creatures now face as we enter a nuclear arms confrontation far more dangerous than at any time in history. And that is why the Golden Rule sails again!
The original peace ship Golden Rule set sail in 1958 to stop atmospheric nuclear testing in the Marshall Islands in the Pacific. She and her crew obviously did not succeed however, that first voyage of the Golden Rule inspired many hundreds of worldwide peace actions on land and sea (still ongoing), that followed their example and actively sought to prevent the proliferation of atomic weapons and the dangers they pose to all life on Earth.
The Golden Rule, a gaff rigged ketch, is a project sponsored by Veterans for Peace. Their purpose, as they sail the entire East Coast of the United States and beyond, is to inform and engage all people about the clear and present dangers of nuclear weapons.
The captain and crew of the reborn Golden Rule are urging local communities to join them in an international movement to resume negotiations for all nuclear nonproliferation treaties, with the goal of eliminating such weapons worldwide. They invite the public to come on board, ask questions, hear about their mission and have a little fun touring the boat, as well as learning why local action is vital to help prevent the horrors of an impending nuclear confrontation.
The Golden Rule arrived in Norwalk on May 29th and will be leaving Friday morning. You could meet the crew and tour the boat from noon to 2 today at the Veteran's Park dock, on a first come first serve basis.
Kathleen Mary Tepper