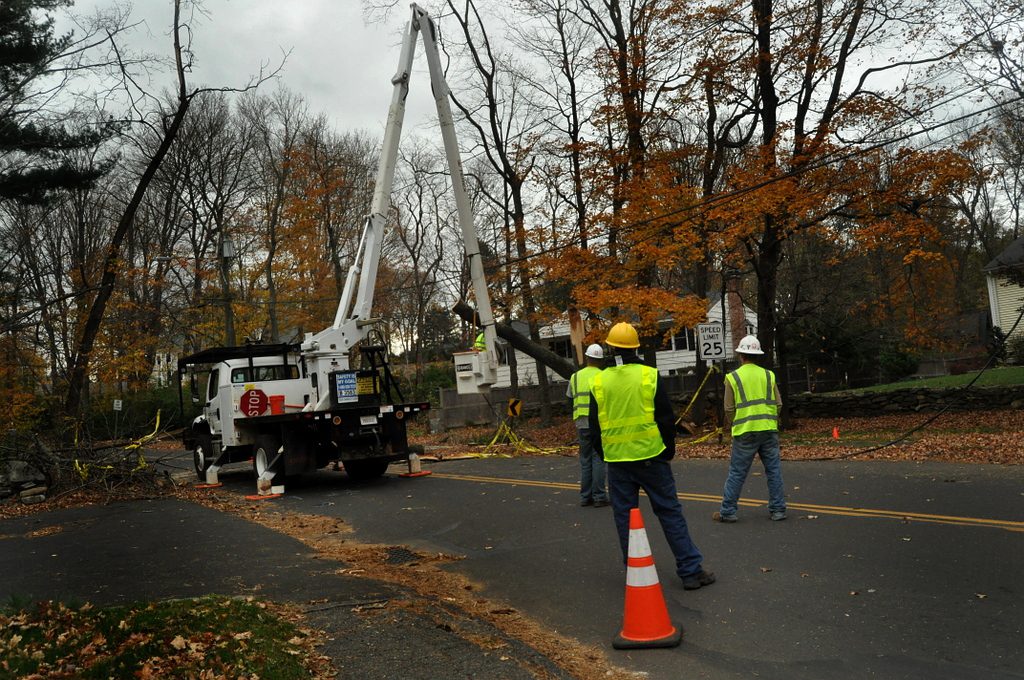 NORWALK, Conn. – There were more Norwalk residents out of power Thursday evening than there were Thursday morning, a release from the city says.
At 4 p.m., there were 13,425 CL&P customers without power, or 45 percent of the company's customers, the release says. That compares 12,468 outages (42 percent) in the morning, 15,169 outages Wednesday night (51 percent) and 13,724 (46 percent) Wednesday morning. The release does not say why there was an uptick.
A conference call between city officials* and CL&P Thursday resulted in a commitment from the company to assign 18 line crews to Norwalk, including four crews assigned to work with DPW crews to clear roads affected by downed power lines, according to a release from the city. Two CL&P representatives will accompany DPW crews to identify downed tree spots that do not include live power lines.
On Thursday, there were four crews in the Fillow Street (West Norwalk) area, four crews in the Norwalk Community College area, two crews near Norwalk Hospital, one crew near Fillow Street (Old Rock), the release says. There were about seven or eight tree crews.
SNEW had two crews in East Norwalk working for the Third Taxing District, the release said. The utility companies worked together on southern Woodward Avenue in Village Creek and Harbor View.
Miguel Cruz, a journeyman lineman with SNEW, said on Facebook that he had worked a 16-hour day Wednesday. At 8:25 a.m. Thursday he said, "Things pretty much done in South Norwalk. Heading to East Norwalk then off to CL&P." At 2:21 p.m. he had restored power to Triangle Street for the Third Taxing District. An hour later Cruz said power had been restored to Shorehaven Road but that the bridge at the end if the road is gone, meaning there would be "no power to that side for now."
*Mayor Richard Moccia, DPW Director Hal Alvord, state Sen. Bob Duff, state Rep. Gail Lavielle, state Rep. Chris Perone and state Rep. Larry Cafero participated in the conference call.