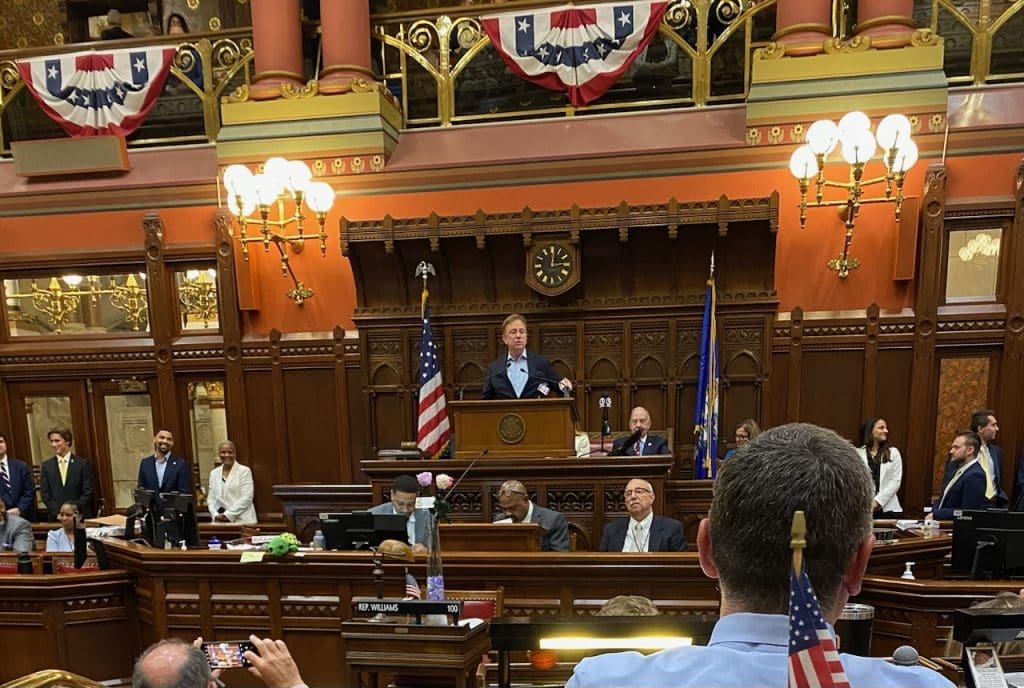 As the 2024 election rapidly approaches, the Democratic Party is once again positioning the choice on the ballot as a dichotomy between democracy and fascism. The actions of the Republican Party and its most fervent supporters in the wake of the 2020 Election match this description — unfounded claims of widespread election interference, restrictive voting laws in states such as Georgia and Texas that echo the poll taxes of the Jim Crow era, and the infamous midafternoon attack on the Capitol on January 6th, 2021.
As a young voter, I believe that Connecticut legislators, when they convene in a few short months, have the opportunity to push forward an agenda that would make Connecticut a model for voting rights and people-powered democracy to expand on the progress of last session's early voting bill. However, it's going to take guts and a vision.
It's only two paragraphs into the 2022 Connecticut Democratic Party's platform that "the sanctity of voting" is invoked. However, in the specific "Voting Rights" section of the document, there's simply a touting of their previous accomplishments and a vague commitment to better voter outreach, a state-based Voting Rights Act, and a study of the benefits of ranked choice voting. While these are all noble goals, I believe that in order to catch up with states such as California and Colorado, bold policy action must be taken to give power to the people to express their opinions electorally.
On the level of education, Connecticut needs to do a better job in the pursuit of helping people – specifically young, lower income, and black and brown students – understand why politics matters. I believe this means going beyond what most civics classes will teach students about the form of our government; while it's important to understand that we have a bicameral federal legislature and the President serves a four-year term, a useful understanding of government goes beyond that.
Students, especially in underserved communities, should be learning how to figure out the names of who represents them at all levels of government. They should know how to reach out to their representatives when they want their voice heard regarding what's going on in their community and life. Local politicians should make it a priority to become stewards of the schools they represent, visiting classrooms regularly and connecting with students, helping them to understand that government is accessible and on their side.
Outreach and education about government and democracy kills apathy — a sentiment that plagues a lot of political conversations today, especially among young people.
Electoral participation in democracy, one of the end goals of education, is absolutely vital. However, Connecticut finds itself in a lackluster position relative to other states. For example, Connecticut has no Election Day holiday that mandates paid time off from work. This disproportionately hurts working class residents, making some in Connecticut have to choose between putting food on their table and making it to the voting booth.
Connecticut residents also have no way to collect signatures in order to get a measure on the ballot for people to vote on. Direct democracy is one of the most important ways citizens can express their opinions electorally. It's vital for a thriving democracy, and something Connecticut lacks.
When the resident goes out to vote, why can't ballot boxes be accessible to anywhere in the county to which the resident belongs rather than limiting people to assigned polling locations? That way, Connecticut voters could potentially vote on their way home from work or the grocery store. Regarding mail in voting, why aren't postages pre-paid for residents? Why can't they request an absentee ballot online, benefitting young people that are more adept at using the internet?
Over the summer, I attended an event where Secretary of the State Stephanie Thomas along with Mayor Rilling and several other local officials honored specific poll workers. However, they don't only need honor, they need protection from the rise in violence in the wake of Donald Trump's loss in 2020. We can create laws as states like Minnesota, Nevada, and New Mexico have protecting election officials from threats. We can ban guns from polling sites, proving with action that election worker intimidation has no home in the Nutmeg state.
Connecticut is an overwhelmingly blue state, and full disclosure, I'm a registered Democrat myself and voted blue up and down the ballot in my first election last year. That being said, all voters deserve to have their voices heard regardless of whether they have a partisan affiliation or not. The reality is almost half of Connecticut voters are not registered with either major party. While the majority of those voters have partisan leanings, they shouldn't have to pick between the parties in order to participate in the primary process. To strengthen our democracy, we should have open primaries, allowing independent voters to choose the candidate they feel the most passionate about, ending the disenfranchisement of the hundreds of thousands of independent voters in our state.
Democracy was put to the test in 2020, and likely will be tested again in 2024. Connecticut voters have delivered decisive vote after decisive vote against fascism. Now is the time to lead by example and show America what it means to be a democracy.
Jack Pavia